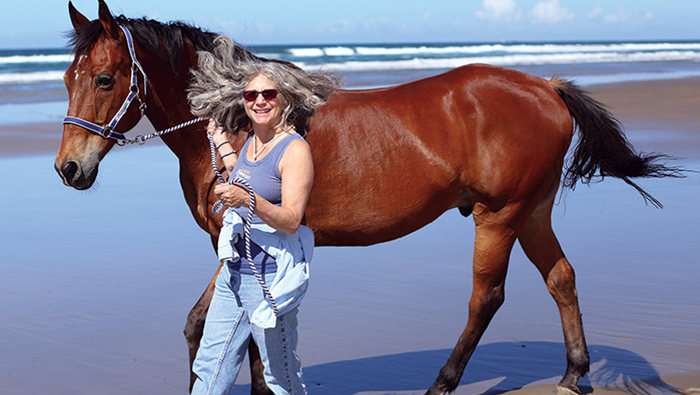 Awareness of the benefits of therapeutic riding programs got a boost in the Jewish community when William Shatner spoke in Portland last year about the millions of dollars he has raised for equine riding programs. But the many benefits people of all abilities reap from horses was no secret to at least two women in Portland's Jewish community who are long-term volunteers at Forward Stride, the largest therapeutic center of its kind in Oregon.
Founded in 2003, Forward Stride is a PATH International Premier Accredited Therapeutic Equestrian Center. Research shows children with physical, mental and emotional disabilities benefit from horseback riding, showing gains in areas as diverse as balance, muscle tone, hand-eye coordination, self-esteem and communication.
Volunteers Janet Stedman and Merri Vaughn have seen those benefits firsthand.
Merri says for the past several years she has helped with the Horses for Heroes program, where she has seen veterans find healing and regain confidence.
"I've watched barely verbal kids shout to their ponies, 'Go, Ladybug, go!' I have seen so many kids grow up over the years and make friends and gain skill," says Merri. "It's a wonderful place."
Janet, 61, heard about Forward Stride in 2008, when a friend suggested she volunteer there following her retirement. "Her intent was for me to volunteer with the children, as I had previously been a pediatric nurse and have an affinity for youngsters."
Over the years, Janet has seen how everyone involved in Forward Stride benefits.
"I have seen many, many clients find their own successes in the therapy provided by Forward Stride," says Janet. "Strengthening, self-confidence, friendships, meeting goals, finding new goals and meeting those goals … the opportunities are endless. It is truly a place and a community where successes are found every day for everyone involved. While a client is gaining strength and coordination, the volunteers walking alongside are also learning and gaining from the experience. It is a never-ending cycle of learning and sharing and appreciating, and so much good humor and laughter."
Given her lifelong fascination with horses, Janet says she originally planned to take riding lessons and volunteer an hour a week at Forward Stride.
"But I soon fell in love with the entire experience of the Forward Stride community – the horses, the trainers, the fellow volunteers," she says, noting the community of riders and volunteers reaches from age 2 to 80+. "It became my most lovely place to be and provided me a haven during some very rough times of personal loss. Before I knew it, I was there more than I was not, and now it is a daily part of my life."
In addition to the support and friendship she has found with other volunteers and staff, she has discovered that "horses are the best possible creatures with whom to share one's life and emotions."
Janet grew up in Pittsburgh attending a Reform congregation, where she was confirmed. These days she says she celebrates her Jewishness culturally. She enjoys challah and matzah ball soup, which she considers the comfort food of her childhood. Volunteering was also something she says she likely picked up from her Jewish upbringing.
For Merri, Judaism became part of her life when she and her husband, Ehren, were considering how to raise their children. Merri says she never felt part of the Christian religion she was raised in, so she began to explore her husband's faith. She studied with Rabbi Debra Kolodny at P'nai Or and is now involved with the UnShul Rabbi Kolodny recently founded. She liked what she found and converted a year ago: "The aspect of Judaism that spoke to my heart is the concept of wrestling with God. … I like that as a Jew I am expected to study and think and debate spiritual issues. I feel at home with this idea."
She also feels at home at Forward Stride. "I have watched Forward Stride do amazing work for the past seven years; I love being a part of that."
Both Janet and Merri are looking forward to the nonprofit center's Cowgirl Ball (see box).
Janet describes the Cowgirl Ball as a "great way for folks to get an idea who we really are. … (It's) our evening to celebrate our community and we go all out."