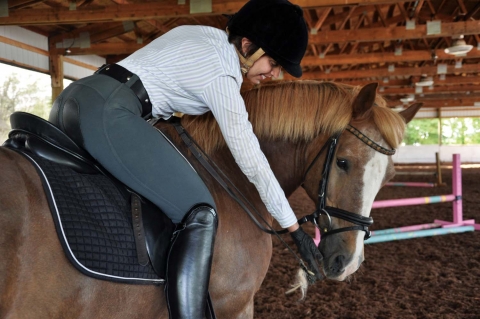 Sheryl Sachter Rudolph has been comfortable on a horse since age 4. That's when her father, Dave Sachter, started taking her to ride Shetland ponies each week after Sunday school at Congregation Shaarie Torah.
Comfortable, that is, except for the clothes she wore: archaic full-seat breeches that featured inflexible leather panels.
She finally decided to combine her decades in technical apparel product development and her equestrian experience to develop comfortable breeches that enhance the riding experience. Her basic premise: "Riders are athletes and they need apparel that really functions for them."
"It seemed like I was uniquely qualified to make a breech that really performs for the rider," she says.
But she didn't want to be an entrepreneur.
"My parents had a business (Sachter's Southwest Furniture) so I knew how much work it is to have a family business. I never wanted my own business," she says.
For years she kept notes on why traditional breeches did not perform well and why they were uncomfortable. She talked to other riders and filed their concerns. And she talked to her father about her ideas that breeches should have a lot of stretch, be very durable, wick and have long-lasting good looks.
"When my dad was diagnosed with lung cancer, I spent a lot of time with him. Dad got me started in horses," she explains, noting as a child she had loved to listen to her father's stories. "Some of my earliest memories are of Dad telling stories. He loved horses and would talk about being a little kid at the Meade Street Shul on Shabbat and looking out the window. The garbage men kept horses in the field next to the shul and he (Dad) would watch the horses. When he got older, after cheder (afternoon Hebrew school) he would go out and ride the garbage men's horses with strings (for reins)."
"When I was 4, he started to take us (Sheryl and her sister Elaine) to ride Mr. Coyle's Shetland ponies in Tigard," she reminisces with a smile. "We (about 15 to 20 little girls) were the Alpenrose Cavalry. We would ride in the Rose Festival Parade, Fourth of July events… and drill team stuff at Alpenrose."
Though there have been times in her life when she didn't ride, she says her love for horses has "been a constant in my life." From about fifth to eighth grade, she competed on a hunter-jumper her parents half-leased for her. When she was 25, her husband, Steve Rudolph, presented her with a key, then blindfolded her and drove her to a stable where she found a palomino and a tack room that the key opened. In her early 30s, her friend Mandi Chestler asked if she wanted to take a lesson a week on her horse, which introduced Sheryl to eventing (where horse and rider compete in show jumping, dressage and cross-country events). At 40, she switched to dressage and has done that ever since.
And during all those years, she collected thoughts about how riding breeches could work better.
While she spent as much time as possible with her father in his final months of life in 2004, the subject came up repeatedly.
"He said, 'Sheryl you need to do it.' So that started me down this road," Sheryl explains. "It's been a lot of work, but I'm really glad."
To help support her expensive habit – horseback riding – she had opened Fun In The Saddle (FITS) in 2003, selling items embroidered with horse themes. So in mid-2004, her father's push prompted her to develop a prototype of FITS breeches. In November 2005, she shipped her first order of FITS breeches.
Initially she worked 80 hours a week alone. But now FITS has three full-time office staff and a couple part-timers. FITS apparel is now sold in a couple hundred retail stores across the U.S. and Canada and through four of the five largest equestrian catalogues in the country. About 80% of the clothing is made in the U.S.
"Day to day, I do product development and marketing and have fun with everybody I work with," she says.
FITS's initial product, Full Seat Breeches, is so innovative that it is covered by two utility patents. Utility patents, which protect based on how something functions, are much rarer than design patents.
"We made the (leather) full seat articulated where the body is articulated; we took the seam out of the crotch. It's the only full-seat breech with freedom of motion – that's how we got utility patents."
Other popular features include: perforated deerskin used for the leather, which enables the leather panels to breathe; the body-core support panel that provides additional support to the rider's core so muscles don't fatigue as quickly (though many people call it "a tummy control panel"); microfiber and Lycra-blend fabric that stretches and breathes; and mesh fabric on the inner calf for less heat and less bulk in the riding boot.
Additional products Sheryl has developed include knee-patch breeches for people riding hunter-jumpers and a variety of riding shirts and accessories, all of which fulfill Sheryl's original vision to optimize rider comfort and performance through functional design.
Now when she's not in the office, she gets to spend time with her horse or home with her family. Her 19-year-old son Max just returned from Israel, where he spent the last 10 months on Young Judaea's Year Course. Sam, 22, plans to finish college next fall in Sweden, after which he plans to tour in Europe and visit his cousin in Israel.
Both boys attended Portland Jewish Academy for a time and spent summers at B'nai B'rith Camp, where Steve is on the men's camp board. They are long-time members of Congregation Neveh Shalom. Years ago Sheryl helped start the Young Women's Division at the Jewish Federation of Greater Portland.
"I've been so occupied with work, I do look forward to getting involved again," she says, pointing to the example of her mother, Ruby Sachter, a past president of the board of Cedar Sinai Park, who "got more involved (in the Jewish community) after she retired."
Sheryl also looks forward to this year's Olympics – a point of pride because some members of both the Canadian and U.S. equestrian teams will be wearing her breeches and shirts.