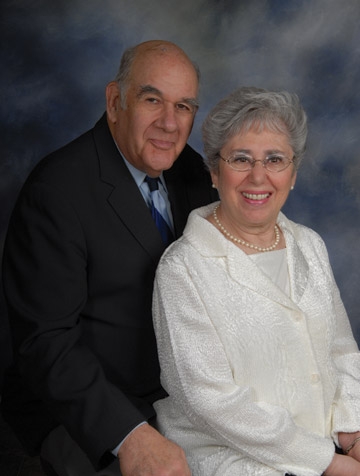 May 17: Arden and Lois Shenker receive Stampfer Award
Arden and Lois Shenker will be awarded the 14th annual Rabbi Joshua Stampfer Community Enrichment Award, May 17, at the Benson Hotel.
Created in 1999 to honor Stampfer on the 50th anniversary of his ordination, the award honors an individual, family or organization who has enriched Jewish cultural, educational and/or community life with the dedication that is exemplified by Stampfer's example. Stampfer is rabbi emeritus at Portland's Congregation Neveh Shalom.
Lifelong Portlanders, Lois and Arden Shenker were both born and raised by families steeped in Jewish life. Married 51 years, they have three married children, 10 grandchildren and two great-grandchildren. The Shenkers' dedication to Jewish life embraces the Portland Jewish community, national service, world Jewry and their deep connection to Israel. Lois and Arden have served on nine Jewish organization, agency and synagogue boards. Their extensive community participation includes serving on countless committees and supporting countless programs and projects.
"This award reflects our family past, present and future and the community of which we are part," said Lois Shenker. "Arden and I are so humbled, in large part because of its association with Rabbi Stampfer – we think so very, very highly of him. We do what we do because we think it's the right thing to do."
The evening begins with a no-host bar at 6 pm followed by dinner at 6:30 pm. Cost is $65. For reservations or information, call
503-246-8831 or email Meverett@nevehshalom.org.
May 20: Nemer Service Award honors Tenners
Congregation Shaarie Torah presents the Harry R. Nemer Service Award to Dori Tenner and the late Robert Tenner on May 20.
The award is presented to Shaarie Torah members for outstanding volunteer service to the congregation. Dori and Bob Tenner gave decades of service to the congregation in leadership roles as committee members and officers of the synagogue. Their accomplishments will be the focal point of the event. Event chairs are Richard Cohen and Steph Kotkins.
The dinner begins with cocktails at 6 pm at Shaarie Torah,
920 NW 25th Ave., Portland. The cost of the event is $36; proceeds support educational programs at Shaarie Torah. Sponsorships are available. For information and reservations, call Congregation Shaarie Torah at 503-226-6131.
May 30: MJCC honors Jerry Sadis
The Friends of the Center Dinner 2012 – Magical Moments at the MJCC – will honor Jerry Sadis. Beginning at 5:30 pm, May 30, at the Mittleman Jewish Community Center, the evening will feature Grand Prix World Champion Magician Shawn Farquhar. 
Born in Seattle, Sadis graduated from the University of Washington with a bachelor's degree in accounting. During his career at Fred Meyer Inc., he rose from assistant controller to executive vice president.
"When I left Fred Meyer in 1987, I had a lot more time and dedicated it to giving back to the community," says Sadis. Since then he has served as president of MJCC and Portland Jewish Academy, Congregation Beth Israel and Oregon Jewish Community Foundation. He has also served on the boards of the Robison Jewish Health Center and the Jewish Federation of Greater Portland.
He was on the JFGP board in 2005 during the MJCC's financial crisis. The federation asked him to use his financial expertise to assess the problem and then participate in crisis management.
For the past seven years, he has served on the MJCC board. "It's remarkable. In seven hectic years, membership is up … PJA has a stable home – all told, it's a success story."
Sadis said the MJCC is still "the perfect venue to reattach people to their roots."
Tickets are $90; proceeds benefit the MJCC. RSVP by May 10 at www.oregonjcc.org/dinner or contact 503-535-3600 or
dinner@oregonjcc.org.
June 3: Song of Miriam honorees
The Jewish Women's Round Table announces its 20th Annual Song of Miriam honorees, women who volunteer their time and energy to ensure the continuity and vibrancy of the Jewish community of Oregon and Southwest Washington. The awards brunch will be 10 am-12:15 pm, June 3, at the Mittleman Jewish Community Center, 6651 SW Capitol Hwy., Portland.
The 2012 honorees are: Dena Gutterman of Congregation Beit Haverim/SMJC, Connie Cambreleng of Congregation Beth Israel Sisterhood, Rachel Pollak of The Florence Melton Adult Mini-School, Miriam Brewer of Havurah Shalom, Dr. Dale Oller of Jewish Family and Child Service, Barbara Cohen of the Jewish Federation of Greater Portland, Carol Glauber of Congregation Kesser Israel, Enid Beck of Congregation Kol Ami in Vancouver, Roberta Hellman of Congregation Kol Shalom, Sheila Weiner honoree of both MJCC and Portland Jewish Academy, Lauren Fortgang of Congregation Neveh Shalom, Miriam Greenstein of the Oregon Holocaust Resource Center, Lynn Taylor of Congregation P'nai Or, Barbara Enkelis of the Robison Jewish Health Center Sisterhood, Teri Giangreco of Shalom Chapter of Hadassah-SW Washington, Melissa Cohen of Congregation Shaarie Torah Sisterhood and Miriam Levitt of Congregation Shir Tikvah.
For more information, visit www.jwrt.org. For questions, call Jerrie Roth at 503-246-4367 or e-mail Ellen Bick at ellenbick@comcast.net. Reservations: $21 if postmarked by May 24; $30 thereafter; $10 for 12 and under; and $36 for patrons. Send check made out to JWRT with names of attendees to Jerrie Roth, 1231 SW Texas St., Portland, OR 97219.