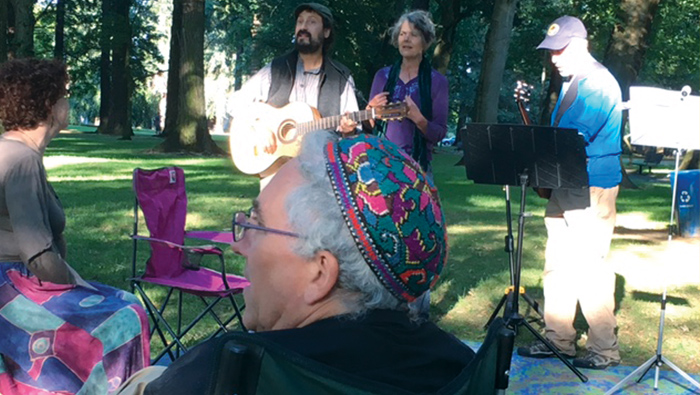 The summer is winding down, the High Holy Days are on the horizon and our Jewish Renewal congregation, P'nai Or, is busy preparing for the holiest time of the year, while continuing to live the holiest every day of the year. We are taking stock, turning again in the ongoing spiral dance of t'shuvah. Evolving, growing and learning how to live in ways that will nourish each other and future generations, l'dor vador, from generation to generation.
I've needed our Shabbat in the Park more than ever this summer. The loving community, nature, song, dance, prayer, Torah and good food to share has kept me grounded in hope and possibility. After years immersing myself in the severity of climate change, broader environmental sustainability issues, and the global economic and political systems that have driven our unsustainable way of life, I need the natural world and I need Shabbat.
Solutions are out there – environmental regeneration, living within our finite resources, and a healthy and just economic system. Through permaculture, including replanting trees and building up organic matter in soil, some scientists believe we can reverse the atmospheric CO2 to levels that can sustain future generations. I'm part of a local group looking at economic foundations to support such endeavors. We've created the Portland Public Banking Alliance to help develop these new institutions to achieve our goals.
But the solutions require more than knowledge and new institutions. In his book, Torah and the Earth, Exploring 4000 years of Ecology in Jewish Thought, Rabbi Arthur Waskow and Tikvah Frymer-Kensky compare ancient Babylonian and Jewish writings on ecological sustainability. The Babylonians were faced with many of the same concerns we are faced with today on a global scale, problems rooted in population and resource pressures – biological and material issues. The early Israelites declared the problems were rooted in the realm of ethics, undirected and lawless human activity that pollutes the land physically, politically and spiritually. Deuteronomy 11 states explicitly, if you do good, "G-d" will bring the rains in their season, there will be abundance and you will live long on the land. But if you live unethically, "G-d" will intervene and the skies will dry up and the land will spit you out.
Ari Shavit's book, My Promised Land, illuminates both of these truths. The early Zionists worked to restore and regenerate Israel, planting forests, orchards and vineyards, often alongside peaceful Palestinian neighbors. Following the war, fear, degradation and injustice has inspired burgeoning populations that grow armies against each other and compete for limited resources, rather than raising stewards for the earth, working together in partnership with the One God we all claim to love and praise. The One who teaches us to love our neighbor as ourselves.
I finished reading Shavit's book the day our congregation joined an interfaith dialogue at the Bilal mosque. Imam Toure, a seventh-generation imam, taught from the Koran. Rule number one, never take a life that "I" have made holy … And the root of the word Muslim, SLM, is an active word meaning one who enters peace, one who makes peace.
Last year was miraculous with the Pope's Laudato Si, the Islamic Declaration on Global Climate Change and the Rabbi's Letter on Climate Change. We will never get a handle on how to live with the earth, l'dor vador, if we don't learn how to live with each other and work on equitable solutions for all.
May this year be a year of interfaith peace and justice that inspires our collaborative work to turn to a sustainable way of living on our finite and precious planet. P'nai Or invites you to join us for High Holidays at Unity of Portland (more information at pnaiorpdx.org) as we plant seeds for the coming year's work. Seeds that will allow us to live, l'dor vador, with all Abrahamic descendants, in peace.