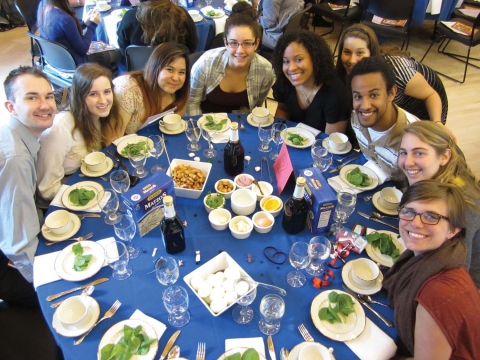 The Oregon Hillels have had a busy year overcoming challenges to keep up with innovative programming, attract students and spread Jewish enthusiasm across college campuses.
The Oregon Hillel at University of Oregon and the Greater Portland Hillel, which has chapters at Portland State University, Lewis & Clark and Reed, have welcomed many new participants.
This year Hillel student leaders have made a particular effort to collaborate with their cohorts at other schools. In early April, Jewish students convened at a leadership training to bond, discuss and learn leadership skills. Of the 13 attendees, four were from UO, three from PSU and six from L&C. 
PSU freshman Adina Henderson is the outreach coordinator and secretary for the PSU Jewish Student Union and Hillel joint board. She said the training was extremely valuable. "Not only did we learn how to be a leader and how to plan an event, but we all got to bond as leaders and (see) how each school plans differently," said Henderson. This collaboration helped students feel more engaged and self-reliant. In fact, Henderson added, "I left the training feeling confident in my ability to learn with more tools in hand."
Oregon Hillel Executive Director Paul Bessemer echoes the students' positivity and potential: "Our students have been nothing short of fantastic. We've done some innovative programming and seen a ton of new students."
Some of these original programs include a Voodoo Donut Hanukkah celebration, where students made a menorah out of donuts, and a Beatles Shabbat, where special guest Rabbi Ari Cartun led prayers set to Beatles tunes or replaced them with Beatles songs. 
However, the year for Oregon Hillel was not without difficulties. Bessemer said the past year "has been quite a bumpy one, partially due to financial reasons and personnel issues. This has meant far less time to be able to devote to fundraising and development." Luckily, the Hillels have not had to cut the students' enthusiasm.
Raina Blumenthal, a sophomore and co-president of the L&C Hillel, is excited about the future: "Our membership has definitely grown this year. For next year, we hope to have even more active members and a bigger presence on campus."
One of the most successful events this year was the Holocaust Remembrance event, which featured Holocaust survivors Eva and Les Aigner, who shared their stories of survival with students. The event attracted more than 100 students.
Blumenthal believes that Hillel provides tremendous opportunity to students. "Through Hillel I have found a welcoming, tight-knit Jewish community. It has given me the opportunity to become friends with people in other grades, to travel and grow as a person," said Blumenthal.
Greater Portland Hillel has had more than 50 events this year. PDX Hillel Executive Director Rachel Hall says they are functioning at maximum capacity and using resources to the fullest. "For next year, we hope to hire a part-time engagement staff to help us reach the hundreds of students we have yet been able to serve," said Hall. She is most proud that all of their programs are student run. "By the students, for the students is our motto and we couldn't be prouder," enthused Hall.
Henderson loves the fact that students in Hillel are so active and has high hopes for next year. "I go to Hillel events because they are always very engaging and fun. I hope that next year we can continue to have amazing programs and that there is interest from students at many Portland campuses," says Henderson.
Vanessa Van Petten is a freelance writer and speaker living in Portland.