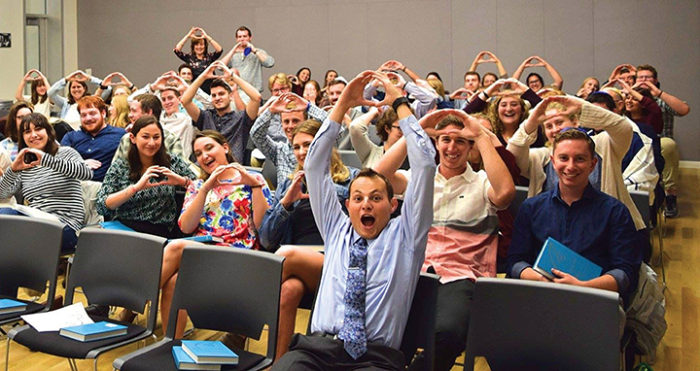 Oregon Hillel is on track to impact a record number of stu­dents this year.
By Nov. 1 more than 400 students (325 at the University of Oregon and 77 at Oregon State University) had connected with Hillel at one of the many programs, events and Shabbat dinners, or through one-on-one interactions with Oregon Hillel's staff or student interns. The programs and interactions are made possible by Oregon Hillel's team of 14 student leaders, nine student interns and four staff, including Hil­lel's first year with a part-time dedicated staff member at OSU.
Oregon Hillel Executive Director Andy Gitelson says this year marks growth on many fronts since he arrived in August 2012 as the only professional on staff. The year before he arrived, UO engaged only 212 students in the school year. When Hillel launched programming on the OSU campus in 2014, they knew of only two Jewish students; this year they are aware of 150 on campus, more than half of whom have already connected with Hillel.
"It was so wonderful kicking off the year with the High Holy Days where Hillel welcomed close to 200 students and parents at Rosh Hashanah services, Tashlich on the lake in Corvallis, Yom Kippur or our free Break Fast," says Andy. "Along with the amazing attendance, Hillel helped inspire 12 students to lead their community through reading Torah, providing Aliyot, leading songs, singing Kol Nidre and delivering truly thought­ful D'vrei Torah."
Oregon Hillel will lead its second largest winter Taglit: Birthright Israel trip this December as 23 students (10 Beavers and 13 Ducks) will experience Israel for their first time on Hillel's trip.
Both campuses also have rolled out Rosh Chodesh women's groups thanks to grants from the Jewish Federation of Great­er Portland's Women's Giving Circle. University of Oregon's award-winning Jewish/Muslim educational series Manzil/Mi­drash has returned for a second year with programs designed to build bridges through increased understanding.
Things are also shaping up for a busy winter term with Hil­lel's annual Retreat in the Snow Shabbaton in Sunriver. Close to 70 students from both campuses will share an incredible weekend together, building friendships that will last a lifetime. Thanks to the support of visiting Hebrew Union College Rab­binic scholar Liora Alban, the students will be able to explore Judaism in a personally meaningful way.
"We are empowering students to take ownership of their Jewish community and experience rather than only providing it for them," says Andy. "This is important, because while they are on campus they are actively creating and developing their Jewish identities and interests, and when they graduate we have helped them discover the Jewish confidence to build their Jewish network."
For more information about Jewish life at Oregon State University or the University of Oregon, and how you can get involved to support or invest, contact Andy at 541-343-8920 ext. 101 or Andy@oregonhillel.org.