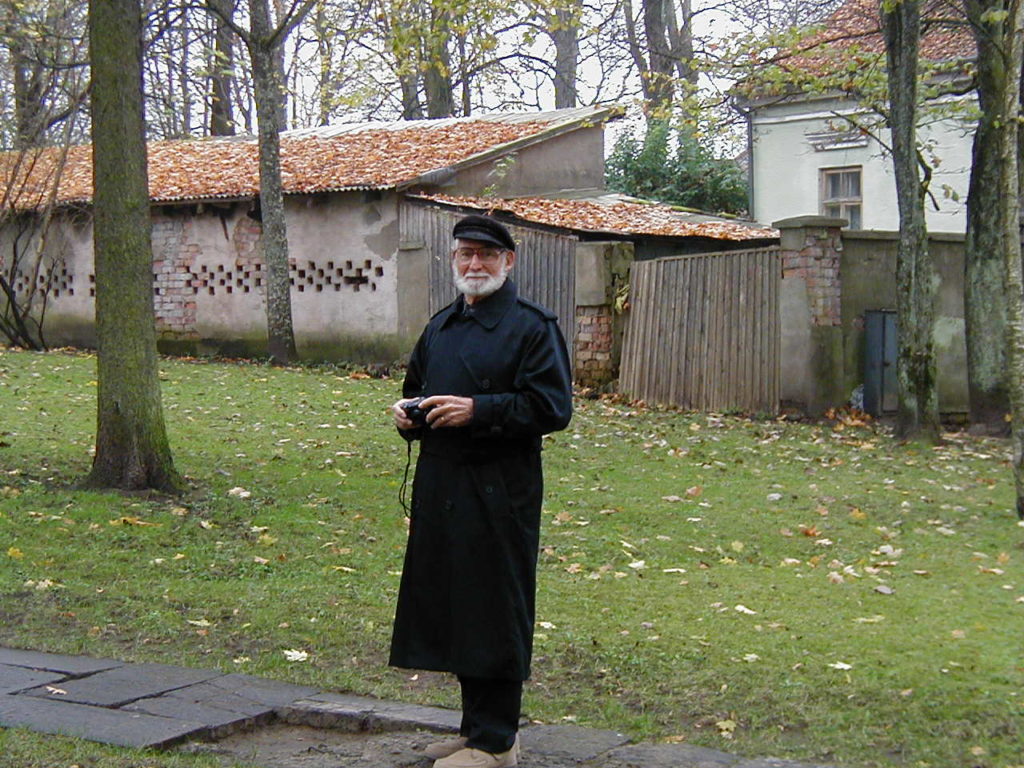 PHOTO: Eric Benjaminson's father stands on the site of his father's house in Kuldiga, Latvia; the house was destroyed in World War II.
Whether you have ancestral roots in Italy or Northern Europe or are interested in the history or culture of either region, a Jewish cultural tour this spring could be just the ticket.
Two Jewish University of Oregon administrators will lead participants on the April 30-May 14, 2019, tour "From Rome to Riga: Jewish Culture and Diaspora in Europe" on an exploration of Jewish life in Italy and Latvia, both historic and modern. The trip is open to all adults, though participants must be members of the UO Alumni Association, which is open to all for an annual fee ranging from $30 to $55.
"This gives the breadth of Jewish experience in Europe in two very different situations," says Eric Benjaminson, whose family roots are in Latvia. Eric was an American career diplomat from 1982 to 2013 before becoming UO's senior advisor for global partnerships. In 2000 he took his father, who was born in South Africa, on a carefully researched tour of the family's hometown in Latvia. He also was the history lecturer on two National Geographic cruises, one of which was to the Baltic countries including Latvia.
Lisa Calevi moved to Florence to study renaissance art history and lived in Italy for 14 years. For several years, including after she came to the University of Oregon to work on her Ph.D. in art history, she led Jewish heritage tours in Italy. Though her own roots are in Eastern Europe, she has a deep connection to Italy that extends beyond her love of Italian art and culture. Her Italian husband's father showed her their family tree tracing to the 1500s and told her he believed the family were Jews forced to convert. Calevi means house of Levi.
As the assistant director for institutional relations at Global Education Oregon, the UO study abroad office, Lisa stopped by Eric's office to welcome him when he joined the program. The two discovered a shared passion for studying and exploring Jewish life in Europe.
When Eric was contemplating a syllabus for a program focusing on Baltic Jewish life, Lisa shared her background and similar interest in Jewish life in Italy, as well as her own experience leading Jewish heritage programs in Europe. And with that the two began planning what has become the travel program From Rome to Riga: Jewish Culture and Diaspora. (This fall, Eric accepted a post at the University of Chicago, but still will co-lead the UO tour).
"In many ways it is like we are taking friends and family to places that have great memories to us," says Lisa. "These places carry a certain degree of emotion; we want to weave in the personal where it is relevant."
Lisa has maintained an extensive network in the ghetto in Venice and has arranged for a musical event during the tour in an area normally closed to the public.
"The goal is not to show the superficial but to go underneath – to meet people who have lived this reality," she says.
Lisa last led a heritage tour to Italy five years ago and is looking forward to seeing the new national museum of Italian Judaism in Ferrara. "It's the first time I'll get to see it," she says.
Eric says that in recent years the Latvian government has been very open about delving into the nation's role in World War II. Eric was one of several Jews with roots in Kuldiga, Latvia, who the town invited to help determine what to do with the town's synagogue since no Jews live there now. The Nazis had used the synagogue as an armory, so it was not destroyed in the war. The visitors recommended keeping the architecture intact and using it as a library with a museum. Eric says the Latvians were very respectful of the visitors and the building and adopted the recommendation.
"If people on the trip have family from Northern Europe, this trip is a placeholder – Latvia and Poland had the same experience in wartime and post war," says Eric. "Pre-war, the Jews and Latvians had 300 years of normalized relations. They were much more integrated than we think."
During World War II, 90% of Latvia's Jewish population perished.
The tour will look at both pre-war and post-war Jewish life in Latvia.
"Many Jews now in Latvia came after World War II from Russia," says Eric, who notes his wife, who is from Russia, will serve as a translator on that part of the tour.
For a complete itinerary and registration information, visit www.uoalumni.com/rometoriga2019.