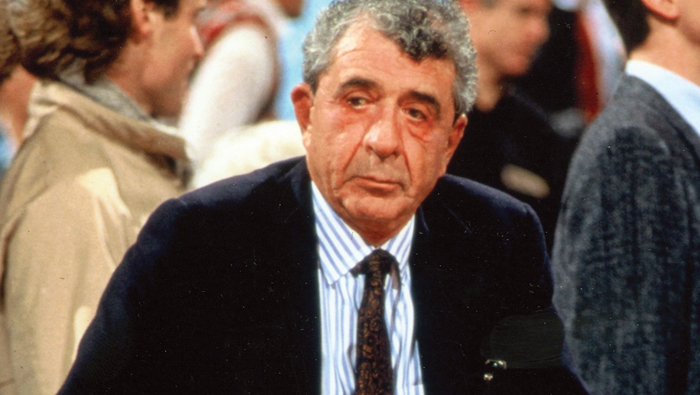 Harry Glickman, founder of the Portland Trail Blazers and a 1948 graduate of the University of Oregon, will be honored with the UO Pioneer Award this month.
The fundraising event begins at 5:30 pm, May 19, at the Portland Art Museum, 1219 SW Park Ave. The event helps top students from Oregon attend the UO through the Pioneer Award Presidential Scholarship. Renee James, who graduated in 1986 and earned her MBA in 1992, is also being honored. The former Intel president is now with the Carlyle Group.
The UO web page about the award notes, "It takes vision, courage and perseverance to point the way to where no one has gone before. And it takes leadership to persuade others to make the trek along with you. Such people are called pioneers, and it is through them that society moves forward. The Pioneer Award was established in 1979 to recognize those rare individuals who have been true agents of progress."
The Pioneer Award is just the latest in a long string of well-deserved awards for the man known as the state's "father of professional sports." Harry was inducted into the Oregon Sports Hall of Fame in 1986, the International Jewish Sports Hall of Fame in 1995 and the inaugural class of the Oregon Jewish Sports Hall of Fame in 2012. He is also a member of the International Jewish Sportsman Hall of Fame in Israel.
"I've had honors from the university before," says Harry. "I'm told this is their most prestigious honor. I'm thrilled and excited to get it."
He says he is also looking forward to spending time during the event with UO's new Jewish president, Michael Schill.
Harry was born in 1924, growing up in Portland during the Great Depression before attending  UO, where he studied journalism. During World War II he was a sergeant in the 12th Armored Division of the 7th Army, returning to the university and earning his degree in 1948. After college, he moved back to Portland and started Oregon Sports Attractions. When the NBA was expanding in 1970, he organized financing to bring an NBA franchise to Portland. Harry led the Blazers for 24 years, during which the team won its only NBA championship in 1977. He retired as president in 1994 and now serves as the team's president emeritus. He has been married to his wife, Joanne, for 63 years and has three children and three grandchildren.
"My father will soon by 93 years old; as I reflect on where he came from, what he went through and the important role that the U of O has played in his life – the impact that he has had in our city and state are quite extraordinary," says Harry's son, Marshall Glickman, who was named president of the Blazers after his father's retirement in 1994. "Past recipients of the Pioneer Award have included Ancer Haggerty, Keith Thomson, Ann Curry, Dan Weiden, Peter Jacobsen, Ahmad Rashad, Phil Knight, Neil Goldschmidt, Don Frisbee and Len Casanova. As you can imagine, I am a proud son that my father will be recognized in such company."
For tickets or more information, call 541-346-2113 or email stewardship@uoregon.edu.