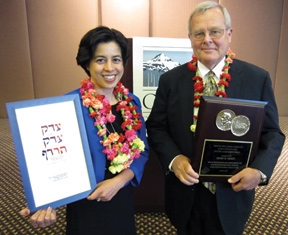 LEARNED HAND AWARDS – The Oregon Area Jewish Committee presented its Learned Hand awards at a luncheon on June 13 at the Governor Hotel.  Julia E. Markley of Perkins Coie LLP (left) received the Emerging Leadership Award, and Henry H. Hewitt of Stoel Rives LLP received the Lifetime Achievement Award. Oregon Supreme Court Justice Rives Kistler was the keynote speaker. The OAJC Judge Learned Hand Award honors the memory of Judge Learned Hand, who was recognized as the heir to Justice Oliver Wendell Holmes's legacy as jurist, philosopher and poet of liberty. The Learned Hand Award honors leaders in the legal field for professional excellence and contributions to the legal community. Award recipients are people who embody much of what Judge Hand represented: the rights of the individual and the importance of democratic values in an orderly society. Event co-chairs included Ruth Beyer, Jerry Sadis, Rick Wills and Merritt Yoelin.
EUGENE FUNDRAISER – Bella Italia! was the theme of Temple Beth Israel's 16th annual Dream Auction June 3 at the Eugene synagogue. (From left) Board member Aura Solomon, Talmud Torah administrator Gretchen Lieberman and TBI auction volunteer Esther Streisfeld were among the more than 160 people who enjoyed a delicious dinner, entertainment, and silent and live auction. Highlights of the event included a dessert dash of cakes and pies baked by TBI members and friends and a video of TBI children talking about why they love Talmud Torah. The event raised more than $40,000 for TBI's programming with $11,000 of that going to fund school programs.
OJCF LEGACY SOCIETY HONOREE – The Oregon Jewish Community Foundation honored Gloria Bacharach as this year's Legacy Society honoree at a celebration at Rose Schnitzer Manor on June 12. About 100 people came to celebrate with Gloria, including, from left, daughter Elaine Bacharach Coughlin, grandson Craig Coughlin, son Alan Bacharach, (behind Gloria Bacharach), daughter Corinne Bacharach Spiegel, granddaughter Aimee (Coughlin) Johnson, and great-grandson Amari.
OLYMPICS BOUND? Israeli Itay Magidi has spent much of the past year training in Oregon at the Nike campus. A mid/long-distance runner, his specialty is the 3,000 meter steeplechase, in which he is the Israeli champion and the national record holder, and he was a finalist at European championship (2006), national team member of World Championship (2007) and Olympian at Beijing 2008. He is at the European Championships, June 27-July 1, where he hopes to qualify for this year's Olympics in London. "As Nike Israel-sponsored athlete, I got an opportunity to be part of the Nike Oregon Project based in Portland, and (be) coached by Alberto Salazar," says Magidi. "I really enjoyed being around the Jewish community in Portland."
WOMEN'S KICKBOXING – Ten women turned out for a June 10 kickboxing event for women organized by the Portland Kollel at Fierce Fitness in Multnomah Village. After Aviel Brodkin and Meira Spivak spoke about tapping into your inner strength, Jennifer Silberberg led the kickboxing class. "The response was amazing," says Silberberg. "One of the participants said that she had taken many fitness classes and this was by far the best. There is a request for a regular weekly women's only class." For information, email jennifer.silberberg@gmail.com.
RABBI INSTALLATION – Ahavath Achim Past President Richard Matza introduces Rabbi Michael Kaplan and his wife, Mira, June 3 at the formal installation of the couple as leaders of Portland's original Sephardic congregation. The evening included a Moroccan dinner and entertainment.