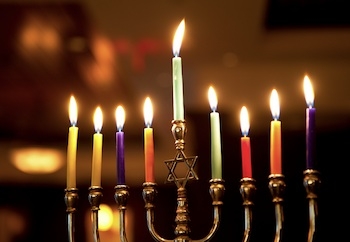 The long, cold, rain-soaked nights, suffused with the aroma of organic, locally sourced, cruelty-free, artisan latkes can mean only one thing – it's Hanukkah in Oregon! For Jewish families with young children, Hanukkah is a special time to come together and share the history of our people.
Hanukkah, or dedication in Hebrew, commemorates the rededication of the Second Temple in Jerusalem following the triumph of the Maccabees over the Syrians (who had outlawed Judaism) in the second century BCE. The miracle of the Temple's meager one-day supply of oil lasting for eight until a new supply could be procured is remembered not only by the lighting of the candles but by the consumption of foods that have been cooked in oil. Like so many Jewish holidays, the accompanying rituals and traditions have become both a living memorial to our resolute ancestors and an inspiration for the present and future.
A century ago Hanukkah was in danger of being eclipsed by old Saint Nick. Many American Jews had stopped lighting the menorah in favor of exchanging Christmas gifts. Concerned Jewish clergy feared the Hanukkah lights might be extinguished forever in the New World given the rapid pace of cultural assimilation. However, after the doughboys of World War I came home, Hanukkah experienced a dramatic revival. Its proximity to Christmas inspired an expanded celebration. Simple exchanges of gelt led to more elaborate gifts, cards, decorations and festive parties. Hanukkah was transformed into an eight-day celebration of Jewish culture that highlighted our capacity for perseverance in the face of adversity. The beauty of Hanukkah today is that it can be whatever you want it to be. Once you fulfill the basic mitzvot of lighting the candles and saying the blessing, the sky's the limit.
Your Hanukkah celebration can be a modest low-key affair or you can party like a Maccabee. At our house we do Hanukkah up to the nines. Our kids get to work early and create holiday-themed art each year, including drawings depicting Hanukkah themes, paper dreidels and menorahs. We keep the best of the older ones with the Hanukkah stuff and hang it all on our kitchen wall on the 25th of Kislev (the first night of Hanukkah). My wife and I have been collecting menorahs and Hanukkah decorations for years, and we display them throughout the house. Our family makes a Hanukkah feast of brisket and latkes, with the kids taking the lead with the prep work. You can fashion your own menorah or paint one at do-it- yourself studios such as Masterpiece Art Studio in Beaverton.
For the 31st year, Chabad of Oregon will light a public menorah in Portland. This year's lighting and free party will be at Director Park from 4:30 to 6:30 pm, Dec. 16. In addition to the menorah lighting, the event will feature a toy drive in partnership with Randall Children's Hospital, live music, Hanukkah foods
and children's activities including building a Lego menorah. Details: 503-977-9947 or RabbiMotti@ChabadOregon.com.
in the weeks leading up to Hanukkah. You can even make a functional dreidel or a menorah out of modeling clay at home and then let it dry and harden. For more crafty ideas for Hanukkah fun, visit Kveller.com, a fantastic resource for parents raising young Jewish children. Hanukkah is also a great time to read with your children. PJ library, a free service that mails Judaica books and music to families raising young Jewish children, is going all out for Hanukkah this year. Hanukkah books went out in November to allow families ample to time read their books prior to the holiday. In December a music CD will go out, followed by a special Hanukkah surprise! PJ Library also co-hosts "Mommy and Me" with The Gan-Portland Jewish Preschool and with Chabad in Northeast Portland each week; the mom-tot programs will feature Hanukkah-themed programming during December. On the afternoon of Dec. 12, PJ Library is co- hosting a little Shabbat for preschoolers and their families. Visit pjlibrary.org for links to books, crafts and recipes and to sign up if you are not already receiving books. However you choose to celebrate the Feast of the Maccabees, be sure to have fun and to honor our ancestors by teaching your children of their heroic deeds and of G-d's miracle of light through story, song and food (after all it is a Jewish holiday!).
SELECT HANUKKAH HIGHLIGHTS
1) Hanukkah party at Director Park (Southwest Park between Taylor and Yamhill, downtown Portland), 4:30-6:30 pm, Dec. 16. In addition to the 31st year of lighting a public menorah, Chabad of Oregon will partner with Randall Children's Hospital in toy drive. Enjoy music, latkes and activity booths for children.
2) Find the perfect present for that hard to shop for person on your list at the Hanukkah Gift Fair at the Mittleman Jewish Community Center, in the Stern Family Ballroom on Sunday, Dec. 14, from 11am to 5 pm.
3) Dance and spin like a dreidel on Dec. 17 from 6:30 to 7:30 pm at the MJCC's annual Hanukkah party.
4) If you want to give something back to the community, the Portland Mitzvah Network will sponsor a Hanukkah volunteer opportunity Dec.18 from 6 to 9 pm at the Oregon Food Bank. Kids ages 6 and up are encouraged to participate. Visit "Chanukah Helpers" at the Oregon Food Bank Facebook page.
5) The Jewish Family and Children's Service offers opportunities to sponsor a needy Jewish family for Hanukkah. Your gift will provide gifts and a holiday meal. Visit jfcs-portland.org or call 503-226-7079.
6) Neveh Shalom is hosting its annual Hanukkah dinner and celebration on Thursday, Dec.18, at 6 pm. Come hear the Percy Bernstein Orchestra and celebrate with Neveh Shalom singers. Bring a menorah from home to light. Enjoy a traditional
latke dinner with all the trimmings. Visit nevehshalom.org for details.
7) Celebrate with Congregation Beth Israel as they kick off the holiday in style with their annual Rockin' Hanukkah Eve extravaganza on Friday, Dec.19. CBI's Annual Congregational Dinner is at 6 pm followed by a brief service at 7:15 and a Hanukkah party in Goodman Hall complete with sufganiot and live music! Don't forget the Dec.14 pre-Hanukkah gift shop sale.
8) Shaarie Torah is hosting a Hanukkah Fair on Dec. 7 from 9 am to 4 pm. Find that perfect gift, have a nosh and kibbitz with
members of your Jewish community. On Dec. 18 the congregation will have a preschool party at 5:30 followed by a general party at 7 pm.
9) Temple Emek Shalom in Ashland has a Hanukkah party at 4 pm on Saturday, Dec. 20.
10) The Jewish Community School of Central Oregon, which includes students from Temple Beth Tikvah and Shalom Bayit, is hosting a Hanukkah workshop for families on Sunday, Dec. 14, from 10 am to 12:30 pm at Shalom Bayit Synagogue on Modoc Lane. Then on the fifth night of Hanukkah (Saturday, Dec. 20), get ready for Latke Palooza! Festivities are from 6 to 9 pm.
BEST HANUKKAH NOSHES:
1) Three words: Krispy, Kreme and Kosher! Head on down to the Beaverton Krispy Kreme for glazed goodness that would make Homer Simpson say, "mmm … donuts." Certified by Oregon K and Homer Jay. 16415 NW Cornell Road, Beaverton.
2) Kornblatt's Delicatessen. For 25 years this venerable Portland deli has been serving "Lox, Latkes and Lattes" to hungry Rose City noshers. 628 NW 23rd Ave., Portland.
3) Kenny and Zuke's cookbook, The Artisan Jewish Deli at Home, features no less than five latke recipes including garlic latkes, roasted red pepper latkes and zucchini latkes with tomato relish. Top their fluffy latke recipe with their chunky ginger applesauce. This amazing kitchen resource features brisket recipes for all seasons. The fall brisket recipe is cider and butternut squash, and the winter brisket is Reisling sauerbraten.
4) Mother's Bistro's Lisa Schroeder, "Portland's unofficial Mother in Chief," makes heavenly latkes worthy of your bubbe! 212 SW Stark St., Portland.
5) Trader Joe's latkes. Conveniently located in the frozen aisle, these little beauties are kosher and delicious. traderjoes.com
6) Safeway kosher deli and bakery: Visit this invaluable local resource. 8145 SW Barbur Blvd., Portland; 503-452-6068.
HANUKKAH SOUND AND VISION
1) "Hanukkah Lovin' " by Michelle Citrin: Absolutely delightful Jewish lounge music with a Norah Jones vibe and a warm, smoky vocal. You and your Hanukkah honey will want to cuddle up and listen to this tune after the kids have gone to bed. Citrin is a real charmer in the must-see video, available for viewing on YouTube.
2) "Light Up the Night" by The Fountainheads: This group of young Israeli musicians brings a bright polished pop sound that will have your little ones out on the dance floor before you can say Judah Maccabee!
3) "Honika Electronica" by Smooth-E: The extremely silly music video featuring Jewish rapper/comedian Smooth-E surfing through space atop a giant menorah while dressed as Star Trek's Mr. Spock and doing the robot with an actual robot is required viewing
for all Jews with a sense of humor. Visit ericschwartzlive.com, jibjab.com or check out his videos on YouTube.
4) "Miracle" by Matisyahu: The Jewish reggae legend busts mad rhymes with this ode to the miracle of Hanukkah.
5) "Festival of Light 1 and 2": These two albums boast an eclectic set of Hanukkah tunes to groove to while you spin the dreidel. They feature a diverse set of artists presenting their spin (no pun intended)
on the holiday. Swing with the big band sounds of Frank London's "Oh Hanukkah Groove," or strum along with a slow-driving folk rendition of the classic "Rock of Ages." The hypnotic thrum and Sephardic sounds of "La Mujer De Terah" will entrance you as you watch the candles glow. Alt-rockers They Might Be Giants rock out a plaintive plea for Hanukkah love with their tune "Feast of Lights."
6) Honorable Mention: "Pass the Candle (From Left to Right)" by Michelle Citrin: Another classic holiday tune from this dreadlocked Jewish crooner.