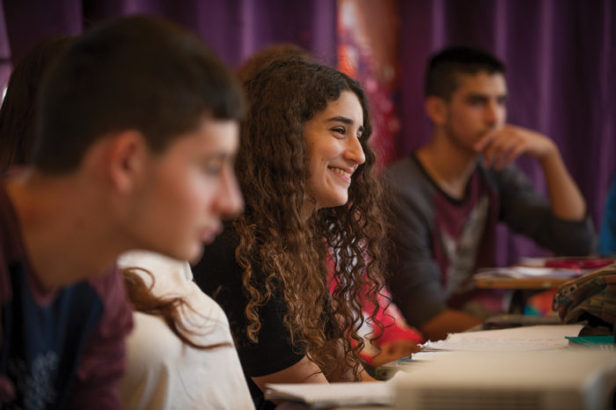 Hopefulness was the key takeaway of the participants in a recent mission to Israel to explore the bilingual, bicultural schools that were co-founded by Portland native Lee Gordon.
"It was an outstanding educational and emotional experience for everyone," says Portlander Julie Diamond, one of 33 participants in the first Hand in Hand Board and Donor Mission Oct. 28-Nov. 1.
Launched with two schools in 1998, Hand in Hand now has six integrated schools in Israel, where more than 1,700 Jewish and Arab students learn side by side. Jews, Muslims and Christians live, learn and play together in fully integrated schools dedicated to coexistence.
"To see the parents and kids and families living in a space of hope was really impressive," says Julie. "They are creating young people and families who will espouse a shared society and peace."
Lee invited Julie to participate in her role as the president and CEO of the Oregon Jewish Community Foundation, where she helps educate fund-holders about things that can resonate with their giving. Hand in Hand has clearly resonated with the philanthropists who have donor-advised funds at OJCF. The first OJCF grant to Hand in Hand was in 2000. Since then, the foundation has made about 41 grants to American Friends of Hand in Hand, the nonprofit Lee created so that funds raised for the schools would be tax deductible in the United States. The foundation's youth group has also been inspired: OJCYF first made a grant to Hand in Hand in 2014 and has done so every year since.
Julie says she is now in an even better position to discuss the schools and their impact with donors. She plans to host a small gathering for interested donors in the next couple of months (for details, call OJCF at 503-248-9328).
"When you learn about this from afar, you don't really experience the realities of these parents bucking their traditional communities." People ask them "Why are you doing this?," says Julie. "They are doing it for the future."
Julie adds that the students talk in both languages at all times; they speak and answer questions in either language with equal ease.
Most Israeli Jews don't speak Arabic, which Lee calls a missed opportunity. Shared language opens understanding on so many levels.
One Jewish student told Julie that when she would hear Arabic on a bus, she would be afraid the people were planning an attack. "Now she understands what they are saying and knows they are talking about what to make for dinner.
Understanding opens up the potential for positive interactions," says Lee.
At one dinner on the mission, a group of alumni from the schools spoke to the visitors. "They talked about not being sure how it will all play out, but that the experience is deeply part of who they are now," says Julie.
The schools are public schools supported by Israel's Ministry of Education, with fees paid by parents and grants from philanthropists. The fundraising is necessary to provide the additional staff needed to have a native Hebrew speaker and native Arabic speaker in each classroom of the younger grades.
While the first school met with resistance from the community, all of the schools now have waiting lists, which now total 800 students. An additional 14 communities have requested Hand in Hand start a school in their town. Schools begin with a class of 25 children in kindergarten or prekindergarten and expand through 12th grade as the students age.
Lee says Hand in Hand has gone above and beyond what he envisioned 20 years ago. "I think this is a model for Israeli society. We challenge people to think that things can be different. If these children can go to school together, they can create businesses together and they can live in prosperity with mutual benefits."
After Lee spoke to OJCYF about the schools, two of the teens were so impressed that they volunteered to help at one of the school's summer camps. Sarah Millender volunteered in 2015 as a counselor at Project Harmony. Now a sophomore at Grinnell College, she says that working with 10 Jewish and Arab girls and staying with an Arab host family for six weeks was "really helpful for the debates happening on college campuses. I lived there and I worked with kids who co-exist and get along. I came out wiser and with less bias."
Sarah says her host family told her they love being Israeli citizens, but feel they are treated like a minority. "The family is very connected to the Jewish community and saw Hand in Hand as a cool opportunity for their kids to learn Hebrew and English in a good learning environment, where Jews, Christians and Muslims learn to acclimate for living together as adults."
Following the board mission, Lee and Julie also visited Gilad Perry of Dror Israel Movement. Gilad, who has visited Portland several times, shared the work of the Akko Educators' Kibbutz with youth at risk, with the arts at the Akko Jam and with other social justice programs. Julie also joined Gilad to visit the Dror Israel School in Karmiel (for Ethiopian and other students needing a special environment in school to succeed) and Kibbutz Eshbal. Dror Israel is in part supported by the Jewish Agency for Israel and has received grants from Jewish Federation of Greater Portland, OJCF and OJCYF.
ojcf.org | Handinhandk12.org | drorisrael.org.il/english