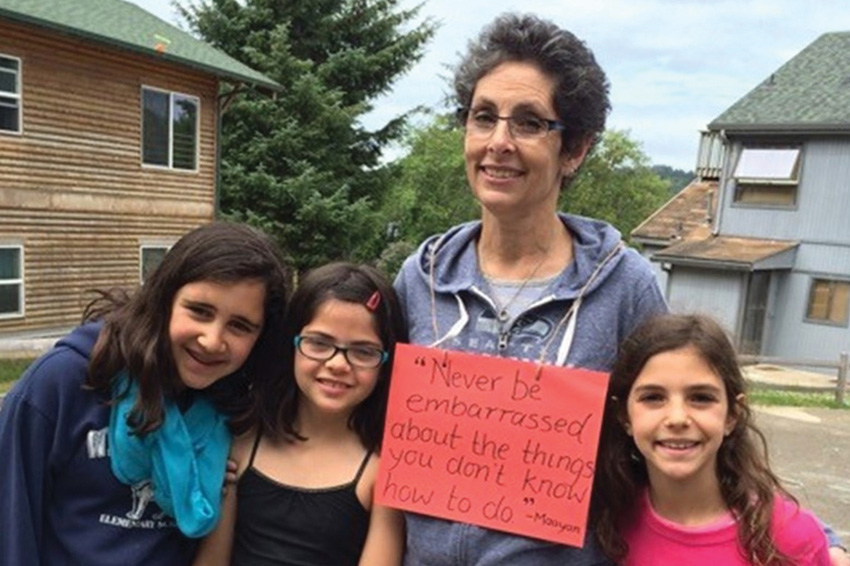 Five years ago B'nai B'rith Camp introduced an inclusion program named Kehila (community) so that all children, even those with disabilities, could have a Jewish camp experience. Several campers have graduated from the one-week session to attend multiple weeks, and even the 15-day wilderness trek, very successfully. This year, thanks to two selective grants, BB Camp is broadening Kehila and has hired Cheryl Peizner as a year-round inclusion specialist to oversee the program.
Cheryl brings many years of outstanding experience in providing services to children with special needs. As part of the grant from the Foundation for Jewish Camp Ruderman Inclusion Initiative, Cheryl will attend FJC's intensive in-person training sessions.
The second grant, from The National Inclusion Project, provides the Let's ALL Play program model, which ensures that no child sits on the sidelines.
BB Camp is one of four camps to receive the FJC Ruderman Inclusion Initiative, a three-year program to significantly increase access to Jewish camp for children with disabilities. In response to an overwhelming need expressed by families of children with disabilities and disabilities' advocacy groups, FJC conducted a study in 2012-13 that documented that children with disabilities are significantly under-represented at Jewish camp.
"Camping is a formative experience for Jewish youth across North America," says Jay Ruderman, president of the Ruderman Family Foundation. "It is an experience that draws campers closer to their Jewish roots and should be an experience open to all our children regardless of their abilities. The Ruderman Family Foundation's partnerships with the Foundation for Jewish Camp and B'nai B'rith Camp will not only bring a more inclusive camping experience for children with disabilities, it will change the attitudes of thousands of campers and counselors, who will live the value of inclusion."
Cheryl received her training at the University of North Carolina, Division TEACCH, and then began her career as a family and educational support specialist. She has specialized in autism, communication disorders, mental health issues, conflict resolution and advocacy.  Her philosophy is to use a non-aversive approach, in which she develops plans from the strengths of each individual.
Cheryl, who worked at camp last summer, is excited to create individualized strategies to modify BB Camp's enriched curriculum and to work with parents on intakes, develop creative approaches and assess needed support. Cheryl subscribes to "people first language" and trains counselors to put the person before the disability and establish plans that support overcoming deficits.
"My focus is to increase a camper's independence, success and self-esteem while experiencing everything from our new zipline to an enriched Jewish program," says Cheryl. "My job is to support a child with a disability, or a camper experiencing extreme homesickness – and everyone in between."
BB Camp Executive Director Michelle Koplan says, "We are proud that BB Camp was selected for two trailblazing inclusion grants. The FJC Ruderman Inclusion Initiative and the National Inclusion Project will enable us to strengthen our efforts and reach even more children under Cheryl's leadership. Inclusion has been an important pillar to our mission, and we have seen firsthand how Kehila campers thrive and positively impact our camp community."
The National Inclusion Project, which was cofounded in 2003 by entertainer Clay Aiken, strives to create an inclusive environment where children with and without disabilities can play, learn and laugh together. BB Camp is one of the select organizations throughout the country that the National Inclusion Project has chosen to partner with for the second year.
"We believe our partnership with BB Camp will get us one step closer to making the inclusion of children with disabilities the expectation and not the exception," says National Inclusion Project Executive Director Jerry Aiken.
In 2009 BB Camp developed the Kehila summer camp program to rectify a lack of programming for campers with special needs on the West Coast and to serve children with special needs locally in its Lincoln City day camp program. Kehila campers are fully integrated into cabins and activities with additional counselors for increased supervision and support.
Research shows overwhelming evidence that the Let's ALL Play model helps children with disabilities improve self-esteem, social skills and confidence, while those without disabilities improved their leadership, problem-solving and empathy skills. The model makes it possible for all children to come together and participate in recreational activities such as swimming, arts and crafts, community service, physical fitness and more.
More importantly, it allows children with and without disabilities to create friendships that may not have been possible in other parts of their lives.
Kehila is living proof that the model works.
Suzye Kleiner resides in Scottsdale, AZ, and loves spending her summers at BB Camp. She has enjoyed the positions of camp store manager, photographer and writer.