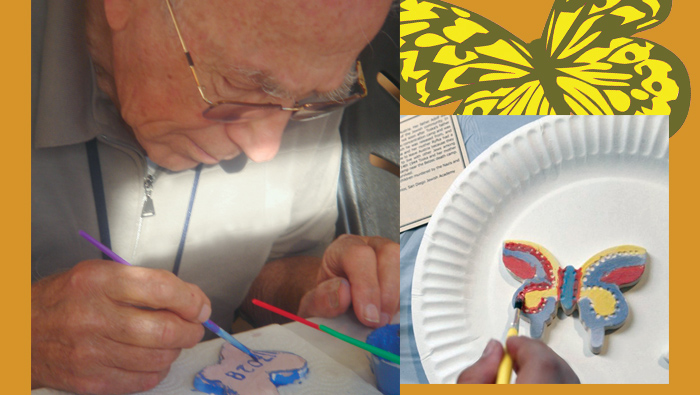 Teens, preteens, children and families can step up and change the world on April 2 by participating in a variety of tikkun olam projects on Good Deeds Day.
Family-friendly projects will include packing Passover food boxes, making blankets for children in crisis, making birthday cards for seniors, assembling hygiene kits for the homeless, preparing lunch kits for low-income children and others with food insecurity, and paper crafting for the Family Relief Nursery. For a full list of projects and to sign up, visit jewishportland.org/gooddeedsday.
But the day's largest project will be The Butterfly Project. Youth in grades six to 12 are invited to participate in The Butterfly Project, an international effort that uses art and the lessons of the Holocaust to educate youth about the dangers of hatred and bigotry. Brought to town by Portland Area Jewish Educators, the project is expected to draw 150 teens and preteens to paint ceramic butterflies as the J-Serve portion of Good Deeds Day.
Educator Jan Landau and artist Cheryl Rattner Price co-founded the initiative to take Holocaust education out of the textbook and bring it to life in a way that inspires students to make the world a better place. The project draws on inspiration from The Diary of Anne Frank, the poem "The Butterfly" (see next page) and the documentary film "Paper Clips."
Portland youth can choose from two sessions, 11 am-12:30 pm or 1-2:30 pm. Each session will begin with a short education piece about The Butterfly Project. Students and survivors will mingle at tables as they each paint a butterfly. Survivors will share their stories informally as they work, and educational slides will be projected on screens around the room. Congregation Beth Israel has volunteered its kiln to fire the butterflies, which will then be returned to the Mittleman Jewish Community Center for a permanent installation later in the spring.
The Butterfly Project is now a global memorial with installations in more than 200 communities in the United States, Canada, Mexico, Israel, Australia, France, Tanzania, Cuba, Morocco and Poland.
The Portland project coincides with an effort by Cheryl and documentary filmmaker Joe Fab calling for every state to mandate Holocaust education in the public schools to combat a rise in hate crimes nationwide that spiked around the presidential election. The call to action was issued Jan. 24 with a screening of "NOT The Last Butterfly," which tells the project's story.
"This work of The Butterfly Project has been a passion of mine for over 10 years now, and I wanted to reach more people by creating a film about its impact," says Cheryl. "I hope 'NOT The Last Butterfly' will help people feel that they don't have to be experts on the Holocaust –that they can begin where they are and just open their hearts a little bit, and that the art gives them a softer way in. It helps you process these difficult stories and to feel that you're creating something beautiful from something really difficult – a tribute on which you're putting your signature."
Cheryl says the resulting installations give people places to visit and show their children.
"What I hope is that they feel not shut down like we were, when I was getting educated about the Holocaust, but that there's just enough to make them want to actually lean in and learn more."
WHAT: An annual celebration of community volunteering
WHEN: 9 am to 3 pm, April 2
WHERE: Mittleman Jewish Community Center, 6651 SW Capitol Hwy., Portland
HOSTS: Jewish Federation of Greater Portland & MJCC
INCORPORATING: J-Serve, an international day of Jewish youth service in partnership with Good Deeds Day, Repair the World, Youth Service America and BBYO
INFORMATION: jewishportland.org/gooddeedsday • 503-245-6449