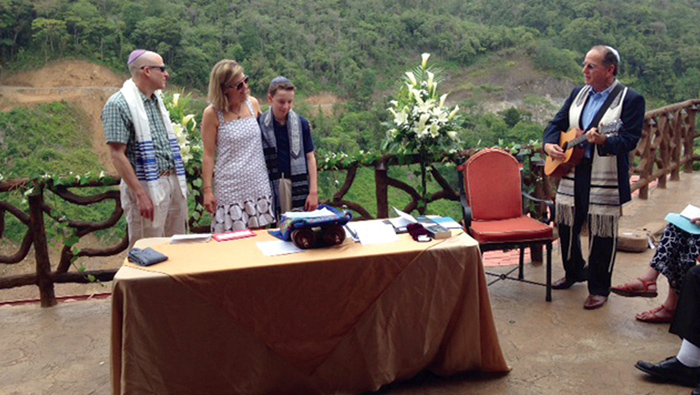 Taking b'nai mitzvah celebrations on the road can relieve mental and financial stress, promote family bonding and create a double set of memories to last a lifetime.
A destination bar or bat mitzvah can be the ideal solution for a family facing special needs – either in terms of family dynamics or a child with learning or developmental differences.
More than a decade ago, Ellen Paderson began planning destination bar and bat mitzvahs. With more than a hundred such celebrations under her belt, she realized how well they would fit the needs of children with anxiety or developmental issues as well as families' special needs.
"Many children are shy and don't want to get up in front of the whole congregation, but they can do it in front of 20," says Ellen.
Through her 22-year-old travel company Smiles & Miles Travel, Ellen not only handles all travel arrangements, she has connections with synagogues throughout the world. They include Prague and Italy as well as at historic American synagogues in St. Thomas and Curacao. For celebrations on cruises or in the rainforest or other exotic locations, she has a cantor willing to join the trip to officiate and bring a Torah and prayer books.
While some families have the education piece in hand, Ellen can arrange tutors, who work via Skype or FaceTime, to prepare the child for the service.
She shares a story from one of her tutors who worked with twins, one of whom had autism: "We began our lessons about six months before the trip, and we focused on having each child accomplish prayers and blessings that were age and skill appropriate. We created a teaching/ learning experience that was challenging without pressure or stress. We adapt our lesson for the individual student."
She says another tutor explains, "Our goal is to make it easy for the child to participate as much as possible in the bar/bat mitzvah ceremony, to make them feel good about being Jewish and to appreciate their rich heritage, their roots and who they are."
When picking a destination, Ellen says she reminds the parents to consider the child's interests. For a child who likes nature and adventure, planning a trip to visit the art museums in Italy is not going to be a hit.
Though an exotic family vacation might sound expensive, Ellen says for many families it is actually cheaper than throwing a big party for everyone in the congregation – a party where the bar mitzvah will spend little time with relatives who travelled across the country to see them. Conversely, on a cruise or at a resort, the extended family will often have several days to bond over shared meals and excursions. The service, family and vacation will combine to create lifelong memories.
"Sometimes divorced families find it easier to be in a destination and can share the joy," says Ellen. Depending on whether the divorce was friendly, she notes, parents in different states might come together in one destination, or a father might plan a destination bar mitzvah after the mother hosted a celebration in the synagogue.
For more information about Smiles & Miles Travel, visit barmitzvahvacations.com.