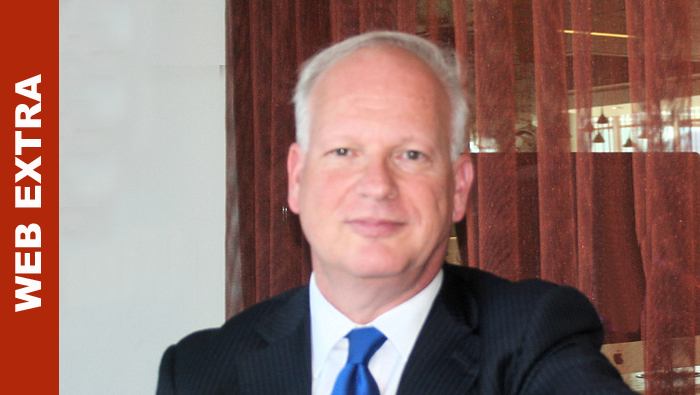 PHOTO: Alon Pinkus
By Polina Olsen
Former Israeli Consul Alon Pinkus thinks the Iran Nuclear Arms Agreement is neither good nor bad. "It's a deal," he said during a July 27 interview with Oregon Jewish Life at his eastside Portland hotel.
Touring the United States under the auspices of J Street, (jstreet.org), a pro-Israel, pro-peace American organization,  Pinkus hopes to "enlighten, enrich and provide perspective" about the agreement that is scheduled for a United States congressional vote in mid-September. The deal would lift sanctions against Iran in exchange, the Obama administration says, for "verifiably preventing Iran from acquiring a nuclear weapon and ensuring that Iran's nuclear program will be exclusively peaceful going forward."
Pinkus served as Consul General of Israel in New York from 2000 to 2004, and has worked as a liaison between Israel and the U.S. media. He was chief of staff to Israeli Ministers of Foreign Affairs Shlomo Ben-Ami and David Levy, foreign policy advisor to Ehud Barak and political advisor to Shimon Peres.
"People who oppose the deal have legitimate grievances," Pinkus says. "Some believe this is the only agreement possible. Then you have in-betweens, like me, who try to explain what the consequences of the deal would be for Israel. Sanctions worked but they could not stop Iran's march toward nuclear capability. The alternative to a deal would be an Iran that could develop a nuclear weapon within months."
Pinkus believes the deal has flaws beginning with its expiration, which lifts Iranian nuclear restrictions in 10 to 15 years. Furthermore, inspections to insure Iran's compliance will not be conducted anytime or anywhere. Inspections must be scheduled, and they involve many agencies and countries.
"Will the Iranians lie and cheat?" Pinkus says. "Their incentive is low because cheating would be detected. This is according to David Cohen the deputy director of the CIA. If Iran lies, sanctions will be re-imposed. And, I am not naïve. I don't expect the deal to change Iran politically. However, a decade is a long time, and there is the potential of Iran mellowing. Those who think Iran will become better don't know what they're talking about, and the other side doesn't know either."
Pinkus understands why opponents think international sanctions against Iran should be lifted and Iranian assets unfrozen only after Iran meets all its commitments. They believe the deal provides immediate relief.
"The sanctions are lifted gradually," Pinkus says, although he acknowledges it's faster than opponents of the deal would like. He also doesn't see Iran's support of terrorist organizations as a block to the nuclear agreement.
"Iran will support terrorist organizations with or without the agreement, they always have," Pinkus says. He points out that Iran is fighting ISIS along with Saudi Arabia and the United States.
"It's easy to read the text and highlight flaws," Pinkus says. "I would expect those who point out the flaws to come up with an alternative. Is it a military strike? They want what Iranians see as complete capitulation. The implication is no deal."