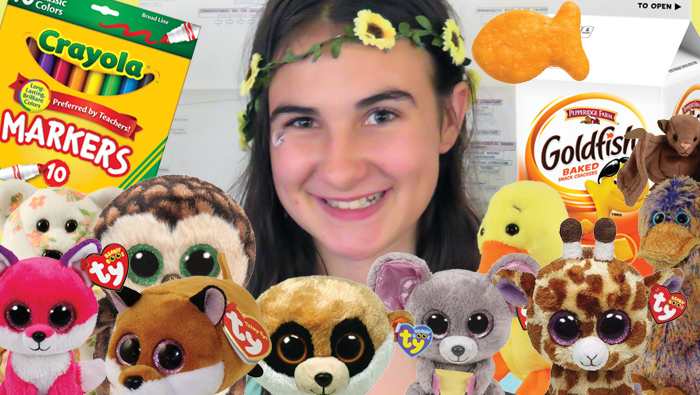 Kiaran lived with seven different families during her first six years of life. When she was in kindergarten, Valerie Tobin and Rodrigo Diaz became her foster parents and a year and a half later her adoptive parents.
Now Kiaran Diaz-Tobin has dim memories of frequent moves and feeling adrift. So when she was considering a mitzvah project for her bat mitzvah at Congregation Shir Tikvah last October, the concept of second chances in her Torah portion resonated strongly. The parsha reflects on Moses asking God to forgive the Israelites for worshipping a golden calf and to give them a second chance. While Kiaran says foster kids don't need forgiveness, they definitely need a second chance.
For her mitzvah project, Kiaran wanted to support young children entering the foster care system for the first time. Sometimes children are picked up at school and spend hours in a social worker's office until a foster placement can be made. Kiaran knew a box of snacks, activities, comfort objects and positive messages would be a welcome gift.
Her congregation agreed with her and backed her project with both financial and volunteer support.
Students in Shir Tikvah's Nashira Project (education program) bring tzedakah money to each class. Once a year the students vote on which one charity or project should receive the funds.
Kiaran presented a grant proposal to her schoolmates, who voted to contribute last year's tzedakah to create the welcome boxes for distribution through Embrace Oregon, a volunteer group that connects caring community members with vulnerable children and families in partnership with the Department of Human Services.
The funding was used to purchase items for 50 welcome boxes.
Then Shir Tikvah members stepped forward en masse. Families gathered one afternoon and packed and decorated the 50 boxes. Many also brought children's books to add to the boxes. Young children created colorful drawings, and older members wrote supportive messages to the foster kids.
In her D'var Torah, Kiaran described the project this way:
"My mitzvah project was called Boxes of Love. I organized an event that was held here at Shir Tikvah. With the help of the community, we packed 50 boxes that contained coloring books, school supplies, flashlights, toys, snacks and books for children who were going into a foster for the first time. Inside each box people wrote encouraging messages such as "Stay strong!" and "You are loved," and we drew colorful pictures on the top of each box. The reason I chose this project is because I was a foster kid, so I know what it feels like to switch to different homes and different people. I thought it would be cool to give to someone who didn't have a lot to begin with, and receiving a box would make that child happy, feel grateful and know that somebody cares about them. I feel like I got a second chance in life without doing anything wrong. By sending Boxes of Love to the kids, I hope that each one of them feels like they, too, can have a second chance."
"Kiaran's mitzvah project inspired us all," says Katie Schneider, Shir Tikvah's education director. "It isn't very often that a student has such a personal story to tell. Many of our congregants were so quick to offer what help they could."
Kiaran says, "I was amazed. It was a bigger turnout than I expected. It makes me feel happy."
Kiaran's mom says she hopes more people in the Jewish community will reach out to help, foster or adopt children. "A lot of people involved in foster care are in the Christian community, so I thought it was very cool to have this Jewish involvement."
"Things are pretty chaotic in foster care," says Valerie. "I hope this inspires other Oregonians to help children in foster care. An average of 7,600 kids were in foster care on a daily basis in 2016 in Oregon."
Valerie and Rodrigo went through Boys and Girls Aid, the oldest adoption agency in Oregon, to foster and then adopt Kiaran.
After the adoption was finalized and Kiaran settled into the family, Valerie says they decided to commute from their east Portland home to Portland Jewish Academy for a year to give Kiaran a warm introduction to Judaism. Kiaran attended third grade at PJA, where she learned a lot of Hebrew and Jewish traditions, so she was ready to immerse herself in Shir Tikvah's Nashira Program. She spends three weeks each summer at Camp Miriam, a Jewish resident camp in British Columbia.
This fall the family moved to the Chicago area, where Valerie is enrolled in a Ph.D. program in nursing at Rush University. But Kiaran plans to return to the Pacific Northwest for camp every summer, and the family plans to stay in touch with their Shir Tikvah friends.
Resources
Support for foster children: embraceoregon.org
Foster and adoptive services: boysandgirlsaid.org
Oregon's Child Welfare Data for 2016:
oregon.gov/DHS/CHILDREN/CHILD-ABUSE/Documents/2016-cw-data-book.pdf