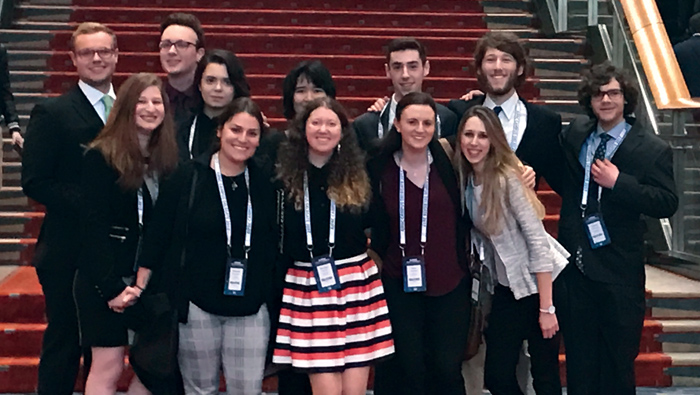 Given the recent rise in anti-Israel sentiment on college campuses, many Jewish students feel it is imperative to understand the Jewish state's culture and complex political issues. Portland Hillel's Our Israel Fellowship works to give students the tools they need to be effective Israel advocates who can educate their peers.
This year Portland Hillel Director Rhonda Kruschen has been working with 12 OI Fellows from Portland State University and Lewis & Clark College. The OI Fellows have been attending community events related to Israel and meeting as a group to discuss their individual views about the country. The fellowship has been funded by generous donors and the Jewish Federation of Greater Portland.
"These intelligent and compassionate students care about the future of Israel and its relationship with the United States, and it's truly humbling to have spent the last few months learning with and from young adults like these," says Rhonda.
Rhonda has helped to organize several community events that the Fellows attended. These events cover all aspects of Israeli life, giving a perspective of the country that reaches beyond the Israeli/Palestinian conflict, a perspective that the Fellows are passionate about gaining.
"We don't only want to focus on the conflict, we want to talk about why Israel is an amazing place beyond the conflict," says OI Fellow and PSU student Anthony Safir. Events have covered subjects from Israeli history to the LGBT community in Israel.
OI Fellow and LC student Aaron Schimmel agrees with Anthony that these educational opportunities are essential to Israel advocacy.
"Learning about the country gives people the knowledge and confidence to engage in advocacy," says Aaron. "Having the knowledge to teach others and address their misunderstandings about Israel is extremely powerful."
Aaron, Anthony and the other Fellows will all have the opportunity to educate the community through events like the ones they attended. Each Fellow commits to a full term of on-campus Israel advocacy, which often takes the form of organizing similar programs.
Their Israel education does not end with the events. The Fellows meet frequently to discuss their own views on Israeli culture and politics. In doing so, they have become "a small family," as Anthony puts it.
"Like any family, we disagree on a lot, but learning from each other has been the best experience I've had," he says.
OI Fellow and LC student Alex Raphael agrees, adding, "It's been a lot of fun getting to know the students at PSU, who have very different challenges regarding Israel on their campus than we do at LC. I really admire them and it's really great being able to spend time learning with those students."
The Fellowship culminated in the Fellows attending the annual American Israel Public Affairs Committee conference in Washington, D.C., March 25-28. About 19,000 Israel advocates from across the country attended this year's AIPAC conference. All the Fellows expressed excitement about having the chance to engage with and learn from other activists.
"It is such an incredible experience, being surrounded by thousands of people who are pro-Israel, but that doesn't mean we all agreed on the same politics," says Alex, who attended the AIPAC conference last year.
Anthony was eager to participate in actively shaping U.S. policy toward Israel.
"One of our greatest rights as citizens is the ability to tell our elected leaders what we want them to do for us," Anthony says. "I'm looking forward to … advocating for the best interests of both the U.S. and Israel."
Speaking from the conference, Aaron described how inspiring it was to be there.
"In most of my life I feel like a minority for my support of Israel, a disliked minority," Aaron said. "But here, being with so many others who share my support for Israel, it's very empowering and an incredible experience."
Peter Kranitz is an English major at Lewis & Clark College and an active participant in the Greater Portland Hillel.