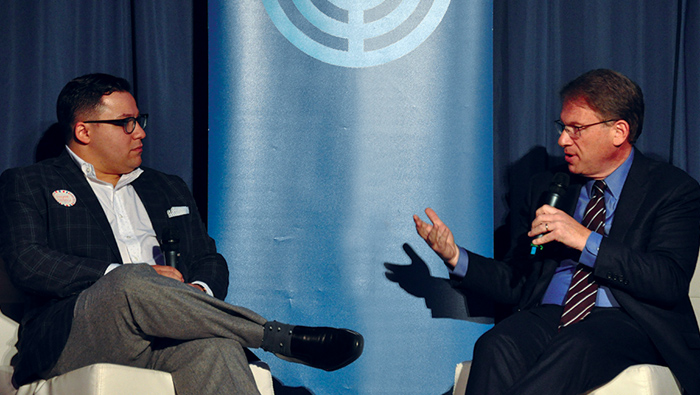 Nearly 400 people turned out to hear The Atlantic editor-in-chief Jeffrey Goldberg speak about this year's historic presidential campaign at the Jewish Federation of Greater Portland's Gala Celebration: 2016 Election Edition with Jeffrey Goldberg on Oct. 26.
Speaking before the election when polls indicated Donald Trump would lose, Goldberg urged people to not dismiss Trump's supporters. "I'm interested in knowing why people are voting for Donald Trump," he said. "There is a need he is fulfilling. … We need to be respectful of that."
Singer asked Goldberg if the views of David Duke, white supremacists and neo-Nazis have entered the mainstream.
Goldberg replied, "We've entered a new period. Things that wouldn't even be said four years ago don't even shake us anymore."
Campaign Co-Chairs Mark and Mindy Zeitzer spoke on how federation supports seniors, Holocaust survivors, college students confronting anti-Semitism, low-income families, children with disabilities and others in need in this community, in Israel and around the world. The generosity of all the donors at the event raised $926,292.
"Over 120 gifts made at the gala were either new gifts or increases of 10% or more, enabling us to access nearly $60,000 of the generous matching gift from Elena and Scott Shleifer," reported JFGP Campaign Director Michael Jeser.
Photos by Deborah Moon