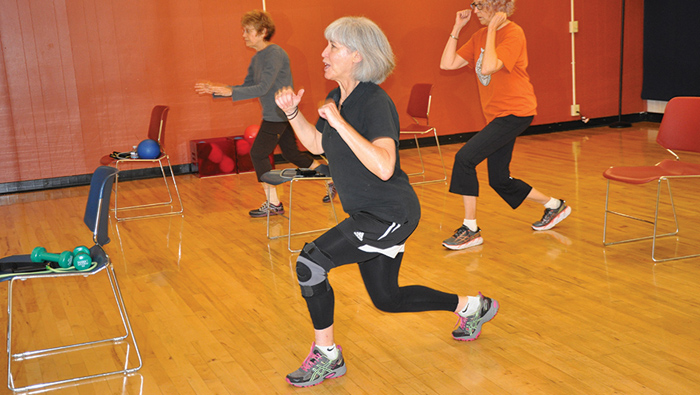 Robin Kirsch, 60, has been teaching exercise classes since 1985, when an aerobics instructor invited her to team-teach a class at the Baltimore JCC.
For the past eight years she has used her 30+ years of experience to help seniors and others who want to improve their fitness level without high-impact or high-intensity workouts. Two days a week she teaches "Forever Fit," a 90-minute whole-body, muscle-toning workout, at the Mittleman Jewish Community Center.
Most Tuesday and Thursday mornings at 10:45, about 16 to 20 people (mainly senior women) turn out to become forever fit. The class helps strengthen muscles and bones, improves posture and gait, and helps seniors stay agile and able to get in and out of a chair easily.
"My main concern is working on balance to help prevent falls," says Robin, who is certified by the American Council on Exercise.
"I can modify exercises for people with different injuries," she adds, noting many people in the class have knee or hip issues. "I can show them modifications."
Robin says she does a lot of upper body strengthening because "If you can't use a walker later, then you are stuck in a wheelchair."
The class incorporates a variety of equipment including weights, bands, rings, versa balls and chairs. Robin always includes squats and pushups (using a versa ball against the wall).