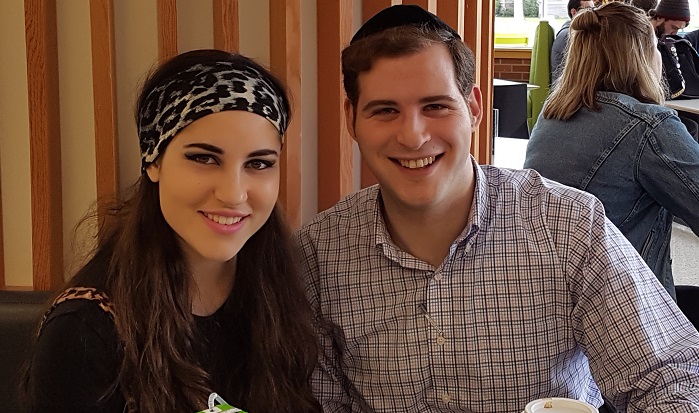 You could say that Jewish Eugene's newest spiritual leaders, Rabbi Ozer Moszkowski and Rebbitzen Leah, were fated to come to Oregon together.
As infants in South Africa, their mothers were close friends living one apartment building apart. When Ozer was just 3, his family announced they were moving to England, causing a tearful goodbye between the moms, who thought they'd never meet again. Hashem, however, had other plans.
Three years later (when Leah was 3), her family moved to England as well, and they all ended up in close-proximity neighborhoods in Manchester. The Jewish enclaves of Broughton Park and Prestwich were just 15 minutes apart by walking. The parents reunited with great delight, and although Ozer and Leah were not close play friends as children (a three-year age difference is a wide gap in our early years), both grew up in this welcoming British environment.
Ozer left home in 2010 studying in top rabbinic training academies in Israel. During that time, Leah went on vacation to Israel, and as a matter of course contacted Ozer. Now young adults, this contact led to their first dates. Eventually, when Ozer returned to the UK during a break in his studies, the couple got engaged and with their parents' blessings were married four months later.
Back again in Israel, Ozer completed his studies and received his smicha (rabbinical ordination) from Rabbi Yitzchak Berkovits at The Jerusalem Kollel. Although only men are ordained there, Rabbi Berkovits believes that rabbinical couples are a solid team unit, and so he gives the same lessons to women as he does to men.
Ozer and Leah have a daughter, Tehillah. This charming girl is 4 years old and attends the Montessori school. They came to Oregon when the position of spiritual leader at Ahavas Torah became vacant.
Like others before him, Rabbi Ozer's principal job is to work with University of Oregon students at Akiva on Campus, similar to Hillel House and Chabad in Eugene. All three Jewish entities offer students Shabbat prayers and four-course dinners every Friday night, and they sometimes coordinate major events together, such as the Purim celebration. There's a plan afoot to jointly hold community campus Kiddush evenings once each month, with prayer, wine and challah baked by the rebbitzen. The first such meeting took place in January.
I asked Rabbi Ozer if this atmosphere fosters a sense of friendly competition, and he replied, "Trust me, there's enough Jewish students at UO to go around! There are over 30 religious organizations on campus, and the three Jewish ones each attract a different type of core group. You could say we each present a slightly differently flavored atmosphere. Leah and I see our part as being less of an organization, and more like an extended family, with very personalized, individual attention given to each student."
That said, many of the students take turns showing up at each off-campus "home," varying their rounds of all three Jewish groups.
Rabbi Ozer divides his time as well. In addition to UO outreach with Akiva, he serves as rabbi of Congregation Ahavas Torah, where he leads Shabbat services and delivers a d'var torah Saturday mornings. It's a whirlwind of interdependent activities that are sure to have a lasting and positive effect on the ever-growing Jewish community of Eugene.
 503-261-3850 | ozer@akivaoncampus.com