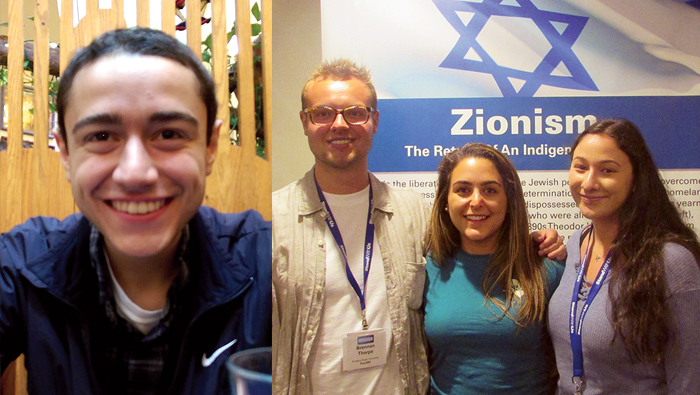 Contention on college campuses over Israel is not unusual, which is why StandWithUs, a pro-Israel nonprofit, has granted fellowships to three Oregon college students to help bring positivity and education about Israel to campuses around the state. Emerson Fellows are selected to train as student leaders to create programming and confront anti-Israel rhetoric for an academic year on their respective campuses.
The three Oregon fellowship recipients, along with 74 other college students from the United States and Canada, participated in the program's training conference in Oxnard, CA, Aug. 21-25.
Natalie Engler, a Los Angeles native, was chosen to represent StandWithUs at the University of Oregon. Natalie is a sophomore on the Eugene campus and is excited about the opportunity to bring pro-Israel awareness to her fellow students.
Natalie says she was involved throughout her youth in her Jewish community, but it wasn't until she started at UO that she was given the opportunity to immerse herself in pro-Israel activities. When she found out about the Emerson Fellowship, she was quick to apply and thrilled when she was accepted.
The training conference was mind-opening, she says. "Personally I have never been given the opportunity to have this much education about Israel activism," she says. "I learned a lot and was very inspired. I'm excited to bring those ideas back to campus."
Natalie says she plans on expanding the connection between the different Israel groups on campus by creating a coalition of them.
She says that the University of Oregon is not currently fighting a Boycott, Divest, Sanction resolution like other campuses in Oregon, but she wants to be prepared if it does happen. "If it does come to University of Oregon, I want to make sure we have a large pro-Israel presence ready," she says.
Zohar Hoter, a Portland native, is this year's fellow from Oregon State University. He is starting his sophomore year at the Corvallis campus. Raised by Israeli parents, he says he has always had a strong connection to Israel.
"It's important people do their part to support Israel and combat anti-Semitism," he says. "To have the opportunity to make a big impact on campus and be able to support Israel is very meaningful for me."
Zohar plans on using tools and materials given to him through StandWithUs to bring fun events to campus that inspire other students to get involved.
Brennan Thorpe is entering his senior year at Portland State University and is excited to celebrate Israel on campus this year through his fellowship. Last year, Brennan was part of the fight against a BDS resolution at PSU and relied on StandWithUs for support.
"Last year StandWithUs supported us in the fight against BDS. Emotionally and strategically, we couldn't have done it without them. To be able to stand up against hate and anti-Semitism on campus is very important," Brennan says.
Brennan is an evangelical Christian from Portland. He says Judaism is close to his heart, and he grew up learning about Israel. He says he first decided to get involved in the pro-Israel movement on campus after his first class at PSU, when he heard his professor making anti-Israel statements.
"More and more I noticed anti-Israel and anti-Semitic things professors were saying," he says.
Although the majority of Emerson Fellows who participated in the August training conference were Jewish, Brennan says he felt welcome. "It's a familiar and comfortable environment for me," he says. "Being able to collaborate and hear completely different perspectives was very refreshing and reminded me why I am doing this."
StandWithUs Pacific Northwest/Northern California Campus Coordinator Noa Raman says the Emerson Fellows chosen this year will have a positive impact on their respective campuses.
"SWU is fortunate that in its tenth year, the Emerson Fellowship is highly sought after and we have many qualified candidates. The students selected showed their desire to advocate for Israel, even though it is not always popular to do so. They also exhibited outstanding leadership skills in the community and a strong work ethic," she says.
"I hope that the 2016-2017 Emersons will gain more confidence in speaking openly about their love for Israel and continuing their education on the pathway to peace."