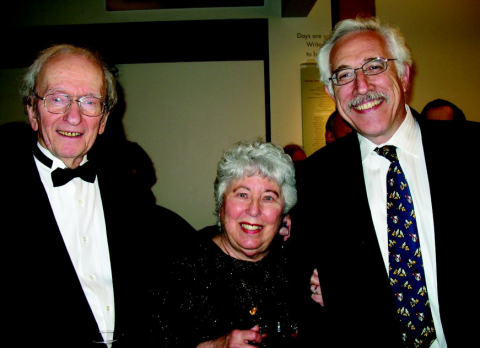 A 60th wedding anniversary deserves a party, and Arnold and Elaine Cogan threw a bash.
Held at the Oregon Jewish Museum on Dec. 22, the celebration brought together family and old friends. Each guest received a handmade commemorative cookbook with the couple's favorites, including German Pancakes and Crazy Chocolate Cake. All 70 guests squeezed into the museum's auditorium to hear professional actors read poetry and essays about love.
The Cogans' love started long ago and has been growing since. Elaine's family came to Oregon from Brighton Beach, Brooklyn, NY, in 1947; Arnold's from Bath, ME, in 1948. They met at a high school Jewish sorority dance in the summer of 1949.
"It was a springtime formal, and we were each with other people," Elaine remembered. "We both had prominent eastern accents, so people said, 'We can't understand you, why don't you talk to each other?' That night, I wrote in my diary that I met a very nice boy from Bath named Arnie, and I hoped I'd see him again."
They married in their junior year in college and honeymooned in Corvallis, where they rented an apartment, shared a bicycle and finished school. Family and illustrious careers followed. As an urban and regional planner, Arnold went on to work for Gov. Tom McCall and became an instrumental leader in the fight to stop urban sprawl. "We had to get every city in the state to create and approve plans that met Oregon Department of Land Conservation and Development regulations," he said. "When people think about the livability of Oregon and how we protect farm and forest land – it was because of that program."
Meanwhile, Elaine wrote a column for Oregon's major newspapers as she focused on raising the couple's three children. "My job was to ferret out the news behind the news," she said. "I interviewed everybody and everything, and I could do this from home as long as I met the deadline." Her many accomplishments include hosting an early morning KGW talk show, editing the Jewish Review from 1985 to 1987 and serving as the first woman president of Congregation Neveh Shalom. (Arnold became president a few years later.) The couple has received numerous accolades, including the 2006 Maurice Sussman Memorial Award from the Oregon Area Jewish Committee.
They combined their talents to found a consulting firm, Cogan-Owens-Cogan, which works with cities and counties. "We build a bridge between what they're doing and the public," Elaine said. The collaboration started long before. Partners in profession and in life, they have always been each other's coach and proofreader in chief. Even in college, Elaine wrote the lyrics and Arnold composed the music for a campus musical.
"We started so young that we grew up together," Elaine said. When asked the secret to their long marriage's success, she added, "We didn't have too many bad habits. We have a high regard for each other, and what we do professionally does not compete. We trust each other, and we disagree but we aren't disagreeable. We're best friends."