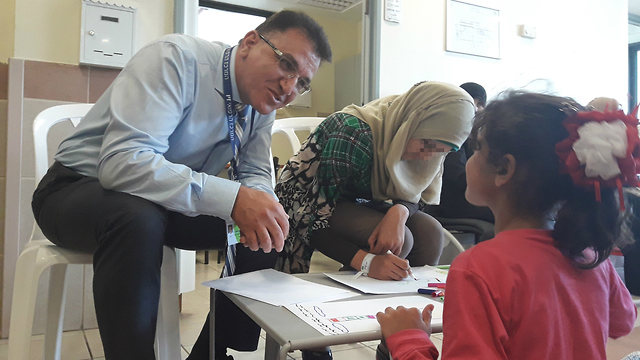 Photo: Dr. Salman Zarka, the director of the Ziv Medical Center in Safed with a young Syrian girl. Photo coutesy IDF Spokesman's Office
Dr. Salman Zarka has been selected as one of 12 torch-lighters at the annual Independence Day ceremony on Mount Herzl in Jerusalem. Zarka, of the Druze village of Peki'in in the north, is the director of Ziv Medical Center in Tzfat and an internationally renowned expert in public and military medicine.
IDF Colonel Zarka served in the medical corps for 25 years, including as commander of the IDF Center for Medical Services and head of the Corps' Health Department. In March 2013 he founded and commanded the operation of a field hospital on the Israel-Syrian border for the treatment of thousands of victims of the Syrian civil war.
"I am very proud to light the torch on behalf of the military medical teams to which I belonged for many years in routine and emergency situations and also on behalf of the amazing team members at Ziv Medical Center, who performed a unique task in helping the Syrians and working tirelessly to promote equal medical services in the northern periphery," says Dr. Zarka.
Doctors and nurses at the Ziv Medical Center performed life-saving medical treatment to the Syrian enemy on the border.
The Ministerial Committee on Symbols and Ceremonies, which determines the identity of the honorees, noted that in his activities, Zarka "expresses the State of Israel's commitment to the basic values of human dignity and the sanctity of life and the exceptional dedication of the medical staff in Israeli public hospitals to the treatment of all humankind."