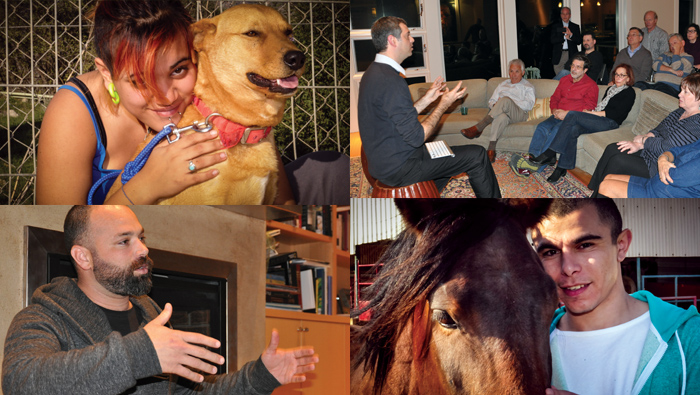 On his fourth visit to Portland to share the success of the educational kibbutz movement, Gilad Perry asked fellow educator Shraga Stern to share his story on a new program and surviving a terrorist attack.
Dror Israel has 16 educators' kibbutzim with 1,200 young adult residents who provide education, cultural and social activities that serve more than 100,000 teens and adults. The movement seeks to help Ethiopian and Russian immigrants, Arab Israelis, Druze, Bedouins and the working classes fully engage in Israeli society. The group has seven high schools, two boarding schools, seven afterschool centers for at-risk youth and now a pre-military gap year program to help at-risk youth succeed in Israel's compulsory military service.
Shraga created a pre-military gap year program for young people whose backgrounds seemed likely to make military service unsuccessful. He spoke about the importance of the program in helping young people find success in the IDF, which is a key component to success in Israel. He also spoke about finding out that what he himself does embodies the responsibility and commitment he strives to teach the students.
Six months ago while on reserve duty, Shraga was critically injured by a terrorist with a knife.
One night at 2 am, the base where he was stationed received a call from a civilian who reported seeing a man headed for a town. Shraga's unit and others searched the area, including going door-to-door, until trackers saw signs the man had come and left. Citing other assignments, the battalion commander ordered the troops to leave, but convinced there was still danger, Shraga and eight of his soldiers remained so they could search in daylight.
While sitting in an armored vehicle near a line of trees, Shraga opened his door to get some air. When he felt a blow to his right side, he jumped out of the vehicle and tried to subdue his attacker by hand, ordering his men not to shoot. It wasn't until he felt the attacker pull the knife out of his side that he realized the first blow had been the knife being thrust into his ribcage. He managed to pin the terrorist long enough for his men to grab him.
Thanks to the quick work of a medic and civilian doctor from the town, he survived the damage to his liver and lungs, which had begun to fill with blood. Still awake as the doctor performed an emergency procedure to drain his lungs, Shraga said his first thought was he was glad the man had not attacked his driver, who has two young children. His second thought was of the deaths of five members of the Fogel family in 2011 when two terrorists entered their home.
"Making the decision not to leave stopped the opportunity for another family to die," said Shraga.
"I teach students about military service and being part of society," he said. "And I was pleased that when put to the test, I made the right decision."
During his seven years of active duty, Shraga became aware that some parts of Israeli society were not represented in the infantry. "Students from different backgrounds were not there with us in the struggles of young Israelis," he said.
"Military service is a gate to Israeli society," he explained. "Part of your resume is your IDF service and what did you do there."
But teens with a police record are not given a chance to serve in combat positions, even if they have changed. "If you become a cook or janitor, then you will have different opportunities in Israeli society."
"I started a new leadership program to take underprivileged kids and try to create opportunities for military service," said Shraga. "They are valuable and they have something to offer."
The 10-month program created three small businesses that teens run to develop social, leadership and organization skills. Shraga also goes to bat for his students.
"One student was very motivated to be in military service; the army was not interested," said Shraga. This boy had grown up with a single mom in a tough neighborhood and had a police record. "We had to get him recognized by the army. I had to use my connections and knock on doors. … He did really well and finished his service. He had a tough time the first year, but we were there to help."
For more information, visit:  http://drorisrael.org.il/english/
Donations can be made online at: