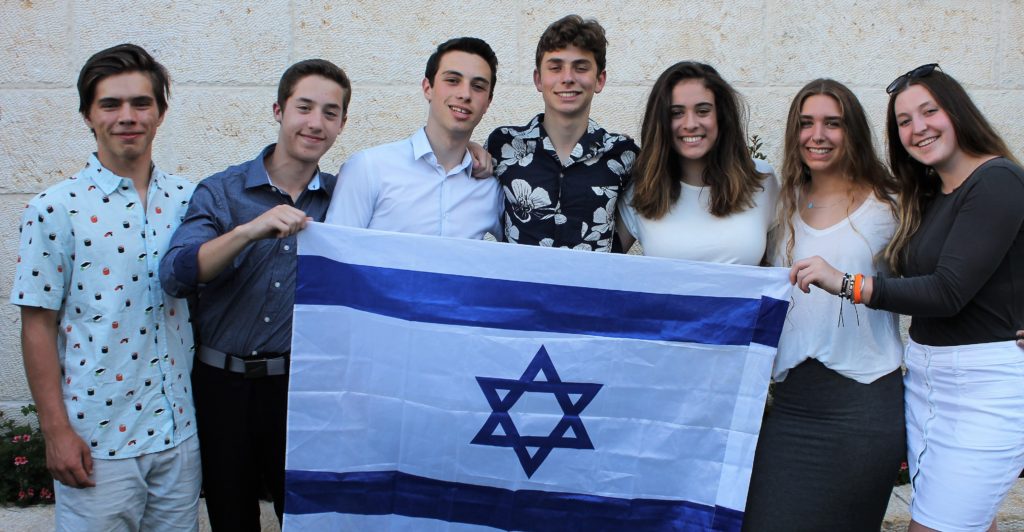 PHOTO: Oregon teens at the NCSY Summer Program Celebration in Israel were from left: Elijah Brenner, Ross Holmes, Ari Becker, Max Cullen, Talia Rosenbloom, Elianna Spilman and Sara Berkovitch; and not pictured Elana Welter, Moriah Berkovitch, Indigo Paris, Rivkah Zigman and Eliel Safran. The teens were joined by Portland NCSY Director Doovie Jacoby.

The Latrun Tank Museum on the outskirts of Jerusalem rocked with live musical performances, American barbeque and greetings from distinguished guests recently at the Orthodox Union's Yom NCSY, a record event with 2,500 summer program participants. A dozen Oregon teens were among the participants from 32 states, Canada, United Kingdom and Israel and represented the full Jewish religious spectrum.
"I am so incredibly proud to have 12 of our NCSYers spending their summer in Israel," says Oregon NCSY Director Meira Spivak. "They are having the time of their lives meeting new friends, connecting to the land and learning about our rich heritage.  I can't wait to fulfill our dreams of sending 20 teens to Israel next summer!"
The Israel celebration featured a special opportunity for participants to meet newly installed Jewish Agency Chairman Isaac Herzog and entertainment from New York-based DJZJ, singers Eitan and Shlomo Katz and performances from Israeli singers.
"Yom NCSY represents the very essence of what NCSY Summer is all about. At the event it doesn't matter what your religious background is, it's about a united non-judgmental, encouraging environment celebrating our shared connections in the home of the Jewish people," said NCSY Summer Director David Cutler. "The palpable energy, cheering, singing and dancing has made this the highlight of the summer."
In addition to the festivities, the event highlighted the 20th anniversary of The Anne Samson Jerusalem Journey, NCSY's premier touring program for public school students. Now in its 20th year, the program recently created two additional programs for participants hoping to spend an additional summer within the umbrella of TJJ. The TJJ Ambassadors and TJJ Ambassadors Poland programs are geared towards leadership development within the program's national alumni community. To mark this landmark year, NCSY is establishing the TJJ Founders Scholarship in honor of Rabbi Barry Goldfischer, the TJJ educator known for his warm and engaging personality. Rabbi Goldfischer is the current director of TJJ and has been involved with the program since its inception.
"The energy and enthusiasm of these young people was contagious. It was wonderful to see them all come together – from all parts of the world and from many different religious backgrounds – to celebrate their summer together, sharing in a love of Torah and Israel,"  said Orthodox Union Executive Vice President Allen Fagin.
"The Orthodox Union takes enormous pride in NCSY's summer programs," said Moishe Bane, President of the Orthodox Union. "The incredible array of styles and approaches reflects the OU approach to Judaism – that religious, Jewish growth must be made accessible and engaging for every Jew, regardless of educational, religious or cultural background. God has blessed the OU with NCSY staff that has the passion, commitment and brilliance to advance that aspiration."
NCSY's summer programs in attendance at the event included: BILT, GIVE, Euro ICE, Israel ID, JOLT, JOLT Israel, Kollel, Michlelet, Next Step, 4G Euro, Rescue Israel, TJJ Ambassadors, TJJ, TJJ Ambassadors Poland. Additionally, U.S.-based programs GIVE WEST and NCSY Sports were able to take part through NCSY's livestream. Over 200 participants of Yad B'Yad, the summer Israel-travel trip ran by the OU's Yachad division, also took part in the event.
NCSY, the international youth movement of the Orthodox Union, is dedicated to connecting, inspiring and empowering Jewish teens and encouraging passionate Judaism through Torah and tradition. NCSY provides innovative, informal Jewish education, leadership training, retreats and summer programs that foster positive Jewish identity and connection to Israel, preparing the next generation of committed Jewish communal leaders. For more information, visit https://ncsy.org/.
For information on NCSY in Oregon, visit oregon.ncsy.org or call Meira at 503-757-3037.