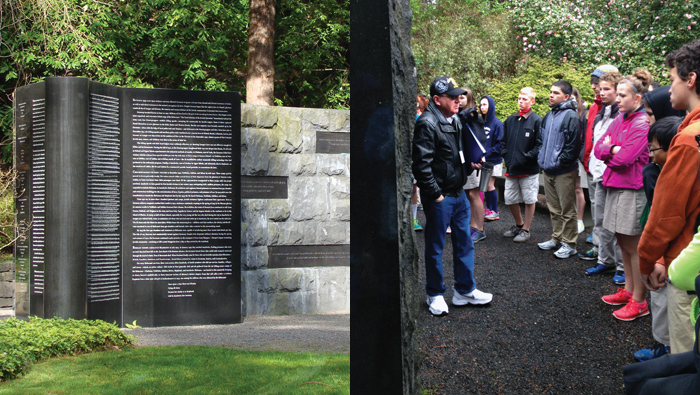 At the Oregon Holocaust Memorial, the young and old collide regularly. School groups and organizations tour the memorial each fall and spring. They are led by volunteer docents, who have memorized a script of important points, putting their own personal spin on it.
For Harold Lesch, 64, serving as a docent is a hobby. He's been guiding tour groups for the past four years and says middle school students are his favorite. Sometimes, he guides adult groups as well, but he enjoys the interest and energy of the younger groups.
"What I try to do is bring the Holocaust to Oregon, to bring the understanding and experience," Harold says.
Harold is a retired business sales manager and a retired Army officer. He felt drawn to the memorial because both he and his wife lost family members in the Holocaust.
"I encourage the students to participate. To ask questions, to read quotes together, that helps provoke them. I tell them at the beginning – it is difficult material. They are welcome to take breaks," he says.
April Slabosheski, the Oregon Jewish Museum and Center for Holocaust Education Holocaust educator, says the docents are incredibly valuable for those visiting the memorial for the first time.
"All the docents have their own perspectives and personalities that they bring to the tour," April says.
The conversation-style tour is much more engaging than a lecture, according to April. "It's not everyday that you get to tour somewhere that your perspective as a learner is put in the foreground. Especially with Holocaust history, because it is so emotional."
The Oregon Holocaust Memorial was dedicated Aug. 29, 2004. The trained docents are mainly retired seniors and, like Harold, have personal connections to Holocaust history as survivors themselves or as family members of survivors.
"A personal connection to Holocaust history makes all the difference to visiting groups. It makes a huge impact," April says.
The docents go through a training and watch others give tours before taking on a group alone. They learn from each other and sometimes, for larger groups, tour together.
"The docents do incredible work. I really rely on them to do high-caliber educating, and they never disappoint me. I am always stunned by the kinds of conversations they have with groups," April says.
The youngest school group to tour is generally 5th or 6th grade. Most elementary school curriculums don't include Holocaust education, so students don't have the opportunity to learn about it before then.
"Once in a while you get a group that only a couple want to participate," Harold says. "When that happens, I try to focus on the ones that want to learn. It's not our job to discipline or correct students, it's our job to provide information."
Although the younger groups have less previous knowledge, Harold says they are eager to learn. "I treat them as mature," Harold says. "I try to treat them as adults. There are levels of what you say depending on the age group, and I try to tailor what I say to the age of the group."
Docents who have been volunteering for years are often requested by name by group leaders. School teachers develop relationships with them and return each year with their new class.
"I try to get them to understand the depth of the horror and accomplish that by reading quotes," Harold says. "I tell them that everyone has a voice. Use your voice for good, because we are all human beings and we need to treat each other, even if we don't agree, with respect."
"Sometimes young people don't show they get it, but they do," Harold says.