In the American mid-term elections that took place on Nov. 6, three Democratic candidates for the U.S. House of Representatives who have been highly critical of Israel won in their reliably blue districts. Because they comprise only a tiny minority (just three out of 535 Members of Congress), the pro-Israel community isn't very concerned. But it should be.
Alexandria Ocasio-Cortez, who recklessly called the killing of violent Palestinian protesters by Israeli troops at the Gaza border a "massacre," was elected to represent New York's 14th Congressional District. In Minnesota, the winner was Somali-born Ilhan Omar, who once called Israel an "apartheid regime." In 2012, moreover, Omar declared that Israel had "hypnotized the world" to ignore its "evil doings" (though she now claims to support Israel's right to exist). And in Michigan, Palestinian-American Rashida Tlaib, who favors a one-state solution to the Israeli-Palestinian conflict and would "absolutely" vote against U.S. military aid to Israel, ran unopposed.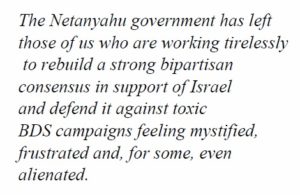 Pro-Israel operatives who work to secure bipartisan support for Israel tend to dismiss these three Congressional newcomers as outliers. Yet, their emergence is part of a trend within the Democratic Party that portends trouble for the future of US-Israel relations – a trend that's exacerbated by Israeli government policies at odds with most Democrats' progressive values.
It was during the 2016 presidential campaign that U.S. Sen. Bernie Sanders, runner-up to Hillary Clinton for the Democratic Party nomination, named three vocal critics of Israel to the party's platform drafting committee: Cornel West, a professor emeritus at Princeton; James Zogby, president of the Arab American Institute; and Minnesota Congressman Keith Ellison. Although the committee managed to turn back an effort by Zogby to insert one-sided language into the platform demanding "an end to occupation and illegal settlements," the vote was close.
Then, last year, 29 U.S. House members from 18 states – all Democrats – cosponsored H.R. 4391, calling for an end to Israeli military detention of Palestinian minors. Many of the so-called findings underpinning this legislation originated from highly inaccurate and misleading materials produced by the vehemently anti-Israel Defense for Children International – Palestine, a strong supporter of the Boycott, Divestment and Sanctions (BDS) movement. Fortunately, no action was taken on the bill after it was referred to the Republican-led Committee on Foreign Relations.
Not surprisingly, a survey by the Pew Research Center earlier this year indicated that Democrats are almost as likely to sympathize with the Palestinians as they are with Israel (25% versus 27%). By contrast, 79% of Republicans sympathize with Israel over the Palestinians while a mere 6% sympathize more with the Palestinians.
Now more than ever, candidates holding progressive views on social and economic matters, even if they're critical of Israel, are garnering votes from Jewish Democrats, who typically don't even consider Israel one of their five most important issues. In addition, given that a large majority of American Jews vote Democratic, Israeli Prime Minister Benjamin Netanyahu's close alliance with President Trump does nothing to help Israel's cause in the eyes of these voters.
What can be done to reverse this trend away from Democratic support for the Jewish state? To be sure, the pro-Israel establishment will continue to reach out and seek to educate Democratic candidates for public office, coordinate trips to Israel for those elected, and organize outreach efforts to core constituencies within the party, especially Latinos and African-Americans.
We can't be successful working in a vacuum, however. Over the last decade, the Israeli government has tied its political fate to the ultra-Orthodox and settler communities. It has therefore pursued a right-wing agenda that allows for open discrimination against the Reform and Conservative streams of Judaism while also seeming to undermine both Israel's guarantee of equality for all its citizens and its commitment to a two-state solution.
As a result, the Netanyahu government has left those of us who are working tirelessly to rebuild a strong bipartisan consensus in support of Israel and defend it against toxic BDS campaigns feeling mystified, frustrated and, for some, even alienated.
True, there are those on the unsalvageable left who will always reject the right of the Jewish people to national self-determination no matter what Israel does. And certainly, the democratically elected government of Israel has every right to make decisions it believes are in Israel's national interests.
But there's a reality that can no longer be ignored. Whether one agrees or disagrees with the specific policies, the more Israel lets the ultra-Orthodox rabbinate tighten its grip over Jewish life, adopts legislation that's perceived to undercut its democratic character and facilitates construction beyond the major settlement blocs, the more likely the ripple generated by Ocasio-Cortez, Omar and Tlaib will gradually become a wave.
Bob Horenstein is director of community relations and public affairs for the Jewish Federation of Greater Portland. An earlier version of this article appeared in the Jerusalem Report before the election.