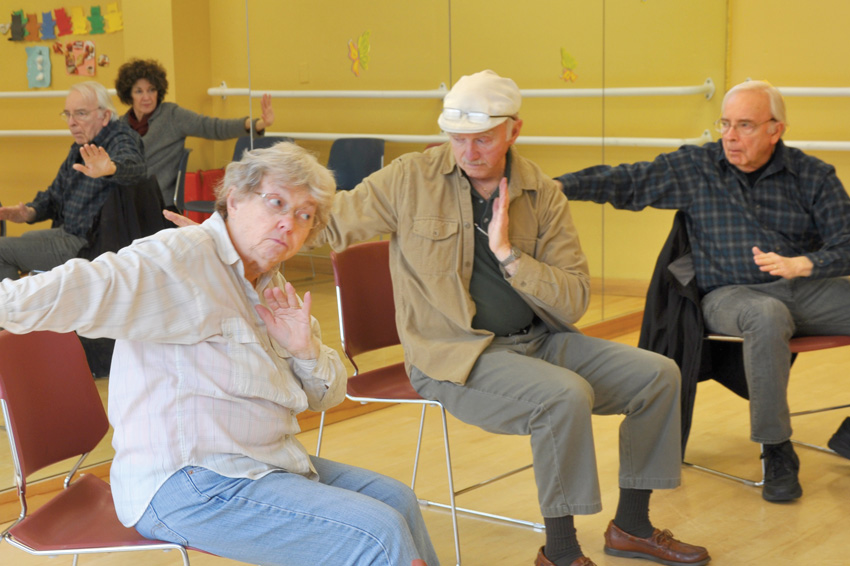 Photos by Deborah Moon
Dance, the art form, develops not only grace, musicality and coordination, but also muscle strength, flexibility, balance, gait and facial expression – making it a wonderful therapeutic exercise for those suffering the debilitating effects of Parkinson's disease.
So, since 2012, those with Parkinson's and their family members, friends and care partners have been invited to a free dance class held at the Mittleman Jewish Community Center at 1:30 pm Wednesdays. Classes integrate movement from multiple dance forms, music of all styles and theater vocal games that stimulate and develop the mind, memory, body and voice.
Dance for Parkinson's Oregon classes are modeled after the Dance for PD program developed by the Mark Morris Dance Group and the Brooklyn Parkinson Group. The weekly class is appropriate for anyone at any stage of the PD condition (students are able to use their wheelchairs or walkers during the entire class if needed), and no partner is necessary.
The Portland classes are taught by Madeleine Denko-Carter and Virginia Belt. Madeleine is a former professional modern dancer and a current choreographer, dance instructor and violin teacher. She was director of outreach at Oregon Ballet Theatre and a founding board member of the NW Dance Project. She earned an MFA in dance from New York University Tisch School of the Arts.
Also a former professional dancer, Virginia is now a choreographer, dance instructor and theater artist. She was a theater instructor at Willamette University and an arts administrator at Tygres Heart Shakespeare and Willamette University Theater Outreach.
In addition to the Wednesday classes at the MJCC, classes meet in east Portland and the Milwaukie area on Mondays, and on Saturdays in Vancouver. To find a class in your area, visit danceforparkinsons.org and click on "Find a Class."
If you have any questions on local classes, contact the instructors at danceforparkinsonsoregon@gmail.com; or Virginia at 503-789-4575 or Madeleine at 971-263-2761.