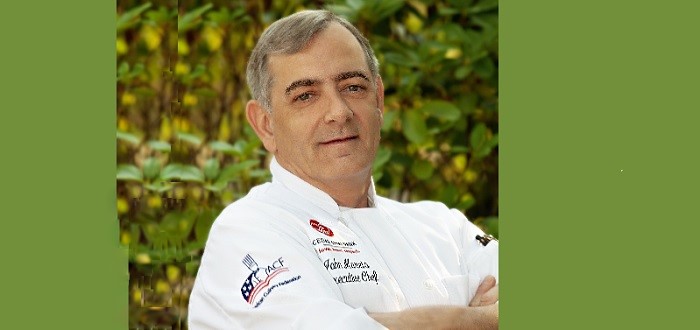 PHOTO: Cedar Sinai Park Executive Chef John Morris
Residents at Cedar Sinai Park will taste the difference as John Morris, CEC, becomes the senior care organization's executive chef. Morris oversees food service and nutrition programs for the assisted-living, long-term care and rehabilitation facilities on the nonprofit's Southwest Portland campus.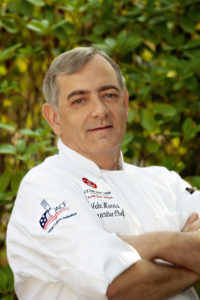 European trained in classical cuisines, Morris brings more than 20 years of culinary experience from around the world to his new position. Originally from England, but no stranger to the Portland food scene, he has held positions as instructor at Le Cordon Bleu/Western Culinary Institute and corporate chef at Fargo Rose (Rose's Restaurants and Bakeries). Most recently, he was executive chef and food services director at West Hills Senior Community.
As Cedar Sinai Park's top chef, Morris will be responsible for every culinary aspect for the more than 200 campus residents. While he will provide his skill and creativity to Cedar Sinai Park, he will also gain something from the organization – experience with a kosher kitchen. Cedar Sinai Park was founded 98 years ago as a home for Jewish elders. Today CSP serves people of all faiths, but its food and kitchen still adhere to traditional Jewish dietary laws.
"I'm looking forward to exploring my creativity with kosher cuisine," Morris says. "Even though there are strict rules around ways food must be selected and prepared, one needs to think of new and exciting ways to cook each item. Attention must be paid to every component that makes up a plate."
As the recipient of numerous awards and certifications, Morris is up to the job. The highly respected American Culinary Federation has honored him with lifetime certification as an executive chef (CEC), and Chefs of America voted Morris "One of America's Outstanding Chefs."
Cedar Sinai Park CEO Marty Baicker cites the new chef's extensive experience and says, "John will bring a fresh approach to our culinary services. He believes strongly in listening to the voice of his customers."
On his decision to cook for a community of seniors, Morris cites what he calls a "resurgence of understanding and respect for our elders today. They're sophisticated diners. They know what good food is. They expect and deserve a fine dining experience, and that's what I want to give them."
While his responsibilities are diverse, Morris looks forward to focusing on the 15 to 20 cooks he will oversee. Still the instructor, he plans to teach his cooks to take personal pride in the preparation of each dish. He says he has learned through his work and training that "you can prepare food healthily and nutritiously and still have it taste delicious."
Founded in 1920 as the Jewish Old People's Home, Cedar Sinai Park is one of Oregon's oldest and most inclusive senior care organizations. The southwest suburban Portland campus enjoys continued growth and broad community support. The organization encompasses the state's largest assisted-living facility, Rose Schnitzer Manor; a newly completed post-acute rehab center, Robison Health and Rehabilitation; and Oregon's first Green House model of family-style settings for long-term care, the Harold Schnitzer Center for Living. Cedar Sinai Park outreach programs include Sinai In-Home Care and Adult Day Services. The organization also provides housing with services for people with low incomes or special needs.