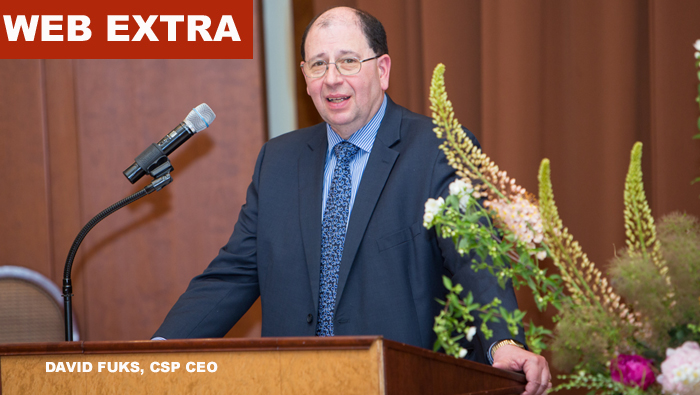 (Photo of CSP CEO David Fuks by One Click Studio)
At Cedar Sinai Park's 95th annual meeting June 11, the CSP board unanimously approved the consolidation of Jewish Family & Child service with CSP, a proposal that had previously been approved unanimously by the JFCS board.
The consolidation will make operations, endowment and development more efficient, said CSP Program VP Ivan Gold in presenting the proposal to the board for consideration. "I am confident we will realize savings … (while) JFCS will maintain an individual identity."
"I hope you recognize this was a momentous occasion," said CSP CEO David Fuks following the vote.
"We are excited that we will now be a part of a like-minded agency with deep roots in this community," says JFCS Interim Executive Director Carrie Hoops. "We believe this will help to expand our reach and the services we offer to this community."
With the vote, JFCS becomes the ninth entity under the CSP banner. JFCS joins CSP, CSP Foundation, Kehillah Housing, Sinai Family Home Services (dba Sinai In Home), Housing with Services, and the three corporations representing the four downtown affordable housing units owned by CSP.
"Operational savings regarding finance office, human resources and fundraising are all anticipated," says Fuks. "In addition, increased capacity for case management and more nimble approaches to program development are anticipated."
The CSP Foundation will fundraise for all of CSP's nonprofit entities and their projects. This fundraising work will focus on operations funds, grants and planned giving. The Foundation will also act as steward for endowed funds in collaboration with Oregon Jewish Community Foundation. JFCS and Robison continue to be beneficiary agencies of the Jewish Federation of Greater Portland, and Fuks said both will continue to collaborate with federation.
"JFCS has had a long history of cooperation with Cedar Sinai Park on a number of programs that have had a strong impact in our community," says JFCS board chair Les Soltesz. "We are thrilled that we will now be a part of a long established professional organization such as CSP. This will enable us to expand our reach, effectiveness and the services we offer to the community."
CSP Board President Lance Steinberg adds: "We are very pleased to see this longstanding collaboration become a closer relationship through the consolidation of our organizations. We will achieve more than efficiency. We will create new opportunities to serve the community and to creatively respond to emerging needs."
The Robison Jewish Home is the corporate name of Cedar Sinai Park, which is the "doing business as" name of the organization that includes Robison, CSP Adult Day Services and Rose Schnitzer Manor, and the coming Harold Schnitzer Health and Rehabilitation Care Center.