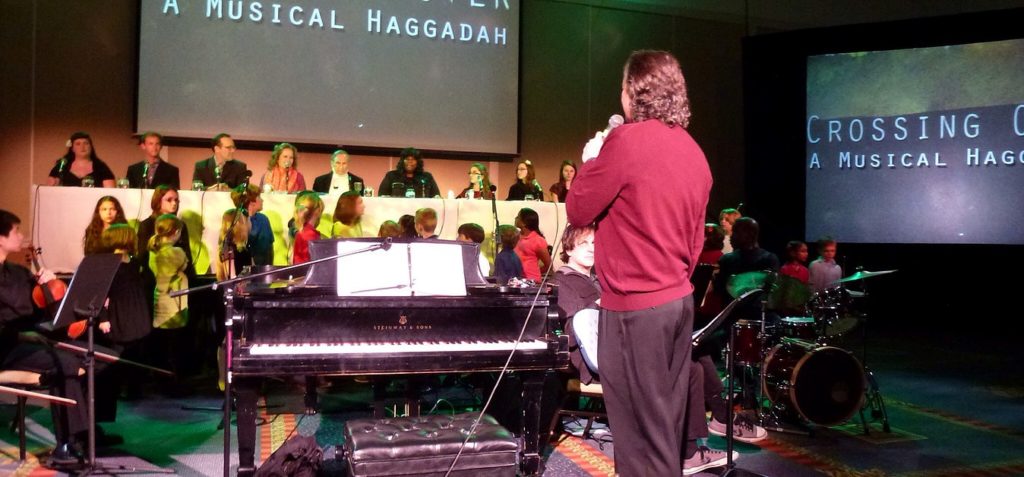 This year's performance of "Crossing Over – A Musical Haggadah" will be an interfaith experience with the celebration of Passover and crossing the Red Sea offering a new vision of rebirth and renewal.
Crossing Over, composed by Michael Allen Harrison with book and lyrics by Rabbi Alan Berg, debuted at the Mittleman Jewish Community Center in 2012; it has been performed many times since including at Portland State University in 2014 and Congregation Beth Israel in 2017. This year the performance will be at 7:30 pm, April 24, at the Lake Oswego United Church of Christ/Beit Haverim, 1111 Country Club Road.
"Crossing Over – A Musical Haggadah will be performed in the beautiful and sonically magnificent sanctuary that the Lake Oswego United Church of Christ shares with Temple Beit Haverim," says Beit Haverim Rabbi Berg.
Crossing Over is a musical drama. It begins on the seventh night of Passover and concludes with a vision of a peaceful, blessed Jerusalem. Music highlights each step on this journey. For this musical Haggadah, the stage is set as a seder table, where the participants sing our story and ask our questions. The narrator reveals the tale.
Conducted and performed by Michael Allen Harrison, the concert will be narrated by the Rev. Jennie Ott and Rabbi Berg. The concert stars Cantor Ida Rae Cahana, Julianne Johnson Weiss, Kayla Bojelais, Ashley Bojelais and Linda Harrison. Israel Annoh will be on drums.
Returning from past productions, this re-enactment of the seder will feature projections of pictures from the Passover Haggadah illustrated by Leonard Baskin, z'l.
For more information, call 503-593-4099. Tickets are available online at michaelallenharrison.com/crossing-over