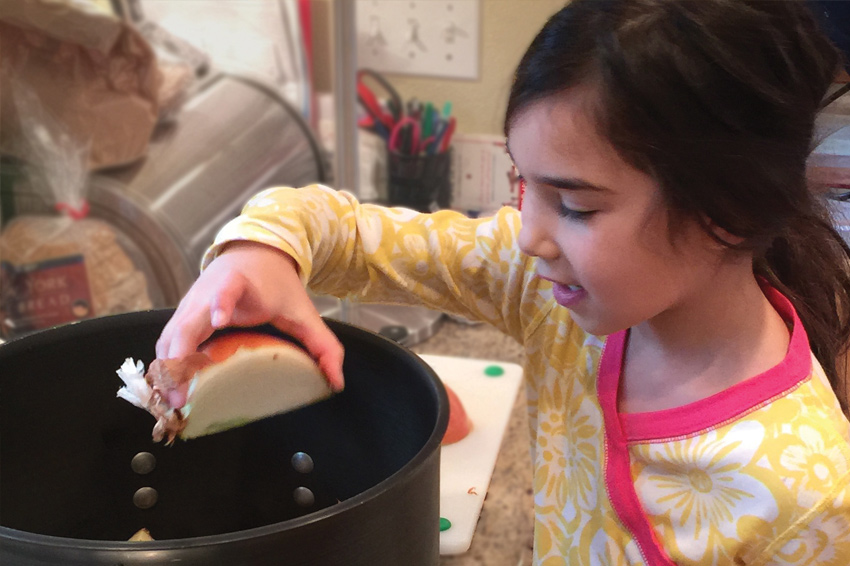 It's no secret that the Jewish people have had a millennia-long love affair with food. From the manna from Heaven that nourished the ancient Israelites during their long desert sojourn, to bagels and lox with a shmear, few things delight us more than getting our nosh on.
Beyond mere sustenance, food plays a symbolic role in most Jewish rituals and holidays. From time immemorial the kitchen has been the heart and soul of the Jewish home. Countless generations of mothers and daughters have bonded over bubbling vats of chicken soup, a labor of love that produces, as if by alchemy, the liquid gold or "Jewish penicillin" so esteemed by our people.
Soup making is important business in our household. My wife, Leslie, and our daughter, Sela, age 6, are the designated soup makers in our home. A few weeks before holidays such as Passover and Rosh Hashanah, they make the chicken stock and freeze it for later use as the base for the matzah ball soup. Sela helps Leslie by throwing the carrots, onions and celery into the pot. As they worked together in the kitchen making the stock for this Passover's matzah ball soup, they sang an old preschool favorite to the tune of "London Bridge is Falling Down": "Put the chicken in the pot, stir it up, nice and hot, get it ready for Pesach, for Pesach." The mellifluous sound of my wife's and daughter's voices raised in song is the quintessence of the Hebrew phrase L'dor v'dor (generation to generation).
Not only is cooking and eating together the way we pass our culinary knowledge down to the next generation, families that cook together invariably consume a healthier and more varied diet with fewer processed foods than those who opt for typical American fare. Cooking as a family has the added benefit of creating fond memories of hearth and home that will last a lifetime. World-renowned Italian-American Jewish chef Giuliano Hazan expounded on the significance of cooking to me while on a recent book tour in Portland. "Why does cooking matter?" he asked. "It's not just about filling a biological need to feed ourselves. Cooking and eating has united humanity ever since man first gathered around the fire to share the spoils of the hunt. Cooking is an act of love and nurturing."
The look of pure joy on a child's face when he or she cooks is a reflection of that love. This Pesach our son, Leo, age 8, helped make matzah brei for breakfast. As he crumbled the matzah and cracked the eggs he grinned from ear to ear and exclaimed, "Matzah brei, here we come!"
Allowing our kids freedom to explore their creativity in the kitchen is a great way to build self-confidence as they master various cooking techniques and equipment. Which brings us to the issue of safety in the kitchen, and the first rule: Wash your hands! Be sure to take the time to teach your kids basic food and kitchen safety. The cookbook Kosher by Design – Kids in the Kitchen by Susie Fishbein covers kitchen and knife safety in simple, straightforward language that even young children can understand. This indispensable resource also contains the basics of kashrut in the kitchen. The Children's Jewish Holiday Kitchen by Joan Nathan is another fantastic go-to cookbook for children. For more help teaching kids about basic food safety visit foodsafety.gov.
Finding cookbooks that really grab your kid's attention is essential. My kids are really into science fiction, so our cookbook shelves now feature several Star Wars- and Star Trek-themed cookbooks. Making the recipes in these books has been a great way for them to explore both the kitchen and the galaxy! If you keep kosher, all of the recipes can be easily adapted to kashrut. For example Death Star Popcorn Balls are not only the most powerful weapons in the galaxy, capable of tantalizing the taste buds of an entire planet, but by subbing in kosher marshmallows they become nosh necessities! Just be sure to reprogram your food replicator before you begin.
Cooking with kids teaches them about where their food comes from. We live in Oregon, take advantage of it! Chefs nationwide remark how envious they are of all the resources we have available to us in the Pacific Northwest, including produce, nuts, dairy and cheese, fish from ocean and stream, and world-renowned wine. Take your kids and visit a farmer's market. Meet the farmers and talk with them. Help your kids really connect with their food.
Alice Waters of Chez Panisse in Berkeley, CA, founded the Edible Schoolyard Project in 1996 to teach school children this very notion (edibleschoolyard.org). Learning which foods are available in each season puts them in touch with the ancient rhythms of nature that were so integral to the lives of our forebears. Our ancestors had no choice but to eat what was seasonally and locally available. By learning to cook in this manner, our children will undoubtedly be healthier and live longer, happier lives and might just pass this on to their kinderlach.