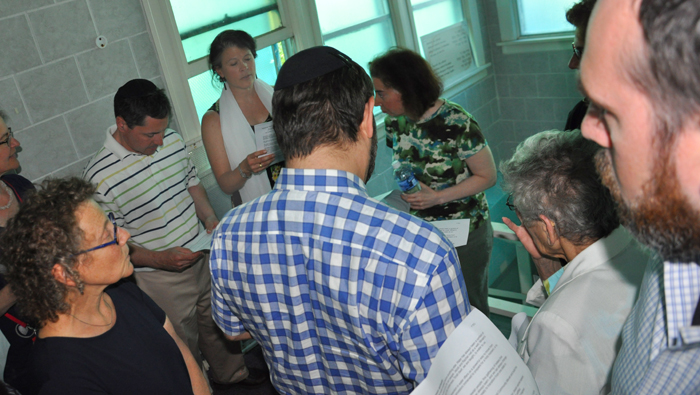 After 64 years, the Oregon Board of Rabbis held a short ritual ceremony July 24 to close the Portland Ritualarium (aka Portland Community Mikvah), which has served the full spectrum of the Jewish community for 64 years.
The Jewish Federation of Greater Portland in partnership with the Oregon Board of Rabbis and others is building a new community mikvah on the grounds of the Mittleman Jewish Community Center. The sale of the house that contained the Ritualarium closed July 25 and the proceeds from that sale will underwrite much of the cost related to the new mikvah. Final stages of the permitting process with the City of Portland are under way and hopes are to break ground for the new mikvah in mid-August. Completion is expected by early 2017.
"From strength to strength, from mikvah to mikvah," said Rabbi Ariel Stone, president of the Oregon Board of Rabbis at the desanctification ceremony. She also noted that according to halakha (Jewish law) a sacred space can only be sold to create another sacred space.
"After today, this place that has been so important to our community for so long, is no longer sacred," said Rabbi Stone.
Just as three immersions are required when visiting the mikvah, the ritual to close the mikvah included three immersions – history, community and spirituality.
Naomi Malka, who delivered the keynote address about the mikvah at the Women's Day of Learning in 2014, returns to Portland Aug. 2 to launch the public campaign to fully fund the new mikvah's construction and to provide funding for its upkeep and operation.
Naomi, the sister-in-law of Portlander Ronnie Malka, has been the director of the Adas Israel Community Mikvah in Washington, D.C., sinc 2006. She trained as a mikvah guide at Mayyim Hayyim in Newton, MA. As the mikvah director Naomi created "Bodies of Water," a program for Jewish women and girls ages 10 and up to learn about mikvah as a tool for positive body image and healthy decision making from a Jewish perspective. "The wisdom of the mikvah is our bodies are holy no matter how they look," says Naomi.
Ronnie said that on this visit Naomi will be speaking about the creative ways women and men can use the mikvah to mark lots of life transitions.
For more information on Naomi's talk or to become involved in the mikvah project, contact Ronnie Malka at 503-680-4746 or Caron Rothstein, who is the JFGP coordinator for the project, at 503-245-6449.
Please contact your rabbi or Caron at the Jewish Federation for more information on mikvah needs in the interim.