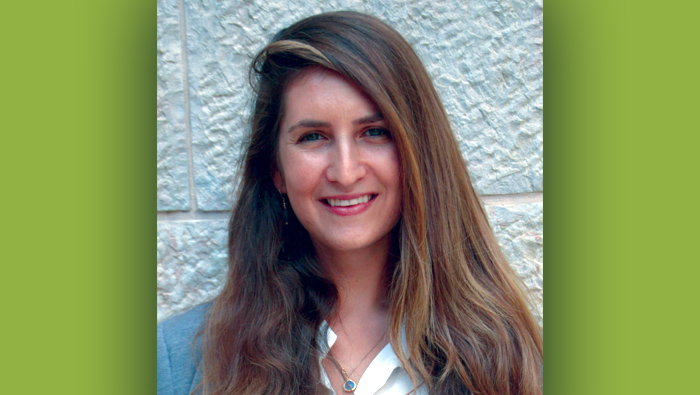 Israeli shaliach Timna Rockman, 26, is pinning her hopes for peace on the next generation – in Israel and here in Oregon.
In the middle of her six-month Portland assignment, Timna has visited at least 15 high schools around the state. She is in Portland with StandWithUs funded by a grant from the Jewish Federation of Greater Portland. She shares her personal story and explaining the complexities Israelis face on a daily basis. Generally she speaks to world history or social studies classes at public schools, but she was also invited to a religion class at LaSalle North Catholic High School.
"Besides me and social media, most have no knowledge of Israel," she says. "The students are really thirsty for knowledge. … I love their reactions."
Her impact will stretch even further from her visits to Corvallis and Gaston schools. When high schoolers participate in this year's Model United Nations, April 13-15, the Corvallis school representing Israel will draw on their sessions with Timna. Each year about 1,500 high schoolers explore contemporary world issues related to security, economics, human rights, health and the environment. This year the students sharing Israel's perspective will have firsthand knowledge to share.
When she returned for a second day of speaking to Gaston High School, a teacher told her, "We are so excited you are here again." Wanting to be able to share Timna's story with more students, the school videotaped her final presentation to a class.
"It makes me feel my work is so important," Timna says.
In her presentations, Timna shares both information about Israel and about her own life there, including the fact that her brother, Daniel, died while serving in the Israeli Defense Forces. That story sparked an especially meaningful encounter with one student. "She said her brother, Daniel, also died in the service."
"We all are people and we all have brothers; that made it so real," says Timna.
After one high school presentation, Timna says, "A teen asked me, 'If it is so hard living in Israel, why don't you just all move here?' I told her it's our country, our heritage, our culture and everything we stand for. We are willing to fight to have a normal country living in peace with our neighbors."
She also visits congregations' Wednesday night schools for informal conversations with Jewish teens and campus events to connect with young adults (see page 45).
"The Jewish students know more, but living in the U.S., they lose their connection to Israel," she says. "I show them 'Israel needs your help … needs the support of America.' "
Timna hopes, with her help, the next generation here will understand more about Israel. But she pins her highest hopes on the next generation of Israeli Jews and Palestinians. She wants to help people understand that lashing out at Israel does not help Palestinians, but that supporting the Palestinians in building their own system and their own country can make a difference.
When she was in college, she spent two years in a program trying to build that foundation for peaceful co-existence. Jewish and Palestinian students brought 10- and 11-year-old Jewish and Palestinian girls together to play soccer – "to be normal kids, playing together."
During the two-year program, while the girls learned to play together, the girls and the older students had many political and nonpolitical discussions. In the nonpolitical conversations they talked about school, and boys and life. But when discussions turned political, she says, "There was a lot of pain on both sides."
Timna says she finds such integrated programs hopeful and notes such programs are proliferating.
"Maybe in 20 years, when these kids are adults" peace will be possible. "Maybe the next generation will have it easier."
Timna is eager to continue conversations in Oregon with any group willing to listen. She has spoken to Mormons and to female veterans. To schedule a talk by Timna at your school or organization, email Timnar@standwithus.com.
"The road to peace is definitely communication," she says.