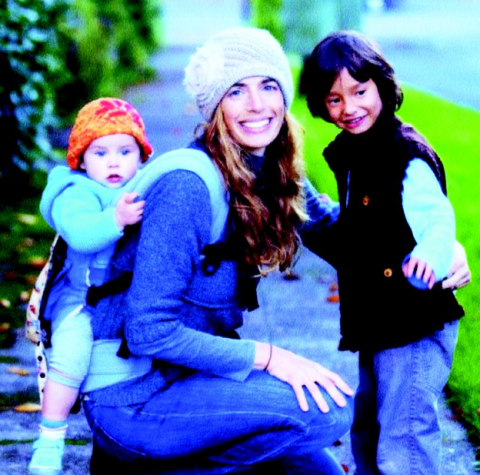 Cindy Kaplan and Mishelle Rudzinski met at an important time. Both were adopting children from Kazakhstan, although circumstances weren't the same. Rudzinski, a speech therapist who specializes in cerebral palsy, had fallen in love with what looked like a severely handicapped 5-year-old girl. Kaplan and her husband expected to adopt a healthy 6-month-old boy. "When we got home, we met each other's children," said Kaplan. "Fate changed for everyone. All Mishelle's daughter had was rickets and anemia. Bakha had gone from hunchback and bowlegged to running. My son, Jadyn, was underweight and failed to thrive. I was dealing with a child who had been fed an institutional diet and had been traumatized by early feeding experiences." With Rudzinski's support, Kaplan vowed to start an organization that would improve nutrition for orphaned, fostered and adopted children. At the time both lived in Portland; Rudzinski has since moved to Fountain Hills, AZ.
The SPOON Foundation would target an unmet and unrecognized need. Dr. Dana Johnson, the world's first specialist to study internationally adopted children's health, immediately became involved. His research showed children left institutions with serious nutritional deficiencies. "As they got good nutrition and love, their problems escalated because their growth outpaced their nutritional stores," Kaplan said, explaining a reality most adoptive parents didn't expect. "Their blood tests normally when they get home, but six months later they have anemia. That happened with our second child who was adopted from Kazakhstan. When we brought Neveya home, she adapted quickly and ate well. But, when we had her retested maybe nine months ago, the doctor said she had one of the most profound cases of anemia he'd seen. I know now the impact iron deficiency can have on brain development."
While the SPOON Foundation recognizes this is a global problem, the foundation began work in Kazakhstan, a Central Asian country that was formerly part of the Soviet Union. The country's stable government and well-run baby homes made it an attractive place to start. Understanding the futility of working independently, SPOON coordinated with the Kazakh Academy of Nutrition. "You can't just send stuff over and assume you always will," Kaplan said. "The organization needs to be constantly funded, and items could get stolen or expire. Whoever is responsible for kids' health must help define the problem and solution." The SPOON Foundation began by assessing the nutritional status of children in Kazakhstan baby homes, the first study of its kind in the world.
The results startled everyone. "More than 35% of the children had iron deficiency anemia," Kaplan said. "A large number had protein deficiency, and 38% had a vitamin D deficiency, the cause of rickets." Stunting levels, the ratio of height for weight, were typical of famine situations. Kaplan and others from the SPOON Foundation recently went to Kazakhstan to attend the world's first international conference on orphan nutrition. They and the Kazakh Academy of Nutrition reported their findings to representatives throughout Central Asia. The new nutrition norms and diet have been approved by the Kazakh Ministry of Health, and implemented in the country's baby houses. In addition, SPOON plans to expand to six countries by the end of this year, and to be working in a dozen or more in 2013. "Our next step is to work with a local non-governmental organization to train baby home staff on best feeding practices," Kaplan said. Routines such as feeding from behind, force feeding and lack of variety can cause developmental delays. "Kids can be traumatized by that. Sometimes they will stop eating when they are adopted because they finally have control or they hoard food." A website sponsored by SPOON, adoptionnutrition.org, provides education and training for parents and professionals.
Meanwhile, Kaplan's children continue their rapid improvement. Neveya, now 3, started preschool this year. While Jadyn struggles with the developmental issues from trauma in his early life, he's making fine progress. Kaplan understands the importance of their birth heritage but wants them to know they also belong here. "As a family, we practice Shabbat most Friday nights," she said. "They light the candles, and Jadyn loves the sound of Hebrew and prayer. By the nature of what I'm doing they'll stay connected with Kazakhstan. When I was leaving for the conference, Neveya said I should go to Kazakhstan because the babies were crying for me and I should hold two kids and give them vitamins."
For more information on the SPOON Foundation, visit spoonfoundation.org.