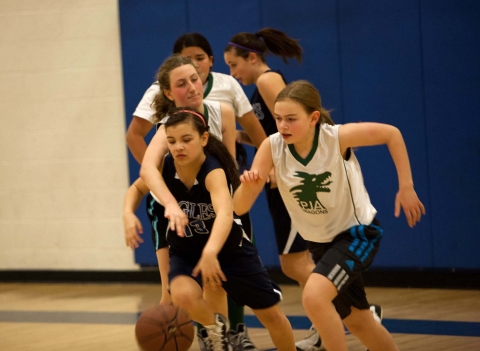 Early on a misty Friday morning, a cacophony of footsteps and the happy chatter of children can be heard as they get closer to Vernon School, a Pre-K to 8 school in Northeast Portland. It's the sound of a "walking school bus" making its way to school through the neighborhood. The "bus" swells to about 20 kids and parents walking together, as it winds its way through the neighborhood stopping to pick up kids along the way.
Elsewhere in the city, a "bike train" is doing the same thing, traveling in a group to school and picking up kids along the way in an effort to get everyone to school safely. The "bus" and the "train" are each innovative ways to see that kids get to school safely while also getting in some of the recommended 60 minutes of exercise they need every day.
These are two examples of the many things community members are doing to combat rising obesity rates in Multnomah County's children. Obesity prevention efforts – including healthy eating and active living – are being organized and promoted by schools, parents, nonprofit organizations and the Multnomah County Health Department's Campaign for a Healthy Active Multnomah County.
America's obesity epidemic has been front and center in the media recently. This month alone, the Centers for Disease Control and Prevention sponsored a Weight of the Nation Conference in Washington, DC; HBO is airing a four-part TV special with the same name; and the Institute of Medicine released a report detailing the problem and recommending actions to help solve the obesity epidemic.
Nationally, one in three children is overweight or obese. More children are being diagnosed earlier with diseases linked to overweight and obesity that have previously been seen only in adults, such as type 2 diabetes and heart disease. Experts expect the current generation of children to have shorter lives than their parents due to the health consequences of obesity.
According to the CDC, childhood obesity has a number of harmful effects on health. Obese children are more likely to have:
• High blood pressure and high cholesterol, which can lead to cardiovascular disease (heart disease);
• Increased risk of type 2 diabetes;
• Breathing problems, such as sleep apnea, and asthma;
• Joint problems and increased aches and pains;
• Fatty liver disease, gallstones, and reflux or heartburn; and
• Social and psychological problems, like depression and low self-esteem.
Combating the obesity epidemic requires both individual and community change to ensure all children have the ability to live healthy, productive lives. Access to healthy foods and beverages as well as to opportunities for physical activity is critical.
Up to one-half of children's waking hours are spent in school. The Institute of Medicine Report identifies schools as key partners in addressing obesity.
In the last two years, the Campaign for a Healthy, Active Multnomah County and community partners have helped make changes in seven school districts in the county. Eighty-eight thousand students are drinking fresh water, getting more fruits and vegetables and/or increasing their physical activity at school as a result of updated school facilities, new comprehensive nutrition policies and efforts to add more movement before, during and after school.
For example, Centennial School District in east Portland and Riverdale School District in Southwest Portland recently adopted comprehensive wellness policies that address both nutritional standards and physical activity.
Of its new wellness policies, the Riverdale District says, "The board recognizes that healthy children are the foundation of a healthy society. It is the district's role, as part of the larger community, to model and actively practice, through policies and procedures, the promotion of family health, physical activity and good nutrition."
How our neighborhoods are put together also affects our children's opportunity for health. Sidewalks, crosswalks, bike lanes, parks and other open spaces to run and play are vital. The Portland City Council recently adopted the Portland Plan – a 25-year vision for the city. Notably, the Plan ensures that city planners consider both health and equity as they move forward with improvements and new development.
The costs of obesity – both the personal health costs and the shared financial costs – are staggering. The prospect of a shortened life span for our children is unacceptable. We've made good progress in Multnomah County, but more changes are needed.
Each of us can become an advocate for a healthier community. In today's busy world, making healthy choices isn't always easy or convenient. Together we can change that. We can create a broad community of support for health by making small changes at our worksites, in schools, in our neighborhoods and at home. Small changes can make a big difference and add up to real results.
___________________________
Day schools focus on food, activity
Portland's Jewish day schools are doing their part to combat childhood obesity.
Portland Jewish Academy
"We take keeping children active very seriously," says Merrill Hendin, principal of PJA, a community day school with classes from preschool through eighth grade.
Students in the lower school participate in PE twice a week; middle school three times a week. Pre-K classes have PE once a week. All of the students in the lower school also take Israeli dance once a week, which gives them both organized physical exercise and a fun dimension of Israeli culture.
"We offer two co-curricular sports opportunities to students in fifth to eighth grade. In the fall we have a co-ed PJA cross country team and in the winter we offer boys' and girls' basketball," Hendin adds.
All PJA kids have access to MJCC sports afterschool and PJA teachers escort children to the MJCC for classes.
PJA also has a Healthy Kids Committee led by Shoshana Gordon and Chantal Rosenthal. Through the healthy kids committee, PJA provides information on healthy diet, opportunities for family hikes and outings, and planned activities for the entire school like the mid-winter family dance, Tirkidoo.
Maimonides Jewish Day School
Judaism has a major focus on the need to take care of our bodies and places great emphasis on the role of food in our lives, says Devora Wilhelm, director of MJDS, which goes through fifth grade. "With the blessings we say before and after we eat, Judaism teaches us to be aware of our food."
For many years, MJDS staff has talked to parents about the importance of limiting sugary foods in lunches and snacks. Candy and sodas are strongly discouraged, says Wilhelm. Last year, the school also replaced the cookies and cakes at its Friday Shabbat parties with fresh fruits and other natural treats.
"At Maimonides, children are outside playing every day unless it's a monsoon. They play serious sports with lots of running," said Wilhelm.
She said the school board is looking at the budget to reincorporate PE and dance for next year.
Ma'ayan HaTorah
"School can be a great avenue for moving kids out of their comfort zones of foods they like and increasing healthy food choices into their diet," says Aviel Brodkin, director of Ma'ayan HaTorah, a new day school that plans to expand to first grade next year.
"A group dynamic is a great asset for expanding a child's repertoire of healthy foods. When kids get together and see others eating something off their list of foods they like, and their friend is enjoying it, it encourages them to try new foods. Our teachers bring the kids into the preparation and cooking process. It really gets them excited to try nutritious new things.
"In terms of movement, sensory integration, which means adding a lot of stimulation to the senses, is a big part of the preschoolers' day. Even Tefilla has dancing in it. At the end of the morning prayer songs, kids get to choose what steps they are going to lead in dancing that morning. Student choice with regard to exercise is the key for getting them involved."
____________________
Lillian Shirley is director of the Multnomah County Health Department. For more information on Multnomah County Health Department's Campaign for a Healthy Active Multnomah County, visit www.multco-itstartshere.org.