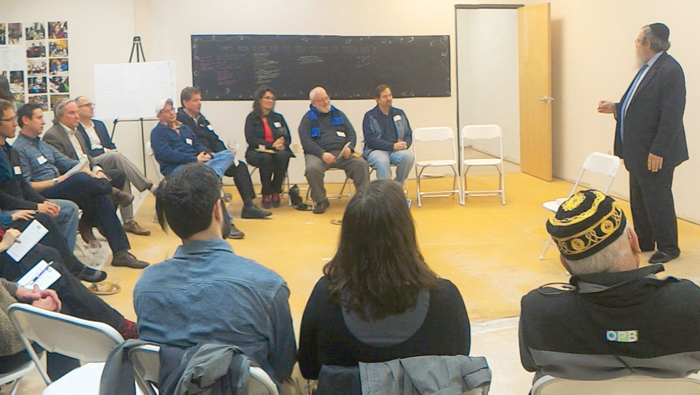 After three years of providing programs and Shabbat and holiday meals out of their home or rented spaces, Rabbi Chaim and Mushka Wilhelm are looking forward to meeting the needs of Eastside Jews through expanded programming in the new Chabad Center for Jewish Life.
Located on a busy thoroughfare in Northeast Portland, the 1,400-square-foot center will enable the couple to nearly double the number of guests they can seat for Shabbat and holiday meals. Last year the 40 people they hosted for Passover filled their home; this year they expect to be able to seat about 75 people in the new space, which is primarily one large room with a small storage area, kitchenette and bathroom. The parking lot the center shares with other offices is generally unused during evenings and weekends, providing plenty of parking spaces, which are rare in the area.
With a three-year lease, the center will provide a stable and visible Jewish presence in Northeast Portland, an area where studies have shown a growing number of Jewish families are settling.
The new space will be the home for NE Chabad's growing Hebrew school (which began meeting in January 2013 in a private home), holiday parties, Shabbat dinners, Torah study groups, Mommy & Me, women's Torah & Tea and whatever other activities community members want to see.
"The less stuck you are with a specific image, the more things can happen," says the rabbi.
At the opening celebration Feb. 29, supporters wrote their vision for the center on a long banner on the wall. One man wrote, in Hebrew, that he was interested in teaching others Hebrew; now, with dedicated space, that is possible says Rabbi Chaim.
In interviews after the opening, some supporters shared their hopes:
• "We are very excited that the Jewish community on the Eastside is growing and that we now have a place to call home," wrote Sherry. "With Chabad's ever-expanding and thriving Hebrew school/Sunday school, neighborhood Shabbat dinners, cultural events & holiday celebrations, Torah study classes etc., this was the natural and best next step. … Chabad is a great fit for the diverse community here, as the organization is dedicated to welcoming and engaging every Jew regardless of their background, affiliation or personal level of observance."
• During a telephone interview, Stuart Rosman said, "I'm very supportive of having more physical space devoted to Jewish life on the Eastside. We have a lot of wonderful organizations and spaces on the Westside. … It's not practical to assume we can go to the Westside when we want to attend a Jewish program."
• Sarah Rosenberg Brown said, "I'm very excited for the new Center for Jewish Life in NE Portland. It is going to provide a place for Jews to gather, for families to gather, for us to learn together and from each other. It will really create a sense of belonging in Northeast Portland."
Rabbi Chaim says that kind of support was critical in the decision to open a center. "Without seeing that interest, we wouldn't have been ready to jump into this."
Both the rabbi and rebbetzin are third-generation Chabad emissaries. Rabbi Chaim's parents, Rabbi Moshe and Devora Wilhelm, arrived in Portland more than 30 years ago as the first shaliachs in Oregon; that same year, Mushka's parents opened Chabad of Vermont. Chaim was the first of the Wilhelm siblings born in Portland; even while he was attending yeshiva, he returned to Portland frequently to organize events. He is especially proud of creating and organizing the first three years of the very successful Jewish Heritage Night with the Portland Trailblazers. Mushka grew up in Vermont. Since ninth grade, she has lived in Ukraine, Brazil, Texas, California and Florida, and she studied in Israel one year.
"Our mission is to light up every neshama (soul) on Portland's Eastside," says Rabbi Chaim, noting demographic studies indicate about 6,000 to 8,000 metro-area Jews live east of the Willamette River. "It's not about membership, it's about being welcoming and being there and meeting people on their level. … We want to reach out and help increase the connection and put people in touch with their heritage."
2858 NE Sandy Blvd., Portland | jewishnortheast.com | rabbi@jewishnortheast.com