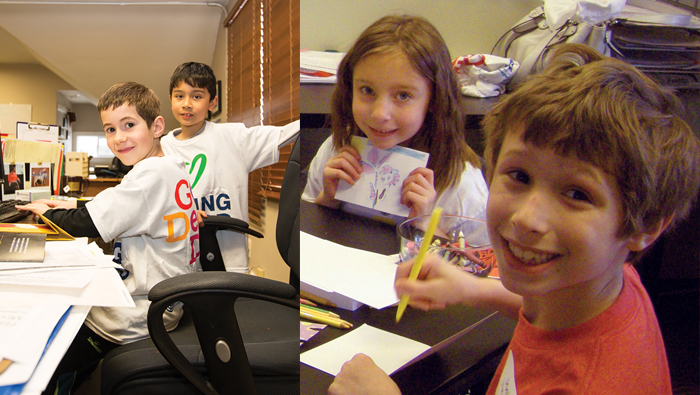 Sheila Baer looks forward to Good Deeds Day on April 17. "I had a wonderful time last year" she says. "I met a nice group of people at the Community Warehouse, and we had fun grouping kitchen things and towels sets. It's important to lend your time, even for a few hours, because there's always somebody out there that needs a little more than you."
This year's program has something for everyone, from creating Passover centerpieces to helping child victims of local sex trafficking. Presented by the Jewish Federation of Greater Portland in partnership with the Mittleman Jewish Community Center, the annual celebration of volunteerism and community will have family friendly projects throughout the day. Register online by April 8 for one or multiple shifts (see box).
While most events will take place at the MJCC, J-Serve's Day of Jewish Youth Service meets at Cedar Sinai Park.
Hand-to-Hand, a community collection for those in need, will have nine nonprofits waiting to sort items ranging from bike parts to food and clothing.
Drop-off at the MJCC runs between 11 am and 2 pm. Volunteers will even unload your car.
Havurah Shalom's card-making event will aid its broader Refugee Support project, in which congregants partner with local refugee families to furnish apartments and serve as cultural mentors.
"Refugees arrive in Portland every week from a variety of countries," the synagogue's Tikkun Olam Committee co-chair Chris Coughlin says. "As part of Good Deeds Day, we're making cards and banners to be used at the airport or at apartments when they are set up." Havurah Shalom also requests best-of-Portland tips like free museum days and favorite markets, which they will combine into welcome packets. All materials are supplied.
Congregation P'nai Or hopes fourth- and fifth-graders will join them for an all-day Plant for the Planet Academy, where children learn about the climate crisis and how they can make a difference. "This is a United Nations-sponsored program with academies in 50 countries," says Plant for the Planet project coordinator Pam Vergun. The day includes watching a slide presentation given by children who have previously taken the course, learning to create effective presentations and planting trees. At the end-of-day graduation ceremony, each child is appointed a climate justice ambassador. For more information and a short video about the program, visit climatechangerecovery.org.
Kids are also invited to assemble and decorate nail care kits and picture frames for local teen victims of sex trafficking. As part of the Portland Jewish Response Group's mission to raise awareness about this issue among the Jewish community, the event will benefit safe houses and organizations that work with victims on the street. Requested donations include nail files, clippers, scissors, emery boards, polish and remover. Bags, decorating supplies and picture frames are provided.
"Child sex trafficking exists in Portland, and the city's response has been sophisticated, but until recently the Jewish community has not been among the players," says Ketzel Levine, a Portland Jewish Response founder. The group remedies this by speaking at synagogues, BBYO, Hillel and other organizations. For more information, visit pjrg.org.
JFGP Director of Community Engagement Caron Blau Rothstein emphasizes that Portland Good Deeds Day participants are part an international day of caring and sharing. "Have your cheek swabbed at the Bone Marrow Registry table, assemble Passover boxes or donate things you don't need at the same time you're spring cleaning," she says. "We're permeating the community with good deeds."
Visit jewishportland.org/gooddeedsday to register, check the schedule or learn more about projects.
Teens wanting to participate in a day of service by interacting with residents of Cedar SInai Park, can sign up at jewishportland.org/jserve.