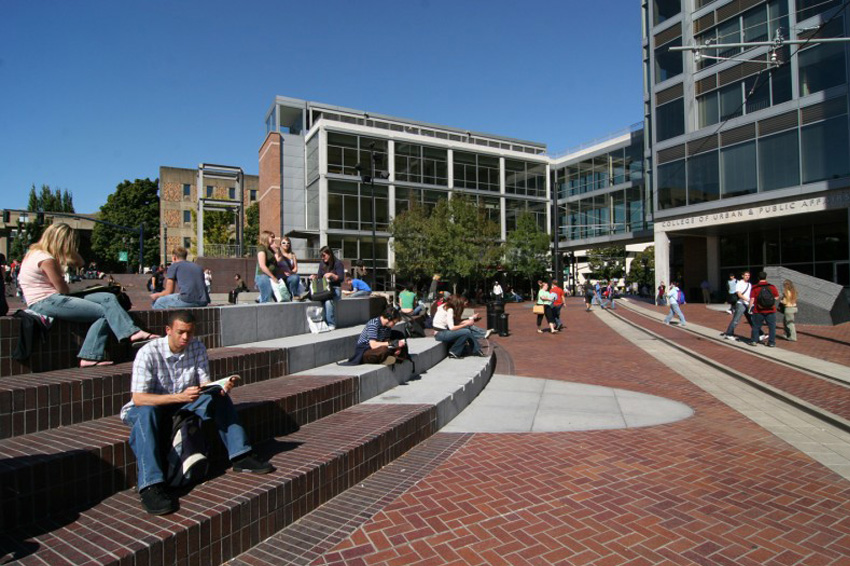 One Group Pegs PSU as Hot Spot
On the same day about a month ago, two press releases arrived regarding the rise of anti-Semitism on college campuses. One of the releases called Portland State University one of the worst offenders – an allegation that PSU students and leaders called surprising and inaccurate.
The first release from Trinity College and Louis D. Brandeis Center for Human Rights Under Law reported the results of The National Demographic Survey of American Jewish College Students, from a spring 2014 online survey of 1,157 self-identified Jewish students at 55 campuses nationwide. More than half of those students reported having been subjected to or having witnessed anti-Semitism on their campuses.
The release noted, "There was only a slight variation in the rates across the regions of the United States, strongly suggesting that anti-Semitism on campus is a nationwide problem. … Numbers of participating students voiced concern that their experiences of anti-Semitism made for an uncomfortable campus climate."
The second release announced a new campaign launched by the David Horowitz Freedom Center to combat rapidly growing anti-Semitism on college campuses in the United States and named PSU one of the top 10 campuses for anti-Semitic activity in the United States.
"We deplore and condemn all anti-Semitic expressions or acts," said PSU President Wim Wiewel in responding to the release. "At the same time we firmly believe in the rights of all groups to express their political opinions, including those related to the situation in the Middle East and the ongoing challenges of the relations between Israel and Palestinians."
In a telephone interview with Oregon Jewish Life, the center's founder David Horowitz said PSU was on the list in part because it has a chapter of Students United for Palestinian Equal Rights, which he considers a hate group, and that SUPER displays an "apartheid wall" on campus every spring.
Israeli Shlicha Shiran Halfon, who works with students on Portland campuses, noted in mid March: "The wall did not come up at all this year yet. Last year they didn't do an apartheid week but they had an al Nakba day and a Palestinian movie month with a lot of really anti-Israel movies as well as they hosted anti-Israel speakers throughout the year. The wall came up once all of last year."
Horowitz says, "My beef with universities is that they don't enforce the code of conduct when violations are directed at Jews." He adds that many college students around the country don't understand that SUPER and apartheid week "are about destroying Israel. …The (college) administration wouldn't tolerate that against any other ethnic group."
PSU released a statement noting that the David Horowitz Freedom Center is "a political organization that has been described as far right by the watchdog group, the Southern Poverty Law Center, and criticized by the Anti-Defamation League for promoting anti-Muslim views."
Of the center's list of issues at PSU, Wiewel said, "It should be noted that several of the acts and events listed as evidence of the climate at PSU actually took place elsewhere in the city or are a Facebook posting."
In a letter to Wiewel about the report, which she shared with OJL, PDX Hillel Executive Director Rachel Hall wrote, "I know you were quite shocked to read this, as was I. … In my past seven years running Portland Hillel, I can say that PSU is certainly not an extremely pro-Jewish or Pro-Israel campus, but it certainly does not feel like one of the worst campuses. … We feel that the services, staff and programs at Portland Hillel empower our Jewish students on campus to be Jewish openly and with pride."
Three PSU Jewish students agree PSU has an anti-Israel and anti-Semitic climate, but none felt it was enough to land PSU on the worst in the nation list.
Looking at the list that landed PSU on the list, junior Kelsey Kaplan says those events and more did occur, but some were exaggerated. She adds that PSU students are fortunate to have an extremely supportive Hillel and a Jewish community that supports the Jewish and pro-Israel students.
"It saddens me to see that there is a part of the Portland State community that is anti-Semitic," says freshman Ilana Anfanger, noting she enjoys expressing her love for Judaism openly. "I can only hope that the anti-Semitic portion of the student body at Portland State University becomes more tolerant of the diversity found on campus."
Senior Adina Henderson adds, "There are disputes about Israel and Jews often especially on PSU's campus. I hope students both Jews and non-Jewish continue to create dialogue and feel safe on campus."
"PSU is a campus that has a very anti-Israel and oftentimes anti-Semitic atmosphere," says Kaplan. "There are students and other groups on campus who focus their attention more on anti-Israel events rather than pro-Palestinian awareness."
"There is still work to be done and the anti-Israel battle to be fought but we will defeat the hate that occurs on campuses around the U.S.," concluded Kaplan.