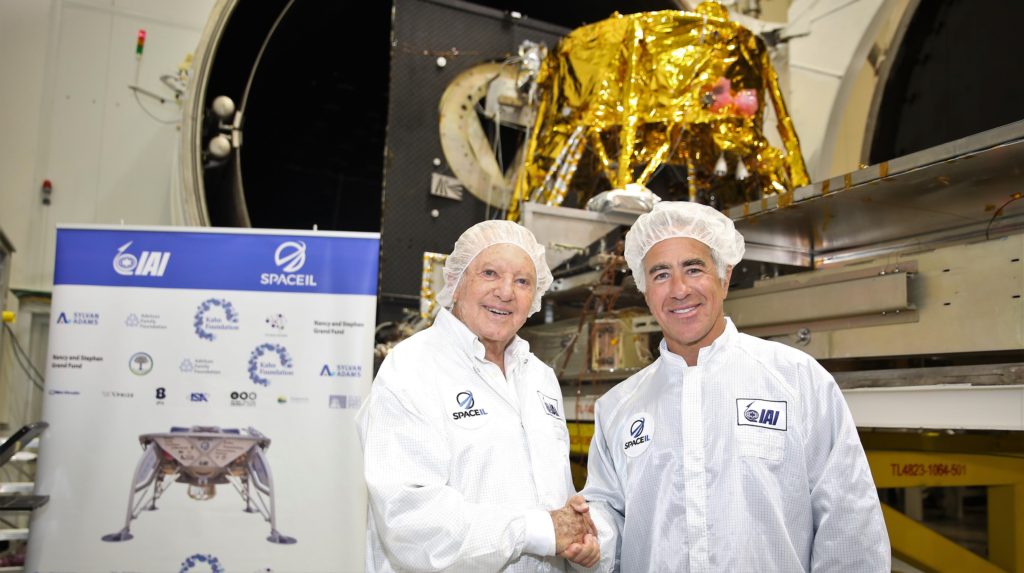 PHOTO: President of SpaceIL, Morris Kahn (left) with Canadian businessman Sylvan Adams.
SpaceIL announced Nov. 19 that Canadian billionaire and businessman Sylvan Adams, who brought the Giro d'Italia Big Start cycling race to Israel this year, joined the project to land the first Israeli spacecraft on the moon and contributed $5 million to the organization.

Adams announced his contribution as part of a special tour that took place at the Israel Aerospace Industries's MBT Space facility in Yehud, where the spacecraft is being assembled. Also attending the tour were SpaceIL's President Morris Kahn; SpaceIL CEO Dr. Ido Anteby; and other senior IAI officials.
Adams, who is celebrating his 60th birthday, said at the event that "this contribution to strengthening the Israeli space program, and encouraging education for excellence and innovation among the younger generation in Israel, is the best gift I could have asked for."
Adams added: "I believe that sending the first Israeli spacecraft to the moon will inspire Israeli school children to take up STEM studies and think about space exploration, and especially to believe that everything is possible."
Since SpaceIL's establishment, the mission of landing an Israeli spacecraft on the moon has become a national project embodying educational values. Adams joins a group of donors who have contributed to the project, including Dr. Miriam and Sheldon Adelson, Sammy Sagol, Lynn Schusterman, Steven Grand and others.
Kahn, a businessman and philanthropist, took it upon himself to lead this project and bring it to its completion, donating $27 million and serving as the project's president. He regards its completion as his personal mission.
"I want to thank Sylvan Adams for his generous contribution to our effort," Kahn said. "He joins an amazing group of donors with a common vision: to land the first Israeli spacecraft on the moon. We are in the final stretch, and I believe that his joining will help us raise the remaining money to complete our ambitious mission."
"We are in the final stretch before the launch and preparations are at full power," Anteby said. "The teams of SpaceIL and IAI are making great progress in a series of tests and trials being carried out at IAI's space facility. At the same time, we are stepping up activities to promote scientific and technological education in the State of Israel, ahead of launch. We thank Mr. Sylvan Adams for his contribution."
IAI Vice President of Space Operations Inbal Krayes, who also took part in the tour, said: "IAI is proud to partner with SpaceIL in the development and construction of the spacecraft. It is a tremendous technological achievement that constitutes a significant part of the civilian space capabilities in Israel, whose significance will inspire future generations and encourage them to choose to study technology and science."
In October, SpaceIL and the Israeli Space Agency announced a collaboration with NASA that would enable SpaceIL to improve its ability to track and communicate with the spacecraft before, during and after landing on the moon.
IAI, which is the home of Israel's space activity, has been a full partner in this project from its inception. Over the years, additional partners from Israel's private sector, the Israeli government and academia have joined as well. The most prominent among these are the Weizmann Institute of Science; Israel Space Agency; the Ministry of Science, Technology and Space; and the Israeli telecom firm Bezeq.
SpaceIL was the only Israeli contestant in the international Google Lunar XPRIZE competition. To win the first prize of $20 million, the participants were required to land an unmanned spacecraft on the moon. The competition ended officially with no winner on March 31, when Google announced that it would no longer sponsor the competition.
After succeeding in raising the critical funds to continue its activity, SpaceIL announced that it was determined to continue on its mission and to launch its spacecraft, regardless of the competition. Concurrently, the nonprofit is continuing its efforts to raise the funds necessary to complete this mission.
SpaceIL aims to set in motion an "Apollo effect" in Israel: To encourage the next generation of Israeli children to choose to study science, technology, engineering and mathematics (STEM); to change their perception of these subjects; to generate a sense of capability; and to allow them to dream big dreams even in a small country. The nonprofit aims to change the discourse in Israel and to encourage boys and girls to regard science, engineering, technology and math as exciting opportunities for their future. In recent years, SpaceIL has ignited the imagination of about 900,000 children nationwide, with the help of a broad network of volunteers.