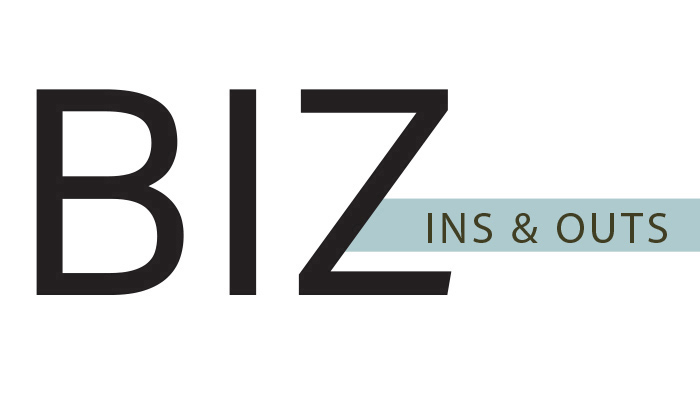 Kimberly Fuson to Lead Cedar Sinai Park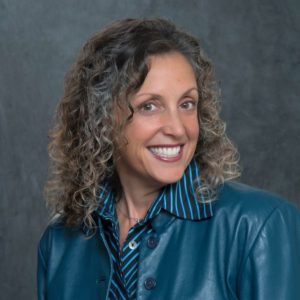 Beginning Aug. 6, long-time Portland resident Kimberly Fuson will return to Oregon to serve as interim executive director for Cedar Sinai Park.
Martin Baicker, who has led the organization since October 2017, is stepping down as CEO to pursue other opportunities in the senior health care industry.
Kimberly has a long history with CSP. She worked for the organization from 2001 to 2013, ultimately serving as chief operating officer. Since that time, she has worked in senior executive positions in California, Hawaii and Nevada adding experience serving critical access hospitals and continuing care retirement communities to her work in independent and assisted living, memory care, skilled nursing, day services and housing.
In this interim role Kimberly says she is "excited to focus on knowing each person served and serving, securing results through organizational development based on person-centered servant leadership, generative governance, mutual accountability, responsibility, inspiration, creativity, kindness, motivation, self-reflection, independence, honesty, trust … and commitment to fun."
cedarsinaipark.org
Leikam Brewing Opens Taproom Serving Kosher Beer
Leikam Brewing, which obtained its certification from Oregon Kosher in January 2015, has opened a public taproom at 5812 E Burnside St., Portland.
A collaboration between husband-and-wife team Theo and Sonia Marie Leikam, the brewery's beers are already available at Portland-area farmers markets, at the restaurants Shalom Y'all and Mediterranean Exploration Company, and in grocery stores like Market of Choice. The beer is also served in restaurants and bars from Portland to the coast served by High Road Distribution, which distributes Leikam beers. Restaurants wishing to carry the kosher beer can contact Brandon Mikel at High Road, 971-221-7824 or contact@hrdistro.com.
In 2015, Oregon Jewish Life columnist Kerry Politzer featured the brewery in her March 2015 NW Nosh column. In that column, the Leikams explain their beer can be certified kosher because they omit traif ingredients: "The main beer ingredients (water, yeast, barley, hops) are inherently kosher. There are other ingredients that can be used in beer production that would not be considered kosher." The couple also follows the laws of kashrut in the brewery. During Passover, Sonia Marie (who is Jewish) plans to sell her part of the brewery to Theo (who is not), so as not to own chametz.
Sonia Marie is program officer of the Oregon Jewish Community Foundation.
The Leikam Brewing taproom is a 3,800-square-foot family-friendly taproom with indoor and outdoor seating. The taproom is open 3-9 pm Wednesday-Sunday; starting Aug. 1, hours will be extended on Friday and Saturday nights; new hours are expected to be 4-9 pm Wednesday and Thrusday; Friday 4-10 an, sat rudayd 2-10 and Sunday 2-9.
Six of Leikam's kosher-certified beers are served in the taproom including Janis Hoplin, Grateful Red and Eight Days a Wheat. Cider for the gluten-free crowd and non-alcoholic beverages are also available. Kosher snacks such as packaged kosher chips, dill pickles and olives and nuts are also available.
leikambrewing.com | 503-477-5246
Stone Soup Provides Jobs to Avert Homelessness and Fine Soups for Lunch Crowd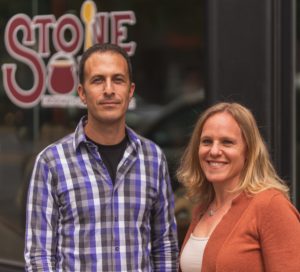 Husband and wife team, Ronit and Craig Gerard have transformed the old Gilt Club space on NW Broadway into Portland's first hybrid restaurant and nonprofit culinary training program aimed at creating sustainable employment opportunities for people at risk of homelessness.
Stone Soup is a nonprofit food service training enterprise that offers both fine-dining experiences and event-catering, as well as more casual daily lunchtime counter service at 306 NW Broadway, Portland. Lunch counter hours are Monday through Friday, 11 am to 2 pm.
Stone Soup PDX Executive Director Craig D. Gerard and his wife, Ronit, are members at Congregation Beth Israel and Mittleman Jewish Community Center.
The Stone Soup lunch counter will offer a seasonally rotating selection of housemade soups, salads, and sandwiches. The summer menu features items such as a velvety summer corn soup garnished with fresh farmer's cheese, a scratch-made chicken noodle soup with grilled summer squash and almond pesto, a vibrant heirloom tomato salad with a Mediterranean-inspired vinaigrette, and a tender turkey confit Reuben sandwich with housemade sauerkraut and thousand island dressing. Menu items have been reasonably priced, and customers also have the opportunity to purchase future meals for those in need. The space also features an inviting bar designed to serve wine, beer, and craft cocktails.
In the evenings, Stone Soup will host a soon to be announced series of pop-up dinners, and the space is also available for private and corporate events – all catered by Stone Soup's team of chefs and program participants.
Israeli Professor Stanley Rotman Visiting Scholar at PSU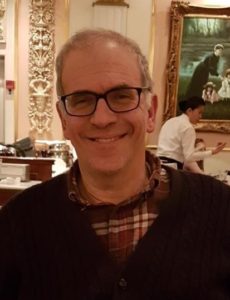 Professor Stanley Rotman is the first visiting scholar brought to Portland State University by the Harold Schnitzer Visiting Scholar fund.
The fund will facilitate scholarly exchanges between Portland State University and partner universities in Israel. Program funds support faculty scholars to come and spend their sabbatical or other leaves at PSU.
Born in Boston, Stanley R. Rotman received the B.S., M.S. and Ph.D. degrees in electrical engineering from the Massachusetts Institute of Technology in 1979, 1980 and 1985, respectively. His present position is full professor at Ben-Gurion University of the Negev, Dept. of Electrical and Computer Engineering, Beer-Sheva, Israel. He is a senior member of IEEE and a fellow of SPIE.
For the last decade, Professor Stanley Rotman has been developing state-of-the art hyperspectral data analysis techniques for industrial applications. Hyperspectral imagery consists of taking an image simultaneously with hundreds of filters, providing detailed spectral (color) information. This type of analysis has applications in many fields; for example, one can better analyze the exact degree of a burn medically or of the health of a plant agriculturally by knowing its exact spectral signature.
Professor Rotman will be doing research with Professor John Lipor of the Electrical and Computer Engineering Department of Portland State University during his sabbatical stay in Portland. He will also present multiple seminars during his stay and mentor PSU graduate students.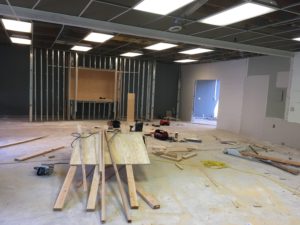 Ahavath Achim Expanding Hillsdale Sanctuary
Ahavath Achim's Hillsdale sanctuary is expanding. The Sephardic congregation is expanding into the space formerly occupied by the Everything Jewish store. Ahavath Achim has removed the wall between the congregation and former store, and renovating the expanded space to enhance the prayer space.  The renovations are estimated to be completed in mid to late August.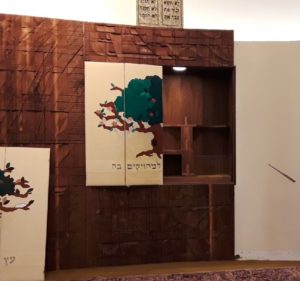 As part of the renovation, the beautiful wooden wall art that holds Ahavath Achim's Torahs is being reconstructed to be moved into this expanded space from the congregation's Barbur location.
During this current construction period, Ahavath Achim is holding Shabbat services in the Kollel space in the same building. Kiddush lunch is not being served during construction.
Ahavath Achim was founded in 1916 by members of the Rhodes and Turkish Jewish communities who had migrated to Portland. The congregation welcomes Jews of all backgrounds and includes Ashkenazim in addition to Sepharadim.
This is not the major renovation the congregation has planned for the location in the future. That renovation, which will include a commercial kitchen, a separate social hall, and a beautiful sanctuary, has been put on hold for a couple of years.
ahavathachim.com
PJA/MJCC Boards and Officers Elected
The executive officers of the Portland Jewish Academy and Mittleman Jewish Community Boards of Directors for the 2019-20 year were elected by the boards at the May board meetings. Elected officers are: Steven Klein, president, Jason Zidell, president-elect, Erik Richmond and Danelle Romain, vice-presidents, Marni Glick, treasurer, and Amy Blauer, secretary.
"We are fortunate to have such a talented and committed team of officers to lead the school and the Center in the coming year," said MJCC and PJA Executive Director Steve Albert.
Other new board members were elected at the groups' June meetings.
In addition to the officers, PJA board members are: Richard Barker, Barry Benson, Joyce Evans, Larry Gloth, Gail Mandel, Carol Richmond, Jonathan Singer, Ahuva Zaslavsky and Jennifer Zeidman.
In addition to the officers, MJCC board members are: Richard Barker, Barry Benson, Joyce Evans, Jonathan Glass, Larry Gloth, Gail Mandel, Carol Richmond, Jonathan Singer, Ahuva Zaslavsky and Jennifer Zeidman.
pjaproud.org | oregonjcc.org
Chanel Bourdeau new BB Day Camp & Youth Director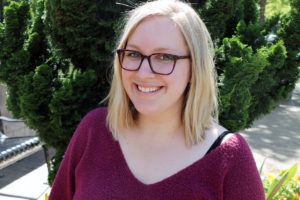 B'nai B'rith Camp welcomes Chanel Bourdeau as their new BB Day Camp Portland and Youth Director.
Chanel was born and raised in Portland, graduated from Oregon State University with a Bachelor's degree in psychology. Chanel first joined the BB Camp community in 2014 and feels lucky to call it her second home. Chanel is proud of her experiences working in various Jewish leadership roles at BB Camp, spanning from Counselor to Unit Head to Counseling Director to Social Inclusion Intern, and including volunteering for BBYO. Chanel has a passion for community enrichment and working with individuals of all abilities, which she attributes to her time spent at BB Camp. Prior to Chanel's current position, she was the Housing and Employment Specialist at a local non-profit serving adults with disabilities. In Chanel's spare time, you can find her enjoying live music, exploring the Portland food scene, or at the Oregon Coast with her dog. She is looking forward to spending her summer at BB Day Camp Portland's second year, housed at Congregation Beth Israel.
bbcamp.org
Mayaan Torah Hires Tia Weniger as Preschool Director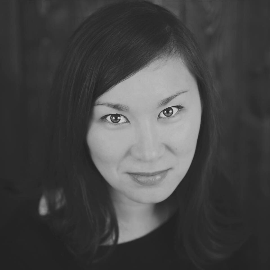 Tia Weniger is Maayan Torah Day School's new Preschool Director. Tia brings extensive skills, love for education and bringing joy to children through music and other mediums to her new job. Maayan Torah is located at 2 Touchstone Dr., Lake Oswego.
Tia feels passionately about a Torah education and sharing the richness of Hashem's world with young children. Tia volunteered extensively at the school this year and consequently, she was able to learn about all the school's preschool classrooms and is well poised to step into this new role. Tia has built meaningful relationships with the kids and enriched our program with her unique abilities.
Tia brings with her a breadth of experience in the field of education. She created and developed her own music school, which grew to 300 students.   Her special education background includes having steered her school to be accepted as a special education program in Clark County.
Over the last number of years, Tia has worked at a preschool and has volunteered each week in her children's school. Her capabilities to create, lead and support staff for maintaining a superb preschool is a tremendous gain for Maayan.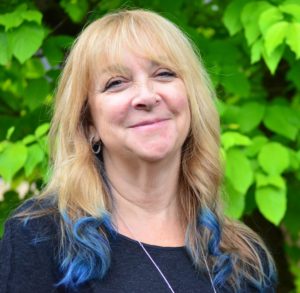 Congregation Shaarie Torah Promotes Linda Harrison
As of July 1, Linda Harrison has assumed her new role of Congregational Affairs Coordinator at Congregation Shaarie Torah.
A valued member of the CST staff since 2016, Linda has been the warm and welcoming face of the main office, assisting congregants and clergy in multiple ways far beyond the usual expectations of a receptionist. In a natural transition to utilize her expansive skill set, Linda will now be working directly with congregants to plan life cycle events as well as collaborating on special programming and holiday celebrations throughout the year. She will continue to organize the smooth day-to-day operations of the office in coordination with clergy, facilities and management.
shaarietorah.org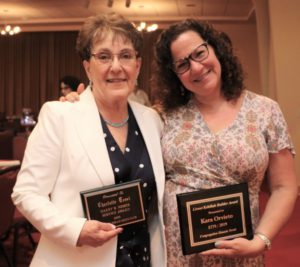 Shaarie Torah Service Awardees Celebrated
Nearly 150 attendees gathered at Congregation Shaarie Torah on July 21 as Charlotte Tevet (left) was presented with the 2019 Harry R. Nemer Service Award, and Kara Orvieto (right) received the inaugural Livnot Kehillah Builder Award.
The Nemer Award, supported by the Men's Club, memorializes and honors the man who served his fellow Jews and the congregation unselfishly. It honors those who have graciously served the community throughout a lifetime of volunteerism. The Livnot Award was established this year to recognize newer members of CST who have made a significant impact on the congregation's strength and vitality through energized leadership and visioning.