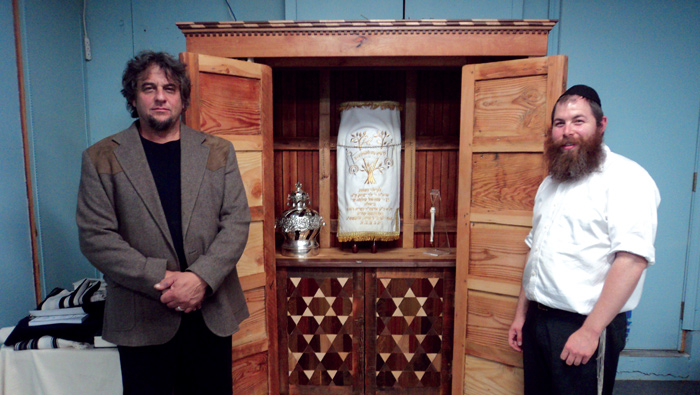 When Lenny Hoffman moved to the Westmoreland neighborhood, Southeast Portland Chabad (jewishreed.com) near Reed College was a natural. Raised in an Orthodox home, he quickly became the shul's shammos.
He wanted to donate something special that blended simplicity, family and Judaism. A talented artist and cabinet maker, he decided to build and donate a Torah ark. Chabad installed the ark before the New Year.
"My father was born in the Ukraine shtetl, Apshitza, and he passed away in 2010," Lenny says. "He was a Holocaust survivor and fought with the partisans in Budapest. I hadn't done anything to honor him, yet. I'd seen photos of wonderful wooden shuls in Europe and fell in love with the roof of the synagogue in Wolpa, Poland. I decided to model the crown of the Torah ark after it."
Lenny has built furniture since his teenage years in New Mexico. He trained as a cabinet maker in the New Mexican tradition, which he says mixes crudeness and elegance. He also worked as a film light designer for Stargate Universe for 30 years, and he enjoys sculpture. His websites lennyhoffman.com and rusticmodernpdx.com display furniture as well as jewelry and Judaica.
Lenny and his family moved to Portland in 2011. Now semi-retired, he concentrates on his custom furniture design business while his wife, Regina Scharf, works with a United Nations program on sustainable banking. They have one 8-year-old who attends Duniway Elementary and two adult children.
"We wanted to live someplace where it rained," he says. "We'd been living in the desert for three decades. I wanted trees, a garden and the youthful arts community. And, there's such wonderful wood here. I've made custom tables, a pie safe, benches and beamed buffets. I did this interesting table. The gentleman had a long section of deck from an old ship. I designed oxbow legs out of heavy timbers."
The wood's age and grain are central to the ark Lenny built for Chabad. The Rebuilding Center (rebuildingcenter.org) on North Mississippi Avenue donated most of the Douglas fir, which had once been in turn-of-the century Portland houses. He harvested the black walnut, maple and oak that he used for the crown from downed trees that he milled himself. He strove for simplicity and no ornamentation except for some carving in the crown section.
"I worked on it for almost two years," Lenny says. "The lumber was from trees that may have been alive when the Baal Shem Tov founded Hassidism more than 200 years ago. I preferred boards with nail and pencil marks, in reverence to those who worked on this wood long ago."
Rabbi Dov Bialo of Southeast Portland Chabad is thrilled with the beautiful new Torah ark. "Lenny's craftsmanship is awe inspiring," he says. "The ark is one-of-a-kind and brings together many elements: honor, talent, local culture, history and, of course, the power of giving to the community. It brings honor to the shul.
"We all know what we feel like when we dress up for a special occasion. Well, when you look at the ark you know something special is going on in this space. Most of all, Lenny donated the hundreds of hours he spent crafting the ark to his local Chabad House. It is an extraordinary thing to use one's G-d given talents as a way to give back to the community."