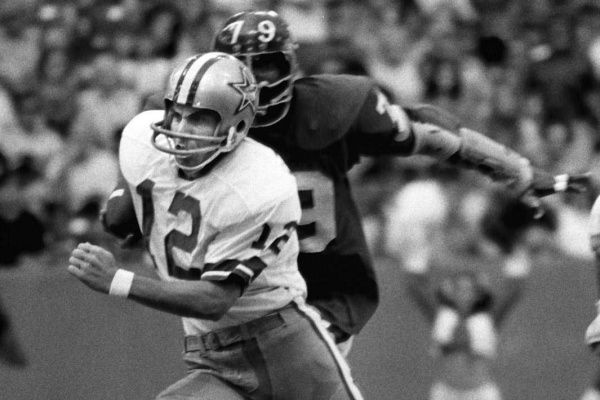 Photo: Roger Staubach (12) scrambles from a New York Giants defender during a game played on Oct. 21, 1973 at Texas Stadium.
Bnai Zion Foundation, a U.S. nonprofit that identifies and helps fund capital and humanitarian projects in Israel, held its Annual Texas Gala, benefiting the Bnai Zion Medical Center, on Nov. 4 at the Westin Galleria in Dallas, TX.
Since its founding in 1908, Bnai Zion has completed hundreds of life-changing projects in Israel in the areas of social inclusion, health and culture. The nonprofit aims to enrich the lives of all Israeli residents, regardless of religion or political agenda. Its projects are designed to enhance the physical, mental and social well-being of the nation and those who live there.
Like Bnai Zion itself, the Annual Texas Gala brought together individuals of all backgrounds and across religious and political orientations for an opportunity to celebrate its important work over the last 111 years. The proceeds from the Bnai Zion Foundation's 2019 Annual Texas Gala will benefit the Bnai Zion Medical Center, which serves as a hospital in the north of Israel.
"The Annual Texas Gala is an incredible event that honors legacy makers," says Debbie Tobias, Director of Development of Bnai Zion's Texas region. "It brings together our supporters from all over the religious and political spectrum under one roof, in support of Bnai Zion and Israel. It is the work that unites the people of Israel. We can accomplish more when we all work together."
To mark this year's gala, Bnai Zion honored humanitarian and Dallas Cowboys legend Roger Staubach, a strong supporter of Israel and other Zionist causes, with the 2019 American-Israel Friendship Award, and Zeck Lieberman, M.D., who practiced as a renowned oncology surgeon at the Baylor University Medical Center for an unprecedented 55 years, with the L'Dor v'Dor Award (From Generation to Generation award).
"Mr. Staubach's philanthropic work has made him a recipient of one of the highest civilian awards of the United States, the Presidential Medal of Freedom, an accolade bestowed by the president of the United States," says Cheryl Bier, CEO of Bnai Zion Foundation. "Many people aren't aware that one of the greatest quarterbacks of the NFL – including The Heisman and Super Bowl MVP – is also a recipient of the Hope for Humanity award from the Dallas Holocaust Museum. He's a true friend of Israel, which is why we are recognizing him this year with our American-Israel Friendship Award."