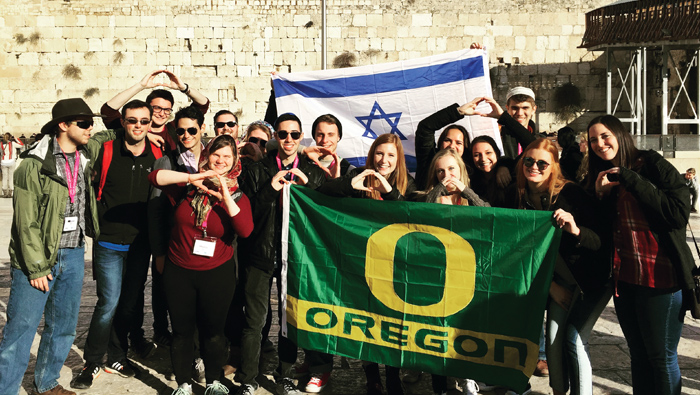 On Dec. 25 while Christians celebrated Christmas and Jews enjoyed the first day of Hanukkah, the celebration was just beginning for 15 Jewish students from Oregon who boarded a plane to begin the trip of a lifetime.
Taglit-Birthright, a 10-day trip to Israel for Jewish young adults, is more than a free vacation – it is an eye-opening and life-changing experience. The December trip was facilitated by Oregon Hillel.
Landing at Ben-Gurion Airport, they were greeted by seven Israeli soldiers, who travelled with the group for the entire trip. Most Birthright groups only travel with Israeli soldiers for the latter half of the trip.
"Every Birthright trip should have them for the whole 10 days," says Oregon Hillel Israel Engagement Fellow Nathan Blocker, one of the staff members on the trip. "Our soldiers are part of our mishpacha, part of our family. … The little things that they contribute … it only enhances the trip."
UO sophomore Emily Kalbrosky adds, "Each one of them is a beautiful and unique person with such kindness and strength in their hearts, such pride in their country, such love for life and such incredibly contagious smiles and laughs. They taught us all to live in the moment, to form deep connections fast, to appreciate the lives we live, to love hard and to laugh often."
The trip began in the north, with the first night spent in Tiberias. Participants enjoyed off-road Jeep rides in the Golan while learning about the regions's significance, visited the Tel Dan Nature Reserve along the Jordan River and visited the military outpost Mount Bental along the Syrian border. For many of the students, the highlight of the trip's northern leg was the holy city of Tsfat, the birthplace of Kabbalah, Jewish mysticism.
"Everything was made from a white/yellowish stone, from the streets to the walls of the buildings," Oregon sophomore Lasron Schluter wrote in a blog post. The group also met with a kabbalistic artist who "used the spirituality of Judaism in his work," which Lasron described as "so vibrant in color and carried such deep meaning."
The group then visited the Arab village of Dir El Asad, where they met teenagers who talked about what it's like being Muslim in a Jewish state.
"These kids were great and so intelligent, opening my eyes to the fact that kids everywhere are all the same, and somewhere along the way we get lost, separated and suddenly turn into adults arguing and debating about things our past generations left behind," Lasron says.
When the trip turned south, students got a truly special experience, even by Birthright standards. They visited Save a Child's Heart, a nonprofit that provides surgery and medical care at no cost to children with congenital heart defects. Most of the patients are from developing countries without adequate medical care.
"Children have the indescribable power of bringing out the best in people and revealing hidden sides of people. Their joy and laughter reverberated in the group and was felt by all. Their enthusiasm renewed our own, and because of this organization, their energies," Monica Flynn wrote in a blog post.
Next came a visit to the sister cities of Tel Aviv and Jaffa; the former, a booming modern metropolis, and the latter, an ancient port city.
After a night in Tel Aviv, the group traveled east to Jerusalem for a powerful day in Judaism's holiest city.
Saying a prayer at the Western Wall for a family member who recently passed away, student Justin Asarch was "filled with different emotions, from sadness, to happiness, to being blessed." The wall, he notes, "has this weird way of bringing out tears and emotions from people who would least expect it from themselves … It's truly amazing how a simple stone wall has such power over its people."
Nathan was surprised by the reaction to the wall. "You don't know how the wall is going to affect anybody – it might not affect you until days, months later," he says. Students surprised him with their enthusiasm. "It was awesome to see somebody that you might not think was very religious … turn on that face," and realize, " 'This is the epitome of Judaism. I'm about to go put a prayer in that wall and touch it.' After visiting the Machane Yehuda outdoor market, students returned to their hotel to prepare for Shabbat. Always a special day in Jerusalem, this Shabbat was enhanced by four participants who celebrated becoming b'nai mitzvah. In a speech following his Torah reading, Andrew Dalcher revealed the ritual was especially important to him; his family had been unable to join a Conservative synagogue because they could not prove a family matriarch was Jewish.
"We weren't Jews in the eyes of others," he said in his speech. "So this bar mitzvah is important to me. It changes how the world sees us … it marks that we are Jewish. That I am Jewish."
After Shabbat, the group travelled to Mount Herzl, Israel's national cemetery and the burial place of fallen soldiers and prime ministers. The stories there "made me realize that Israelis have to fight for their lives and for their country every single day, whether that means physically fighting in combat or just justifying the Jewish state," says student Alex Ruby.
Next they enjoyed some Bedouin hospitality in the desert. That night students gathered to reflect on their time in Israel and what they would take away. "It was a really special experience being able to spend some time alone with our thoughts in the middle of a freezing desert with just the lights from the 'village' and from the stars lighting the landscape," Alex says.
The following day, the students rode camels – a quintessential Birthright activity – and claimed Masada, the desert fortress where a group of Jewish rebels held off Roman troops for some time at the end of the First Jewish-Roman War, before committing mass suicide in a final act of defiance.
After the hike, students floated in the Dead Sea and covered themselves in its mineral-rich mud. Returning to Jerusalem, the students discussed their experiences with anti-Semitism in preparation for the next day's visit to Yad Vashem, Israel's Holocaust museum. Their tour guide first led them to a tree dedicated to Raoul Wallenberg, a Swede who saved around 100,000 Jews during the Holocaust, including the tour guide's mother. Yad Vashem honors such brave non-Jews as the "Righteous Among the Nations," and each has a tree dedicated in their honor.
The group then drove along part of the barrier that separates Jerusalem from the West Bank and learned about some of the complex political realities in Israel. Nathan notes that the students probably experienced Israel's political side more through the soldiers traveling with them than through the programs they heard. "I'm pretty sure the soldiers had conversations with them when we weren't around or on the bus, which is a better source. … They live it, they see it. And having a 30-year-old leader or a tour educator explain it to you is almost like a professor in some people's eyes. Sitting down next to a 20-year-old soldier when you're 18-21 years old, telling you what their life is like with the political side of it is going to hit you a lot more," he says.
Back in Tel Aviv, the group stopped at Rabin Square, dedicated to Prime Minister Yitzhak Rabin, who was assassinated there. They visited Independence Hall, one of the oldest buildings in Tel Aviv and the site of the signing of Israel's Declaration of Independence in 1948.
Then it was time to say goodbye to the soldiers, who had become like family. The students took a graffiti tour of Tel Aviv before boarding the plane home. Without the soldiers, "I felt like something was missing," says Emily Kalbrosky.
"These past 10 days, I've realized it is OK to not understand. I've realized everything is up to personal interpretation, and you must form your own opinions on everything. I've realized there is beauty in everything, and you can miss the beauty even if you're staring right at it," Emily wrote in a blog post. "There is so much in this world to see, and it is impossible to see it all. Israel has helped me open my eyes and begin to be less blind."
The students look forward to sharing their experiences with the Jewish community and maintaining the bonds they formed on their short trip – bonds with land, bonds with friends, bonds with heritage.
In June a new flock of Jewish students from the Univeristy of Oregon and Oregon State will have the chance to create their own bonds and memories. Registration for Oregon Hillel's summer Birthright trip opened Feb. 5. Jewish adults aged 18-26 in Oregon can join the journey by visiting freeisraeltrip.org/Oregon.