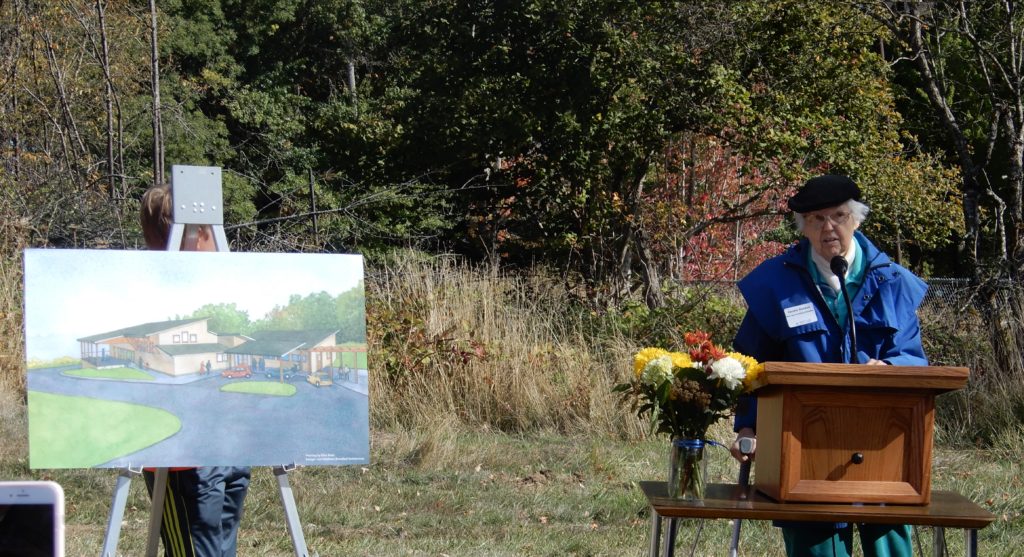 PHOTO: Beit Am's first president Jackie Gordon, 90, shows off a drawing of Beit Am's new home.
The Oct. 8 groundbreaking drew participants from Beit Am and the local faith and civic community including Corvallis Mayor Biff Traber.
The Beit Am Mid-Willamette Jewish Community broke ground on its new building in Corvallis on Oct. 8. For 35 years Beit Am has been operating out a modest residential building. With 140 families, that location has long been too small for the community's events.
The new 6,700-square-foot synagogue, located on a 5-acre parcel Beit Am purchased in 2000, will provide a venue for Jews living in Benton, Linn and Lincoln counties to worship, learn and enjoy fellowship. With the larger capacity of our new building, Beit Am looks forward to hosting a range of events and activities for our members and others in the Willamette Valley, such as adult education classes and events, Jewish arts and culture events, and community activities aimed at community development and social justice.
Beit Am has undertaken an ambitious capital campaign to fund the new building. Largely through the generosity of members, Beit Am has raised approximately 90% of the $2.65 million fundraising goal, and are appealing to the broader Jewish community to reach the finish line. To learn more about the new building, read construction updates or make a donation, visit beitam.org/newbuilding.