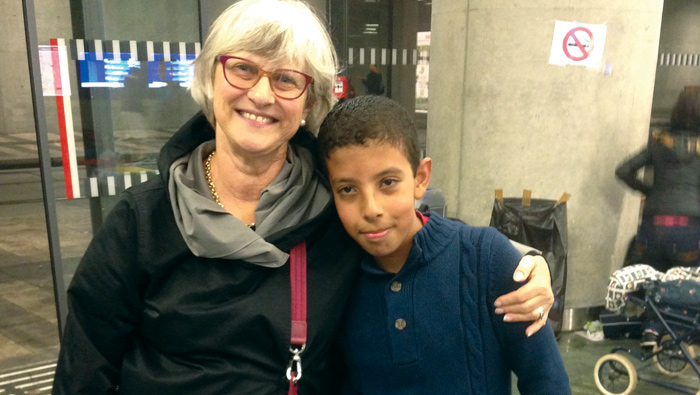 I met Jill Neuwelt when she and husband Ed were generous hosts for Congregation Beth Israel Sisterhood's Progressive Dinner event in September. The couple moved to Portland from Texas in 1981, and they are Portlanders through and through, but her accent and her cooking gave her away. She grew up in Vienna, speaks German fluently and that night she prepared delicious Austrian dishes for the eight of us lucky enough to be assigned to their house. (You've never had spaetzle until you've tasted Jill's!) Both Jill and Ed are active in the community, and I thought Jill's volunteer efforts were particularly intriguing.
"Let's meet for coffee!" I said. I am always looking for a story idea.
"In a few weeks," Jill replied. She was going back to Vienna, as she does four or five times a year, to visit her mother, daughter and son-in-law, and two granddaughters. So we made a date, but the tale she came back with was not at all what I expected. This visit turned out to be an experience none of them will ever forget, a brush with today's heartbreaking headlines that gave Jill and her family a chance to be on the giving side of a contemporary migration saga that resonates in sad and unsettling ways with Jill and her family – and with all Jews who know too well the story of refugees desperately fleeing war and oppression.
Jill's own mother fled to England from Vienna in the early 1940s. "She worked first as a housekeeper like many others did. Later she became an instructor in the British Army Education Corps. She loved it; she loved bossing people around!" Jill says with a laugh. Her Viennese father, a lawyer, took a more circuitous route, first to Russia, then to Japan and then to the United States, making it onto the last civilian boat before Pearl Harbor. There he joined the U.S. Army and went back to Europe as an American soldier. Her parents met at a gathering of Viennese ex-pats in London. When she married her GI, Jill's mother became an American citizen.
After the war ended, her parents went back to Austria, where her father worked for the American Army as a lawyer. He was part of the team that designed the treaty when Austria became a neutral country and helped craft the country's constitution. Her mother worked in Anna Freud's children's home and eventually got her Ph.D. in psychology.
Jill and her three brothers were all born during that time in Vienna. Her mother, though, had always wanted to move to the United States. She settled for visiting every five years for six months to retain her citizenship, which was important to her. When Jill was 10, her mother took the kids to Little Rock, AR, for a year. Jill entered fourth grade without a word of English, but kids learn quickly, she says, and she was fluent long before they returned to Vienna. Jill treasures that year and is still pen pals with her best friend from that time who became, not coincidentally, a German professor.
Although Jill knew she was different from her Viennese friends – she didn't have any relatives living in the country, for example – the family did not practice Judaism. She felt no Jewish identity. But when she was 19, she decided to go to Israel and work on a kibbutz for eight months. It turned out to be a positive, if emotional, experience. "I couldn't believe that all these 'normal' people were Jewish. I felt for the first time that being Jewish is not a skeleton in your closet, but something you can wear publicly."
Jill got her degree in social work, but she took advantage of a brief stint with an Austrian retail company that would send her to America for several months when she was 21. One thing led to another, and when the National Council of Jewish Women offered her its annual scholarship to get her graduate degree in social work, Jill moved to Dallas to start what would become her new life in America. She met Ed on a blind date (what could be more American than that!) when she was working at the Jewish Community Center; they married and their daughter was born in 1977. When Ed finished his residency in 1981, they moved their growing family to Portland.
It was fortunate for both Jill and the Jewish Family and Child Service's Holocaust Survivor Program that Jill ended up working for them as an outreach worker. Her ability to speak German was helpful in translating some of the correspondence her clients received from Germany regarding their pensions, and she was sometimes able to assist them in completing applications for pensions that they did not even know about. "I found that I shared so much with the survivors and refugees. I understand their culture, and I found I had a different relationship to them than I do to my American-born friends."
Today, Jill's many trips to Vienna are filled with visiting her mother, now 97, and spending time with her daughter and the two girls, Susie (9) and Hannah (7). This visit, though, coincided with the historic and dramatic influx of thousands and thousands of migrants coming through Austria from Syria, Iraq and Afghanistan. Jill, like all of us, followed the news before she left for her trip, and she was moved to do something, even a small gesture, by the tragedy of the families fleeing war and persecution, much as her family had. Jill started by making a sign asking her fellow airline passengers to donate their unused toiletries from the little zipper pack international travelers receive on their flights. The flight attendants helped her work the plane, and she collected quite a stash. But that was not enough for her.
When she arrived in Vienna, she and her granddaughters joined the hundreds of Viennese who show up to help at the train station and other refugee assistance sites to drop off badly needed supplies. Strategic use of social media enables the organizers to focus the philanthropy of the Viennese citizens: a website and Facebook page give daily updates to let the public know what items they have plenty of right now as well as what they really need. (When Jill was there, for example, they needed shoes, particularly men's shoes.)
For others who want to volunteer their time, the pages also list who is needed and where. Some volunteers have become so committed that they come every day to work in the clinic, the school, or the kitchen and dining room.
"There are so many children there," Jill says. "The city appropriated a parking garage where they created a day care center. Nursery school teachers volunteer, teaching arts and crafts." Jill has friends who are giving German lessons to Syrian refugees.
For those who log on seeking help, the site also lists available resources and hours of operation, including when the buses come and go for the sleeping facilities.
Other volunteers just show up to help, spur of the moment, as Jill did. The first time, she brought Susie and they both enjoyed the experience so much that they brought Hannah with them the next time. Susie brought apples; Hannah brought bread. They spent the bulk of the day sorting clothes. "It's getting cold there," Jill says. "They need parkas."
The whole city seems to be engaged. While Jill was there, they had a concert to benefit the refugees, and they purposely held it in Heroes' Square, the very site where Hitler drew a huge crowd in 1938 for his announcement of the Nazi annexation of Austria. "The goal was to get as many people as were there in 1938, and they drew 150,000 people!" Jill says. "They thanked the two young women who started the train station effort. They also passed hats and, all in all, showed the Austrians' solidarity with the refugees."
She notes that the elections for mayor of Vienna were the following Sunday, and the incumbent mayor handily defeated the anti-refugee, right-wing candidate.
"We learn in school about populations shifting, and that's what I wanted to visit, to experience. Every day up to 5,000 people come into Austria. I witnessed a historic movement, and I am glad I made a tiny contribution.
"I have old grudges about how the Austrians treated our people in World War II," Jill says. "It makes me feel good that the new generation is different."
Liz Rabiner Lippoff is a marketing consultant, freelance writer and community volunteer. LizInk.biz