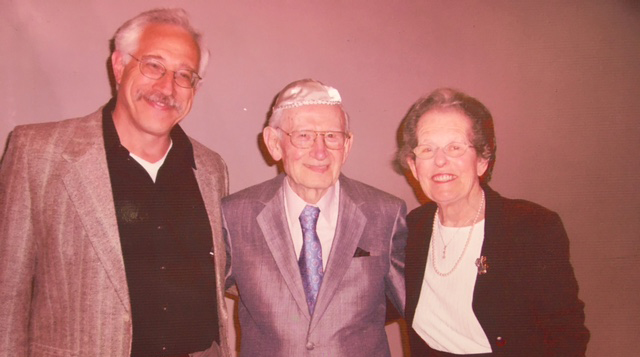 Photo:  Photo taken when the Gloria Bacharach Judaica Gift Shop was named for her, at the behest of Max Birnbach, pictured to Gloria's left, alongside Rabbi Daniel Isaak, now emeritus, of Neveh Shalom.
"The gum. That gum and those kids."
Sue Axel was referring to the individually wrapped Bazooka chewing gum sold for decades in the Gloria Bacharach Judaica Shop and their intended clients.
Axel recently reflected on her long-time friend Gloria Bacharach, z'l, and on her own 30-plus years as a volunteer alongside the dedicated and creative woman for whom Neveh Shalom's Sisterhood gift shop was named in 2008, the year Max Birnbach, z'l, surprised Gloria with his naming gift.
Axel says, "No one – no one – was more deserving; she really worked so hard for the congregation, and the gift shop was an integral part of the shul." Gloria died at 96, on Dec. 9, 2020.
From roughly the mid-1980s to 2012, Gloria helmed Sisterhood's gift shop, a portion of whose annual profits directly benefit kids' education at the synagogue. Her 30-year run marked an era that predated online shopping and our current global pandemic. Coupled with Gloria's know-how, the Judaica store was a stalwart retail success and community hub.
Times and shopping habits have changed. Still, the Gloria Bacharach Judaica Shop remains a keystone project of Sisterhood and a source of scholarship funds for the ALIYAH Education Program.
Sisterhood is a member of Women's League for Conservative Judaism, an international organization whose local groups support Jewish women in their religious, family and synagogue life. Many local Sisterhoods have followed WLCJ guidelines to operate Judaica shops that sell items at just over cost that are integral to a Jewish home, for example, Shabbat and yahrzeit candles and mezuzot scrolls.
Other Judaica items sold at retail prices help Sisterhood run the business in the black so it can support itself and donate every year at least $2000 to the Women's League Religious School Scholarship Fund to benefit ALIYAH, explained Dana Sirkin, Sisterhood past-president and shop manager and Jennifer Kalenscher, co-president.
Mel Berwin, director of congregational learning, says, "I deeply appreciate that Sisterhood has always prioritized, among its funding, an annual gift to our education programs for all ages, including a contribution to our budget as well as gifts to our ALIYAH students [like candles and dreidels] each Chanukah."
Children had a special place in Gloria's heart.
Gloria instigated Neveh's Bazooka kosher gum revolution. She knew the kids attending religious school on Sundays, and, later, on Wednesday nights, would want a sweet treat…to entice them into the shop. "Those kids were her future customers," Axel recalls.
In the store, kids might find just the noisy grager they'd need (in addition to the pink gum with the indecipherable comic featuring Bazooka Joe inside the wrapper), and their parents often opened their wallets to purchase it for them and possibly something a little more spendy for the family.
Gloria had four children, and her second eldest, Corinne Spiegel, recalled that so powerful was the gum, parents often used it as a reward for attending class. "I think it was a ritual that the kids expected," says Spiegel, also a mother of four.
A greater ritual was Gloria's dedication to the shop.
"We thought she worked there," says Aimee Coughlin Johnson, Gloria's eldest granddaughter, one of 11 living grandchildren and 13 great-grandchildren. (Gloria was predeceased by her husband, Albrecht, z'l, who died in 1984 in a tragic car accident, and by granddaughter Jasmine RR Spiegel, z'l, youngest child of Corinne and husband, Larry Spiegel.)
"Turns out, she only volunteered there," Johnson says of the woman she called Oma, Dutch for grandmother, and also her best friend.
Jackie Lesch, the third of Gloria's children, says, "You'd have thought the Judaica gift shop was her own personal business."
"She certainly ran it that way," says Axel, who became a gift shop volunteer after Gloria not-so-subtly asked her to at the end of a Hadassah meeting in the mid-90s.
Gloria's friends and family recount that Gloria had chalked up decades of retail experience, first as a young girl in the department store her folks owned and ran in rural Michigan, and then by singlehandedly taking over her and her husband's business, Al Bacharach Inc., after Albrecht's death.
Axel said that Gloria's honed skills translated perfectly to the shop, where her meticulous record-keeping with pen and paper – congregants always recognized Gloria's handwritten receipts – was overshadowed only by her great patience with all customers and her purchasing expertise.
Axel says of Gloria, "She was really very good at obtaining merchandise [from catalogs] at the best price," a technique that served the shop very well in its heyday, when Judaica shops were few in the Portland area.
Lesch, also an active Sisterhood volunteer, said the shop used to routinely yield up to $10,000 in annual profits.
"It was a different world, totally," she continues. "We had a huge clientele."
Prior to the shul's 2008 remodel that coincided with the naming of the Gloria Bacharach Judaica Shop, it was located at the main entrance.
"It was a great way to interface with everybody … People often stopped by to say hi," Axel says.
Spiegel adds, "She was like the unofficial greeter, often the first face people saw. It was more than being a retail presence, she helped connect people…"
Due to Covid, the shop is closed to volunteers and customers, so Kalenscher and Sirkin take emails and calls from congregants and community members and fill their orders via the Internet. Sisterhood's more than 70 members also run the popular annual Mah Jongg tournament, convenes book talks and much more, all to ensure it fulfills its mission and earns enough profit to support ALIYAH and provide gifts to every b'nai mitzvah.
Ultimately, Kalenscher says, "Sisterhood runs programs and does activities to bring people together."
With or without the Bazooka kosher gum, creating community is entirely in keeping with the namesake of the Gloria Bacharach Gift Shop.
To support your Sisterhood gift shop, visit nevehshalom.org/the-gloria-bacharach-judaica-shop to view and purchase merchandise. To help Sisterhood move its store online, please contact Manager Dana Sirkin at otrbanana@frontier.com or (503) 680-5877. Annual Sisterhood dues are $36. Questions? Please contact Jennifer Kalenscher at jenkal@comcast.net or (503) 893-0822.