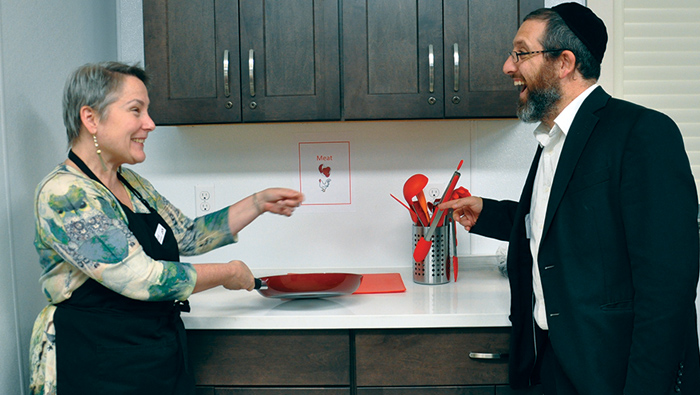 Observant seniors who want to stay in Portland or move to town to be near relatives have a new option for senior living. In November, Peaks & Valleys opened Barbur Vista Residential Care in Southwest Portland, providing a kosher kitchen certified by Oregon Kosher for up to 16 residents.
The facility features 12 bedrooms with half baths and two larger bedrooms with showers in the bathrooms. Two of the rooms are available for couples.
"We are a niche to cater to private-pay residents who want a cozy home environment," says co-owner Adam Reinke. Barbur Vista provides seniors seeking continued independence in a setting that can provide assistance with dressing, medications and other daily chores as needed. Though the residence does not offer skilled nursing care such as IVs and ventilators, it does provide end-of-life comfort care and hospice services.
Adam sees the new facility as a complement to Robison Home, which does provide skilled nursing and accepts Medicare patients.
"We work with other residences in Portland, and if one of the other facilities is more designed to care for a resident, we refer people to them," says Adam, adding he hopes to add Robison to the facilities they connect with. "We work together for the best it can be for the resident."
One of Adam's partners, Neal Boyd, is an RN who once studied to be a rabbi. Neil hopes the new home opens the door to more options for the Orthodox and observant community.
Oregon Kosher has been involved in planning the kitchen, beginning with the blueprints, says Oregon Kosher Executive Director Tuvia Berzow. The kitchen is fully certified with kosher supervision by Katia Rosenberg, who will be on hand to answer any questions staff have after the Kosher 101 training provided by Oregon Kosher. Locking cabinets include separate sets of silverware, dishes, pots, pans and other cooking utensils needed to provide meat, dairy or parve meals with no concern about cross contamination. When a meat meal is being prepared, all dairy equipment is kept securely locked.
"We want to build a community institution within the Jewish community, with services and Jewish programming all part of the vision," says Tuvia.
Beginning in early December, Barbur Vista plans to open their dining room to the community on Monday evenings, says Food Service Director Carol Beiderman, who is a member of Congregation Neveh Shalom. . "People could come have a home-cooked kosher meal and interact with the residents," she says.
Tuvia adds he hopes some who come for dinner might return as volunteers to socialize with residents.
The facility does offer a separate non-kosher table and paper plates for friends or family who bring in a non-kosher snack. "If a resident's grandson shows up with a hamburger (from a fast food restaurant) and wants to eat with grandma, they can sit at that table," says Carol.
Tuvia says Oregon Kosher will also work with staff to accommodate residents' dietary needs. For instance, if a meat dinner is being served but a senior needs yogurt with his evening medicine, accommodations are available. "Kosher laws make allowances for people who are ill," says Tuvia.
Peaks & Valleys operates three other senior facilities in Portland: All Comfort Residential Care, which borders Barbur Vista; The Hill House near OHSU and the Veterans Hospital; and Hillside Care Manor in Northwest Portland.
Tours are available for prospective residents or families.