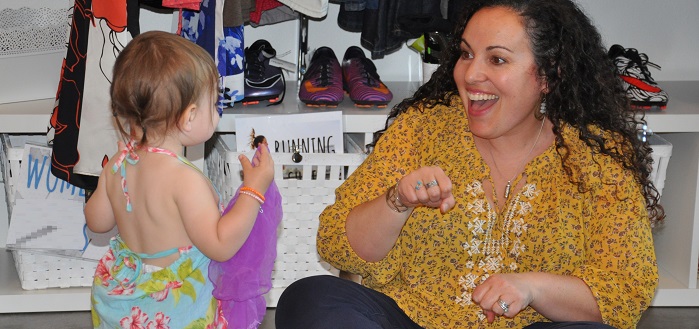 PHOTO: Tiny Talkers founder Shira Fogel leads a free Sign, Sing and Play session for infants and toddlers at Hoot-N-Annie Boutique in Hillsdale the second Wednesday of most months. Photos by Deborah Moon
When Shira Fogel's daughter, Eliana, was born 15 years ago, Shira used sign language to communicate with her pre-verbal child.
As a child, Shira loved to watch the American Sign Language translator at her synagogue – especially since her own name, Shira, Hebrew for song or poem, was a frequent sign. Having heard of studies showing benefits of signing with babies, she decided to sign with her own daughter.
"She would sign so much at 11 months old, people thought she was deaf," says Shira. "She hears fine, but she could communicate so many more things than other 11-month-olds."
A signing vocabulary that far exceeds the communications ability of their peers is just one of the benefits children and parents reap from signing. (See below for other benefits.)
"I fell in love with all the things on that list that happened as a result of signing," says Shira, adding, "I did struggle to figure out how to teach ASL to a baby."
So she decided to switch careers from environmental sustainability to teaching parents and caregivers to sign with their babies. She launched Tiny Talkers and began offering two-hour workshops for parents, grandparents and caregivers. She teaches Baby Signing 101 about once a month at various locations around town. In the past, she has offered the workshop at her synagogue Congregation Beth Isreal, Congregation Neveh Shalom and the Mittleman Jewish Community Center. (See below for details of next class July 16.)
"Sometimes people think it's too hard," says Shira. "But it's not. They are learning with their baby. They work on it slowly with things interesting to them."
Now in addition to the adult workshop, Shira offers Sign, Sing and Play classes for infants (starting at 9 months) and toddlers, and Music, Movement and Singing for preschool children. She started the preschool class at the request of parents who wanted to continue signing and playing in a group setting. She holds free drop-in sessions of the classes once a month at Hoot-N-Annie Boutique in Hillsdale at 10:30 am the second Wednesday of each month and at the Happy Valley Library the first Wednesday September-June.
Watch the May class say goodbye: IMG_0152
Parents and caregivers at the May Hoot-N-Annie class shared their enthusiasm after signing, playing and singing with their children.
"We come to teach me more to teach her at home," said one woman. "She (daughter) has picked up quite a few signs. It's a great communications tool."
"He is a late talker, so we use sign at home. It is really helpful. Otherwise, I wouldn't know what he wanted," said another participant.
"She uses signs at home – especially all the signs for foods," said a third.
Shira says Eliana will still sign occasionally if they are somewhere they can't talk or it is too noisy, but her 11-year-old son Kovi is still signing "big time." Eliana became a bat mitzvah at Beth Israel two years ago and both kids attend Beth Israel's religious school.
A fellow member of Beth Israel, Eve Bernfeld took Shira's 101 class, and when her triplets were about a year old, she took them to the Sign, Sing and Play classes too.
"Shira not only taught signs, she taught how to use, teach and reinforce signs in ways that were really fun and all about connecting with each other," says Eve. "We learned so many signs and, while it seemed totally normal for the kids, I kept thinking, 'Oh my gosh, I'm learning a language!' "
The triplets are now 5, and Eve says she continues to see the benefits from the early classes.
"They communicated very effectively with me before they spoke much and now they are motor-mouths," says Eve, adding, "Occasionally they will still sign something to me."
BENEFITS OF SIGNING WITH INFANTS
Babies who Sign …
Are Less Frustrated
Speak Earlier (Contrary to what many think)
Have Higher IQ's (10-12 points higher)
Develop Larger Vocabularies
At age 2, signers have about 50 more spoken words than non-signers
At age 3, signers speak and understand at a 4-year-old level
Demonstrate a Greater Interest in Books
Have Better Imaginations
Enhanced Self-Esteem
Experience a Closer Bond with their Parents and Siblings
Parents who Sign with their Babies …
Give their babies a head start on language development
Experience decreased frustration
Enjoy an earlier interactive experience with their baby
Look forward to the "Not-So-Terrible" Two's
Hear less crying in the house
Have more fun with their babies
From a comparison study by Susan Goodwyn, Ph.D. and Linda Acredolo, Ph.D. of the University of California at Davis. Funded by the National Institute of Health and Human Development, the study compared signers and non-signers at age 2, 3 and age 8.
BABY SIGNING 101 WORKSHOP
A single two-hour workshop for parents, grandparents and caregivers
July 16, 6-8 pm
World of Smiles Pediatric Dentistry, 11790 SW Barnes Road, Suite 280, Portland.
Learn:
How to sign. Workshop attendees typically learn 75 signs.
Tips and techniques based on baby brain functions
Practical application in terms of activities and games
Tiny Talkers teaches American Sign Language (ASL), a universally recognized sign language.
To sign up or see other classes, click here.