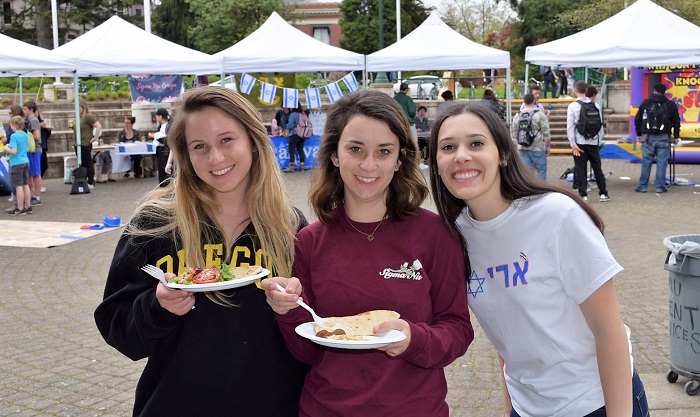 PHOTO: From left, Sophie Joslyn, Rachel Lodgen and Arianna Shapiro enjoy last year's Israel Block Party at the University of Oregon. This year's block party will feature Artists 4 Israel.
As Israel celebrates its 70th anniversary as a modern state, students on three Oregon campuses will have the chance to get free custom T-shirts created by Artists 4 Israel, an arts-based humanitarian aid and advocacy group.
The Hillel of Greater Portland will host Artists 4 Israel as part of Israel Week events at Portland State University. The artists will paint T-shirts for students on campus from 2 to 5 pm, April 17.
Oregon Hillel will bring the group to the University of Oregon and Oregon State University for an Israel Block Party on each campus. Artists 4 Israel will paint T-shirts for students at UO April 18 and at OSU April 19, from 10 am-3 pm on both days. While on the UO campus, Artists 4 Israel also will paint a pro-Israel mural.
According to their website (artists4israel.org), Artists 4 Israel's campus programming unites diverse student groups to learn about themselves, each other and Israel and to create artwork in support of peace and unity.
"Our participating, non-Jewish artists have all been part of our cultural missions to Israel and come back wanting to share their stories and personal experiences," according to the website. "They inspire the pro-Israel, Jewish and other campus communities and connect them with thousands of new allies, leaving behind powerful and permanent displays of support for peace and Israel."
For the group's T-shirt program, famous street artists customize the shirts with graffiti images and words of the students' choosing. Students wear the shirts around campus throughout the year, reminding them of the day they connected with Israel.
The graffiti mural program provides an experiential and participatory creation of beautiful art led by non-Jewish artists painting large peace-, Israel- and art-themed murals on campuses. Students are invited to participate in spray-painting their own positive message with the artists' expert guidance. Artists are also available to speak about their personal experiences in Israel.
"Oregon Hillel is bringing Artists 4 Israel to the University of Oregon campus for our second Annual Israel Block Party," says Loren Murphy, Oregon Hillel's Israel Engagement Fellow. "The Israel Block Party is an on-campus event where students are exposed to the cultural aspects of Israel through interaction. At University of Oregon we will have Artists 4 Israel paint a pro-Israel mural and paint T-shirts for students to take home.
"At Oregon State University campus this will be our first Israel Block Party, and will be one of the first large-scale, pro-Israel events on campus put on by Hillel. Our intention is to paint T-shirts for students on campus and help expose them to Israel-related topics and groups that are on campus."
Israel Week at PSU
During Israel Week at PSU, PDX Hillel will also present a screening of the film "Healing Ink."
This is an opportunity to learn about the project behind Artists 4 Israel, which brings the world's most talented tattoo artists to Israel and around the world to cover the scars of those affected by terror attacks or war. A member of the production team will present the film at 7 pm, April 17.
PSU's Israel Week will also feature:
Israeli Shabbat at PSU Native American Center, 6-8 pm, April 13. Cosponsored by the Jewish Student Union.
Israeli Innovation at 70: Panel and lunch, noon-1:30 pm, April 19. Three speakers will share their own entrepreneurial visions. Speakers will be given 10 minutes to present about their respective businesses and backgrounds, in a Ted-talk style, followed by panelist discussion and Q&A from the audience.
Tel Aviv Night Out, 7-9 pm, April 19, at PSU Native American Center. Enjoy Israeli music, Israeli food and Israeli music videos.
For more information and locations of Israel Week events at PSU, contact info@pdxhillel.org or 503-867-3646.
For information on the Israel block parties at UO and OSU, contact loren@oregonhillel.org or 541-343-8920 ext. 102.